Head Pro Spotlight - Brad Worthington
By: Joel Zuckerman
There is likely no greater concentration of fine golf courses in one geographic area then what is found in the Metropolitan Section of the PGA of America, in and around New York City. The assemblage of courses is so deep and powerful it's akin to the "Murderers Row" lineup of the 1927 Yankees, assuming that, in addition to Babe Ruth, Lou Gehrig, and Tony Lazzeri, the famed roster included their Hall of Fame contemporaries Roger Hornsby, George Sisler, Tris Speaker and Ty Cobb.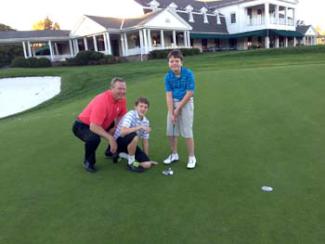 Brad Worthington & His Sons
The section has more than 300 courses in total, including several dozen exquisite, to-die-for clubs within a few hours of Manhattan. Suffice it to say that places like Winged Foot, Shinnecock Hills, National Golf Links of America, Quaker Ridge, Garden City Golf Club and Bethpage Black, on any expert's list of some of the nation's finest courses, only scratch the surface of the quality available throughout the Met.

Brooklawn Country Club in Fairfield, Conn., flies well below the radar in comparison to some of the area's better-known venues. But it is one of the most delightful golf experiences in the Met, a superb A.W. Tillinghast design dating from 1929 with lots of topographical interest, a great routing, varied elevations, rolling fairway contours, elegant bunkering and daunting greens. The club has a rich history, which includes employing a former assistant pro named Gene Sarazen, who went on to become the first player to complete the modern "Grand Slam."

The club has played host to several USGA events over the years, most notably the 1987 U.S. Senior Open, where Gary Player, another Grand Slam winner, won the first of what became back-to-back titles in what's considered the most prestigious golf event for the over-50 crowd.
Brad Worthington, now part of the over-50 crowd himself, has held Brooklawn's head professional's position for 20 years. His desire to remain for another 20 has as much to do with his love of the club, its ambience, and the longstanding and supportive membership as does the fact that he's also a product of Fairfield County, and prefers to stay in the area, close to family and friends.

The Trumbull native excelled in many sports in his youth and as a teen won the New England Junior Golf Championship by five shots over future PGA Tour stalwart Brad Faxon, among others. He spent a single semester on the University of Houston golf team, teaming briefly with Fred Couples and broadcaster Jim Nantz, before finding his stride at Miami of Ohio, where he won All-Conference honors and the golf team's captaincy his senior season.

Worthington stands a shade less than 6'3" tall and a thimble below 250 pounds. It's easy to envision him orbiting a tee shot 300-plus yards, which he did with great regularity as a younger man. Nowadays, a 320-yard drive is de rigueur for every Toms, Rick and Rory on the PGA Tour, but Worthington was winning long-drive contests at that distance when the distinctive "ping" sound of first-iteration metal-headed drivers still turned heads in curiosity, and balata balls were considered an engineering marvel.
Three-twenty off the tee will always be impressive, but 10,000 was a number that was depressive to the would-be touring pro, which was the dollar amount he was slated to receive for a second-place finish - but never actually collected - when the tournament circuit he was playing on went bust in the mid-'80s. "My sponsor was just as unhappy as I when that big check never arrived," begins Worthington, offering a rueful shake of the head and a wry smile at a memory more bitter than sweet. He took it as a sign he was meant for the club life, got his first job in the Met section, has never left and never plans to.

"I began working at a little-known Tillinghast club on the south shore of Long Island called Rockaway Hunting Club in the mid-'80s. My boss was Randy Cavanaugh, who was formerly an assistant at Winged Foot, and recommended me to their longtime pro, Tom Nieporte. So after two years at Rockaway I was lucky enough to spend the next four years as a Winged Foot assistant."

His initial head job came as the first head professional at the brand-new and highly regarded Atlantic Golf Club, in Bridgehampton, Long Island. "Now there are a number of very high-end golf clubs that have come into existence in the last 20-odd years," continues Worthington, referring to the 'new wave' of places like Sebonac, Friar's Head, The Bridge, Easthampton Golf Club, Liberty National and Hudson National, among others.
"But Atlantic was the first, and it took plenty of long days to get it up and running properly." Not that he was afraid of the sunrise-to-sunset schedule. "Back when I got started almost 30 years ago, if a new assistant asked the boss for his schedule, sometimes he was handed a key. That meant he was to open the shop just past dawn, and close it up after dark!"

Great as the job was, and bright as prospects looked, Worthington's future wife, Gayle, was hours away up in Greenwich, Conn. And with an eye towards the family they were planning on starting, the socially-conscious pro wasn't sure the dichotomy between the year-round local residents and the jet-setting summer visitors that make The Hamptons such a glam destination was the best environment to raise kids. "It seemed to me that raising kids in a more normal environment, where there wasn't such disparity in lifestyles, would be a smart move for us. So when Brooklawn offered me the head professional's position, it was a chance to get closer to home, and raise the kids we were planning on having in a more stable atmosphere."

The irony in his decision to move is that even though Fairfield County is one of the nation's most prosperous, there are deep pockets of poverty and many thousands in need sprinkled among its nearly two dozen towns. Greenwich, Wilton and Westport bring to mind great affluence But the city of Bridgeport - 60 or 80 years ago the machine tool capital of the nation - continues to decline, and is beset by serious economic woes.
As a longtime member of the Met Section's Executive Committee, including a stint as president, Worthington is keenly aware of the importance of growing the game, particularly among populations that have never been exposed. "I worry for the game's future. My boys, Grant and Mitchell, are in high school and middle school, and they don't spend four straight hours doing anything, much less something as hard to learn as golf."

Brooklawn has made a concerted effort to attract younger families, and by virtue of junior clinics and programs, not to mention a specified kid's course contained within the championship course complete with their own tee markers and scorecard, the game is thriving on the grounds. But Worthington is looking well beyond the grounds.

"We as teachers need to remember how discomforting it can be to learn the game as a rank beginner," he states earnestly. "I forced myself to take dance lessons, and with a male instructor no less, just so I could really feel the same sense of awkwardness and unease that a typical beginning golfer feels when they venture to the course."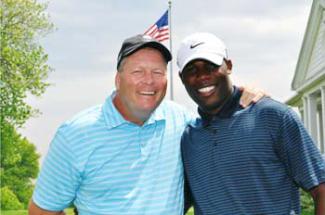 Brad Worthington & Randy Taylor
One of the ventures that Worthington has deeply embraced is the First Tee Program of Fairchild Wheeler, named not only for the 36-hole municipal facility in Bridgeport where the program is conducted, but originally for an area businessman and philanthropist of the same name, a founding member of Brooklawn who donated the land for the courses to be built.

The First Tee endeavors to build character and instill life-enhancing values through golf. Responsibility, perseverance, honesty and sportsmanship are among the core values emphasized. "Never mind the golf grip, one of the first things First Tee kids learn is to grip someone's hand correctly when they shake, look them in the eye, and introduce themselves properly," explains Worthington.

The former Program Director of the area First Tee is a young African- American named Randy Taylor, who grew up in one of Bridgeport's roughest neighborhoods and attended a high school where the expulsion rate, while not as high as the graduation rate, was substantial nonetheless. "Other than my parents, Brad has been the most positive adult role model I've ever had," begins Taylor, whose parents were born in the West Indies.
Taylor, now in his early 30s, had some 1,600 charges in the First Tee program he ran. But when he took the job in his early 20s, there were maybe 100 kids enrolled. Like his mentor, Taylor wasn't afraid to wade in and build things from the ground up. "I initially came to Brooklawn as part of a local after-school internship program called GOLFWORKS," continues Taylor, who continues to pursue his sports marketing degree at nearby Sacred Heart University while working fulltime.

Created by the Metropolitan Golf Association, GOLFWORKS offers employment opportunities to underprivileged and minority youth by exposing them to the many facets of the golf industry. Beginning as an industrious busboy in the Brooklawn dining room, Taylor quickly came to the attention of the head pro, who had him transferred into the golf shop. Worthington gradually increased his protégé's responsibilities, eventually putting him in charge of the juniors, and then the ladies nine-hole golf league.

Imagine the culture shock when Taylor, who had likely never before given instructions to even a single white adult in his life, was handed the microphone by his boss one afternoon, and voice quavering, gave detailed instructions to an expectant crowd when outlining the format for a shotgun tournament. "The three seasons I spent there were wonderful, and Brad was instrumental in recommending I pursue the opportunity at the First Tee. But even though it's been a decade or so since I left Brooklawn," marvels Taylor, "Brad continues to mentor me, counsel me, and remains a great friend. I consider myself very fortunate to have him as part of my life."
Almost as fortunate are the 50 or so of the most committed and engaged First Tee participants, along with their parents, who were recently invited by Brooklawn's board and Worthington to come over and actually play their pristine golf course, opening their collective eyes to the possibilities and potential their lives may hold. "Many high-end clubs hold First Tee fundraisers," states Worthington, "where the business elite gather in an environment they are familiar with, and donate monies to the organization.

"But we wanted to actually show the kids, most of whom have never played anywhere but Fairchild Wheeler, and probably couldn't imagine a club or course like this exists so close to where they live, what they can aspire to in life if they work hard and dream big. We've had caddies here who eventually managed to join the club themselves, so this is along the same lines."

Club members and their head professional extend themselves to the surrounding community far beyond their First Tee affiliation. The "Day of Gratitude" was an initiative that invited more than 50 Iraqi and Afghanistan war veterans out to enjoy the club.

Another worthwhile program that Brooklawn enthusiastically supports is the Nicholas Madaras transitional home for female veterans of the Armed Forces. Veterans make up a disproportionate number of the homeless in general, and there are hundreds of former servicewomen in Connecticut that are without permanent housing. The club has offered more than financial support to the 14-bed residence, where the average length of stay is approximately two years. They have also provided furnishings, appliances and, perhaps most importantly, real-world expertise. Members have counseled the women in residence on a variety of subjects - legal advice, cooking, computer skills and resume-building, among others.

Because Worthington is such an imposing physical presence, the fact that his empathetic nature is also outsized comes as no surprise to those who know him well. "My mother Mary Ann always taught me to give back, and be as generous to others as possible," concludes the pro. "She's in her mid-70s, and she is still picking up bottles and cans on the side of the road, and using the deposit money for charitable purposes. I had a wonderful role model."

Worthington understands that he is privileged to have enjoyed the stability of a great job and the fruits of numerous long-lasting relationships at this fine and historic country club, which is both metaphorically and literally at the top of the hill. He feels it's both duty and obligation to venture into the workaday neighborhoods in the valley below the high ground, and do what he can to assist those who haven't been quite as fortunate.
Joel Zuckerman, called "One of the Southeast's most respected and sought-after golf writers" by Golfer's Guide Magazine, is an award-winning travel writer based in Savannah, Ga. His seventh and latest book, entitled "Pro's Pros - Extraordinary Club Professionals Making Golf Great!" is scheduled for release in April 2013. This is the first-ever golf book to shine the spotlight on the beating heart of golf - the unsung, yet hard-working club professional. Joel's course reviews, player profiles, essays and features have appeared in 110 publications, including Sports Illustrated, Golf, Continental Magazine and Delta's Sky Magazine. He has played more than 800 courses in 40-plus states and a dozen countries. For more about Joel, visit visit www.vagabondgolfer.com.