Head Pro Spotlight - Jim Langley
By: Joel Zuckerman
Author's Note: Sadly, Jim Langley passed away just a few days after this story appeared July 18. Jim had countless admirers in the golf world, and will be remembered fondly by all who knew him.

Universal admiration. It's a noble-but-unattainable goal, akin to making 18 consecutive birdies and shooting 54 in this week's Open Championship. Who among us can claim universal admiration? It's a short list, certainly, names like Mother Theresa, Nelson Mandela, John Glenn and heroic pilot "Sully" Sullenberger come to mind, though human nature being what it is, they doubtless have a smattering of detractors themselves.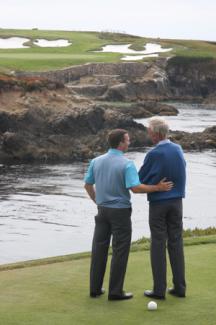 Casey Reamer & Jim Langley at Cypress
In the golf world, particularly in the insular and cloistered world of the finest private clubs, Jim Langley probably comes as close as anyone else to this status. The former Tour player served as head professional at the incomparable Cypress Point Club for 34 years, winning armies of friends and admirers during what turned out to be a rocky journey.

Universal admiration might be too bold a statement. But those who are indifferent or negatively inclined towards Langley are akin to those who come to the oceanfront 16th tee at Cypress Point, one of the most famous and exhilarating par-3s in all of golf, with its pounding surf and green jutting precariously across an intimidating chasm of sea foam, and aren't immediately awestruck. In other words, one in a million.

Langley retired in 2006, and is currently in poor health. He is modest to the point that he isn't quite comfortable talking about himself. Luckily, he has no shortage of allies happy to do so for him. "I don't know anyone in any field who is more respected than Jim Langley, he is the best there is," offered his great friend Ken Venturi, who passed away just weeks after Venturi was inducted into the World Golf Hall of Fame a few months ago. "He's a credit to the game of golf. I literally cannot think of anybody I have ever known who is or was a better golf professional than Jim."

After working as his assistant pro for about six years, Casey Reamer succeeded Jim Langley as the Cypress Point head professional upon his retirement. "He is one of the nicest, kindest, gentlest people on earth, and due to his deep faith, there's a light about him that most people don't possess," explains Reamer.
"This position has allowed me to meet and spend time with lots of wonderful people, but Mr. Langley is in a class by himself; he walks a different line than anybody else I've ever met. Anyone who knows him well would say the same thing. There are plenty of golf pros who can teach you how to be a great professional; how to give effective lessons, become a savvy merchandiser and become adept at member relations. Jim Langley can do all that, but his teachings go far beyond that. He can teach you how to be a better person, a better husband, father and friend."

However, Langley cannot teach you to become the natural athlete he once was, that unique skill set of neurons, hand-eye coordination and fast-twitch muscle fiber being the province of a chosen few. He began playing golf left-handed, mirroring his right-handed dad, who was a member of the Salinas Country Club, not even 20 miles inland from the Monterey Peninsula. He was a decent player, but when he switched to his natural right side as a teen, his game took off.

But golf was just another game at which the 6'4" Langley (rhymes with gangly) excelled. He was recruited to play tight end at Stanford, but instead opted to play basketball at Cal. His decision to stick to the hardwood resulted in a national championship, as the Cal Bears first beat Oscar Robertson's Cincinnati Bearcats in the semifinals and then defeated the Jerry West-lead West Virginia Mountaineers 71-70 in the 1959 NCAA Championship Game.
After a stint in the Marines, Langley went to work as a salesman for International Paper, with no plans to make a living in the golf business. But as his recreational play became stronger, and some local tournament wins came his way, he began to take the game more seriously. In the first professional event he ever entered, he got his PGA Tour card right on the number at Qualifying School.

In those days of Monday qualifying, Langley was a "rabbit" along with a hundred other hopefuls, driving to each Tour stop trying to make the field. After three years of middling results, he heeded the advice of PGA Tour star and fellow Californian Dave Stockton, and began to gravitate towards golf instruction. He spent about six months teaching in Westlake Village, north of Los Angeles. But feeling homesick for Northern California, and wanting to get closer to their roots, Langley and his growing family headed back to Salinas.

The aspiring pro found what he hoped would be temporary work packing lettuce crates at an agricultural concern. On a whim he submitted a resume to Cypress Point, knowing full well that their head professional, Henry Puget, had served the membership for more than 40 years. But within a couple of months Puget retired, and the club president famously said to a shocked Langley, "We're going to take a chance on you."
"It was astonishing to me that my dad, with a couple of years of so-so results on Tour, and a short stint as a teaching pro, with virtually no experience as a club professional, and filling lettuce crates to make ends meet at the time, took over at Cypress Point," begins his son Brennon.

"But in 1971, that is exactly what happened. Some pros that land top jobs have this incredible reputation preceding them. My dad had virtually no reputation. But he grew into the job, grew in stature over the decades, and became an icon in this business. It's a wonderful and amazing story."

The third of Jim and Lou's four sons considers himself a good luck charm. The day Brennon was born in April 1969 was the day his dad had his best finish on the PGA Tour, a second place behind Dale Douglass in South Carolina's Azalea Open. "How cool is it that he never spent a day on a mini-tour or satellite tour. Even as the collegiate golfers we became, and with dad past 50, neither my brother Brett nor I could ever quite get the best of him on the course."

Brennon recalls somberly how his dad's life went seriously off-course on a fateful autumn day in 1987, a decade into his Cypress Point tenure, when he was victimized in a horrific car collision. "He was helping to push a disabled vehicle off of Highway 101 near San Jose when a sun-blinded driver entering the on-ramp hit him at accelerating speed."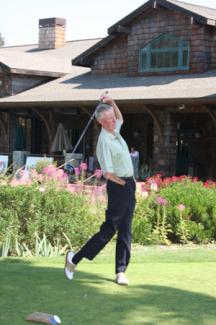 Jim Langley Swinging the Club One-Handed
Reports indicated Langley was thrown 40 feet. He broke both legs, numerous ribs, punctured a lung and, most permanently, suffered serious arm and shoulder damage, rendering his right arm virtually unusable from that day forward.

"He was in the hospital for well over a month. When he first regained consciousness he was mostly concerned about the club and the members, and how they were getting along in his absence," marvels Brennon.

"I think he's the most inspirational man I've ever met," concludes his third-born son. "A club pro's life is so hectic, but he was at every sporting event he could get to, and if not at work, was home with my mother and his sons. The auto accident was real misfortune, but I've always maintained he's a better putter one-handed then when he had both hands on the club!"

Venturi, the former U.S. Open champion, recalls the wisdom of his father, whose livelihood was selling nets and other supplies to fisherman on the California coast. "Dad used to say that excuses were the crutches of the untalented, and I never heard Jim say a single word about that accident, or make any type of excuse. He's always been upbeat, always positive."
Venturi recounted a wonderful lesson imparted by his father regarding humility, so germane in this discussion of Jim Langley. "I remember one time at the family dinner table after I had won the San Francisco City Championship, and I was going on and on about my greatness, I was running out of accolades for myself," recalled the 14-time PGA Tour winner.

"When I finally finished crowing, my dad says to me, 'Are you through son? Let me tell you this: When you are as good as you are, you can tell everybody. But when you get really good, they'll tell you!'

"Obviously that message has stuck with me my whole life, and in that same vein, I am thrilled to speak so highly about my great friend Jim Langley. He's never been one to talk about himself, what he's accomplished, and what he's overcome. But I'm here to tell you I have never met a finer person in all of golf than he."

Langley's successor Reamer, who took over the job on January 1st, 2006, continues in the same vein. "Jim led by example. The car wreck cost him the use of his arm, and doubtless left him with other injuries that never fully healed, yet he never complained about that, or about anything. It makes it kind of tough for anyone on the staff to mutter about feeling under the weather, or tendonitis affecting their golf game, or having too much on their plate. Occasionally he would say, 'You have to give what you have.' And that would refer to anything: time, attention, money, even the clothes on your back.
"Jim would caution us to practice humility," added Reamer, who spent five years at Pebble Beach before first coming to Cypress Point as an assistant in 1999. "He stressed that the club was bigger than all of us, Cypress Point comes first. Everyone needs to be grateful to be a part of something so special, and from the locker room attendants to the caddies, even the members themselves, seems to understand that. He would stress that we are all privileged to work here, be a part of this incredible place, and that trumps everything else."

One last fact about this much-venerated professional: Upon his retirement, the club he had served so faithfully provided him with an honorary membership. Gestures like this are not uncommon. Club boards will oftentimes extend themselves in this manner to a long-serving professional upon the completion of their duties.

However, Cypress Point had only provided one such honorary membership prior to Langley's in its long and distinguished history. That was bestowed upon the nation's 34th president, Dwight D Eisenhower. Just another telling example illustrating what a special man Jim Langley is, and why he belongs in such ultra-exclusive company.
Joel Zuckerman, called "One of the Southeast's most respected and sought-after golf writers" by Golfer's Guide Magazine, is an award-winning travel writer based in Savannah, Ga. His seventh and latest book, entitled "Pro's Pros - Extraordinary Club Professionals Making Golf Great!" was released in June 2013. This is the first-ever golf book to shine the spotlight on the beating heart of golf - the unsung, yet hard-working club professional. Joel's course reviews, player profiles, essays and features have appeared in 110 publications, including Sports Illustrated, Golf, Continental Magazine and Delta's Sky Magazine. He has played more than 800 courses in 40-plus states and a dozen countries. For more about Joel, or to order this unique new book, visit www.vagabondgolfer.com.