Head Pro Spotlight - Laurie Hammer
By: Joel Zuckerman
Editor's Note: This is the third installment in a series by our author, who now puts the spotlight on Laurie Hammer, a longtime pro in Florida whose career has spanned decades at the top levels of golf and created many friends along the way.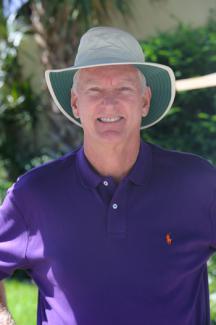 Laurie Hammer
Most club pros approach their careers the way an accomplished chess player looks at the chessboard; they are continually anticipating their next move.

Laurie Hammer wasn't wired that way. Though other opportunities came his way from time to time, he chose to spend more than 40 years at Delray Dunes in Boynton Beach, Fla., before retiring in 2010. His was and remains a rich legacy of professional accomplishment, enduring friendships, personal satisfaction, wonderful memories but, tragically, also a deep sense of loss.

When you think of Laurie Hammer the word "first" quickly springs to mind. There are few professionals who compare with the commitment to excellence demonstrated by Laurie throughout his career. He was a first team All-American at the University of Florida his senior year. He was a successful graduate of the first-ever qualifying school - Q-School - class in 1965, where he obtained his PGA Tour card.

He might be the first club professional to appear on the front and back cover of Golf World Magazine simultaneously, the former for a big tournament victory and the latter as a fashion model. (And back in the day you would have thought you were looking at a doppelganger of actor Jeff Daniels, albeit decked out in a wild pair of '70s-era golf trousers.)
Above and beyond all that, he was the first professional at Delray Dunes, built the first house in the development, which was, keeping with the theme, located on the first hole. Is it a stretch to say that Hammer was "first" among equals?

In his three-and-a-half-year stint on the PGA Tour that preceded his life as a club professional, Hammer won one event, an alternate-shot competition with close friend Dave Stockton. "I did fair, but not great," begins the distinguished, silver-haired pro. "When a friend of mine from college named Jack Cabler offered me the chance to become the head professional at Delray Dunes, where we also got in on the ground floor of the development, we decided to do so. In my mind I was committed to three or four years on Tour to see if I could make it, and when I didn't I was ready to walk away. I left the Tour with no regrets."

Certainly the greatest regret of his life was the untimely passing of his two-year-old daughter, Cynthia, who died accidentally after falling off of a railing at the Atlanta Tour stop in the spring of 1970. More than 40 years later, Hammer still becomes visibly emotional about that awful day. "I was leaning towards leaving the Tour anyway, and when Cynthia died it sealed the decision," continues Hammer. Adds his wife Marlene, "We lost our taste for the Tour life after that."
The home they built was the first of what eventually became 310 residences in the community, and Hammer's college teammate Bob Murphy and his wife built directly next door. Murphy is a former U.S. Amateur champion who also amassed 16 total victories on the PGA and Champions tours. "The Hammers are wonderful people and great neighbors. We've lived next door to each other ever since the beginning so that pretty much sums it up," states Murphy, a longtime member of the NBC golf-coverage team. It was both couples' first housing purchase, and neither has ever felt the need to move elsewhere. They have remained next-door neighbors for nearly 45 years.

There are a number of reasons Laurie and Marlene Hammer couldn't be convinced to leave Delray Dunes. These include the effortless commute to the office (30 seconds by golf cart), their friendship with the Murphys, their close relationship with golf course designer Pete Dye and his wife Alice - who lived nearby and were part of the club's social fabric, and also the fact that their children Kevin and Julie were so happy and established. In a situation that is highly unusual in the private club world, owing to his early real estate investment in the community, Laurie was actually a member of the club where he was employed as the professional.

Technically it means he could have played in the annual Pro-Member as a single, but in actuality, the Hammers enjoyed and still enjoy not only their membership, but also membership in the mutual admiration society at the club. After all, Palm Beach County is full of private club members with sizable bank accounts and matching senses of entitlement. But no such superior vibe exists at Delray Dunes.
"We have always been committed to treating our unique relationship with the Dunes with respect and we have enjoyed decades of friendships and professional satisfaction at this wonderful club," said Marlene Hammer, who ran the retail aspect of Laurie's pro shop for decades. "Honestly, much of our lives and so many of our friendships are intrinsically connected with these members and this club."

Hammer also spent 13 consecutive summers as the inaugural head professional at Keystone Ranch Golf Club in the Colorado Rockies. Moving the family to a pristine alpine environment at 9,000 feet above sea level to escape the sauna of a south Florida summer proved to be a wonderful mid-career interlude.

One of the real beneficiaries of life in Colorado was son Kevin, who honed his formidable golf game at junior events in the Intermountain West. "The thing that is really impressive about my father is how many different roles he has played, and how in my opinion he is so exceptional in comparison to many club professionals," said Kevin, a financial advisor and high-level amateur who several years ago was named one of the finest golfers on Wall Street by Golf Digest.
The golf gene has also been passed to a third generation, as Alexa - the oldest of Kevin and Karen Hammer's three children - is showing great promise on the local high school team.

"You would be hard-pressed to find many others who have set the benchmarks that my dad has," added Kevin. "His All-American status at a golf powerhouse like Florida. Winning on the PGA Tour, and 10 years later winning the Club Professional's Championship. He is a PGA Master Professional. He held two jobs concurrently, starting both clubs from scratch in Florida and Colorado, which isn't easy, despite the fact that one of the clubs is always in the off-season. I'm favorably biased as his son, but by any definition he has had a uniquely successful career."

Another aspect of Laurie's success was the Delray Dunes Bethesda Hospital Pro-Am, a major fundraising event started and run by Hammer and his next-door neighbor Murphy for 40 years. They have since passed the organizational reins on to former LPGA Tour stars Beth Daniel and Meg Mallon, who live in the area. But for decades many of the biggest luminaries on the PGA Tour would stop in on a Monday during the Florida Swing, and put their skills on display to raise much-needed funds for the local hospital.
"We raised in excess of $3.5 million during our tenure," Hammer noted with understandable satisfaction. What he leaves unsaid is the millions more raised in private donations by those who learned of the hospital because of their wildly successful annual Pro-Am.

One of the "regulars" who came to the Pro-Am consistently was Dave Stockton. "Laurie and I have been a real odd couple over the years," offers the two-time PGA champion, who's also experienced other career highlights. "I went to USC and he went to Florida, we live on opposite coasts, but we have been great friends, and so have our families, for a very long time."

Stockton, who captained the victorious U.S. Ryder Cup team in 1991, continues, "We have shared great times and awful times. We won a team event together on Tour, and my wife, Cathy, was with Marlene when little Cynthia had that tragic accident. Through it all, we have stayed very close. He's a fine player, a wonderful teacher, and a great guy. There are few people I would trust to implement my putting techniques, which really only my sons and I teach.
"But Laurie is someone who understands golf so completely I would be comfortable with him doing just that. I've often visited him and Marlene in Delray Dunes, and his reputation at the club, and all he accomplished there during that amazing 40-year run, is second to none. He was the first guy in the shop in the morning, and always going above and beyond the call of duty with his members and their guests. When he told me he was retiring, I said what are you going to do with yourself? He's like me, neither of us can sit still!"

"The thing I loved best, and I suppose I miss most, is the constant variety of responsibilities and challenges of being a club professional," concludes Hammer, a member of the South Florida PGA Hall of Fame. "Whether it was teaching a member; working on my own game; playing competitively; taking members to dozens of tournaments around the world, including hosting four golf cruises; running an event either for our membership or an outside group, along with Marlene coming up with creative merchandising strategies; running a demo day; taking on a new product line; trying a new promotion; the energy needed and the creativity employed to keep running and growing our large Pro-Am. There was never a dull moment!"

Since his retirement in 2010, Hammer continues to teach golf. He does corporate outings with Murphy and Stockton. He has relationships with several clubs in the area, where he has a loyal and growing cadre of students at two nearby facilities, High Ridge Country Club - where he was given an honorary membership, and Winston Trails Golf Club.
He is often found showcasing his still-formidable skills at the men's game at Quail Ridge Country Club, just across the street from Delray Dunes, where he was also given an honorary membership post-retirement as a heartfelt "thank you" for being such a great neighbor over the decades. The Hammers have traveled extensively and consider it a wonderful educational process for his golf life, by playing famous and unusual courses all over the world.

Spurred in part by their daughter Julie's career opportunities that have taken her and her husband Judd to live in Sydney, Australia and now London, Laurie and Marlene have visited nearly 60 countries to date, on every continent.

Hammer is hard-pressed to find any bad memories of his more than four decades on the job. "Honestly, nothing really stands out." He pauses for a long stretch in reflection and then murmurs unconvincingly about the fruitless task of trying to appease the occasional member who was perpetually dissatisfied, maybe a slight headache trying to enforce a dress code, or a niggling pace-of-play issue. All in all, it's not a very impressive list of grievances. "I am lucky to have the positive clearly outweigh the more challenging times, and I thank those members who have been supportive and generous in spirit to Marlene and me over the years."

Think about it: most of us couldn't go 40 days without something truly sticking in our craw; many couldn't last 40 hours, the truly irascible 40 minutes. Yet Laurie Hammer did just that for more than 40 years. It would be a real blessing if we could all develop and nurture such deep contentment in our lives.
Joel Zuckerman, called "One of the Southeast's most respected and sought-after golf writers" by Golfer's Guide Magazine, is an award-winning travel writer based in Savannah, Ga. His six books to date include "Pete Dye - Golf Courses," which was honored as "Book of the Year" by the International Network of Golf. His seventh book, entitled "Pro's Pros - Extraordinary Club Professionals Making Golf Great!," is scheduled for release in early 2013. Joel's course reviews, player profiles, essays and features have appeared in 110 publications, including Sports Illustrated, Golf, Continental Magazine and Delta's Sky Magazine. He has played more than 800 courses in 40-plus states and a dozen countries. For more about Joel, visit visit www.vagabondgolfer.com.