Head Pro Spotlight - Mike Harmon
By: Joel Zuckerman
The golf world turns its collective attention to the Carolina Low Country this week, owing to the PGA Tour's presence at Hilton Head's Harbour Town Golf Links. One of the nation's most respected club pros plies his trade about an hour from the tournament site, an event he has qualified for and participated in in the recent past.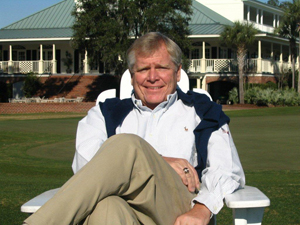 Mike Harmon
Around Secession Golf Club in bucolic Beaufort, S.C., Mike Harmon is known as "the Old Pro." A sign saying as much marks his designated parking space. But it's a real misnomer, as Harmon is still shy of his 60th birthday, and hundreds of his members were born years, if not decades, before he was.

"The name just evolved," Harmon says. "I was only in my early-30s, but that's what they called me."

While the "old" designation is questionable, there's no disputing that Harmon is a pro. It's evident in the way he dresses, the manner in which he interacts with his nationwide cadre of members, the care he takes in running his pro shop, and the way he hits a golf ball.

Maybe the "old" moniker sticks with Harmon because he came on duty at Secession years before the golf course was even built. He's been director of golf from the get-go, and was instrumental at recruiting potential members from old-line clubs in the Northeast, golfers he refers to as having "high golf IQs," to join the brand-new, walking-only, caddie-only national club in the temperate Carolina Low Country.
"He was here before there was grass," marvels John Marsh, Secession's general manager since 2004. "It is he more than anyone who took the original vision of the club's founders, the idea of this national club with no carts and mandatory caddies, and made it a reality. It's Mike's charisma, his ability to relate to people, his natural likeability, that convinced hundreds of potential members to join a golf club when no course existed. At the beginning, all they had here was an overgrown island and a bunch of drawings. I've always said Mike could sell ice to Eskimos."

"I call Mike a game-changer. I know of nobody else in this business that has single-handedly made such a large impact and contribution to a facility." So explains his close friend John Farrell, the longtime director of golf at Harbour Town, and host pro this week to the PGA Tour's RBC Heritage.

"I've been in the business for about 30 years, have known Mike the entire time, and have never seen anyone better. If there's a better statesman or ambassador for the game, I haven't met him," continues Farrell, who has more than 20 years of tenure at Harbour Town.

"It's a beautiful place, a magnificent walk, always in fine condition, and beyond the golf, it's sitting on that back porch with your buddies post-round, having a drink and enjoying the wonderful view," Harmon says, explaining the reasons why Secession has succeeded as a national club.

In the early days, while Secession's course was under construction, Harmon ran events and tournaments for his growing roster of members at other golf courses in the area. At one time, he did duty serving sandwiches and drinks from the caddie shack. Given his own rich history with Secession, the designation "Old Pro" fits Harmon as naturally as the low-slung golf course he oversees fits the marshland and tidal pools of its barrier island home.

"I knew that if this club worked out, that the golf director's job here would be one of the best in the country," Harmon says. He spent two years as the head pro at Moss Creek Plantation, just off of Hilton Head Island, before coming to Secession in 1987. "Not just monetarily, but as far as the environment and membership were concerned. Because we're a national club, our members only come down a few times a year.

"They can't wait to get here, and it's like having a reunion every week. One of the things I love best is that on many Saturdays I go out and play a few holes with several groups and catch up with them, finding out about their families, work, whatever. I just throw the bag on the shoulder with eight or nine clubs, and play three holes here, six holes there and so on, with at least three or four groups. I love Saturdays, no phones, no e-mail, just golf with great people."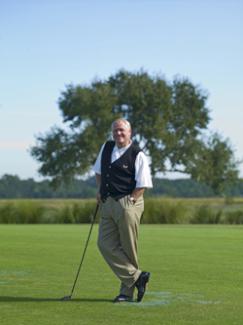 Mike Harmon at Secession
Baseball was Harmon's original stick-and-ball interest, but he ultimately turned down a baseball scholarship at the University of Miami to concentrate on golf at Middle Tennessee State. Harmon received his first set of clubs from his grandfather as a preteen, and began playing at rudimentary nine-hole tracks near his Atlanta home. "I grew up on these simple, non-irrigated, poorly maintained municipal courses, many of which no longer exist.

"They've since become public transportation centers and apartment houses. But they gave me an appreciation for firm-and-fast conditions, because they were brick-hard in summer. It was really helpful to my development as a player, especially when I started going overseas," Harmon says.

Harmon has traveled to the U.K. some 50 times on golf excursions, including an appearance at the 2010 British Senior Open at Carnoustie. He is a member of St. Andrews Golf Club, and has nearly as many club-pro friends there as he does Stateside. "I'm a student of history, love the old feel of the courses and the clubhouses. I love the fact that golf has been played at St. Andrews for hundreds of years before our country was even founded."
Secession reflects the sensibility manifested in some of the great traditional clubs overseas. "They keep it simple in the U.K., and don't get caught up in extraneous things like fancy food, over-the top service, fountains, marble," Harmon says. "This is one of the reasons golf is problematic in our country, because we make things too complicated. Even at the most elite clubs in the U.K., it is simple. You can only get five things to eat, but you have a choice of 35 types of scotch and beer!"

"Lower maintenance standards don't necessarily mean poor conditions, they're just not perfect," continues the Old Pro. "The whole American ideal of a golf course grew out of the pristine, wall-to-wall green of the Augusta National model. While it is one of my very favorites in the world (partly because of the club's founder and my idol, Mr. Bobby Jones), it is hardly the model by which a normal club can function. Very few can afford that type of maintenance budget for their course. If I go somewhere and they tell me how good their wine list and sushi are, I know I'm in the wrong place. A Coke and crackers at the turn is just fine for me!"

Half a lifetime ago, Harmon had a brief dalliance as a Tour pro. "I was slightly in awe of the other players on Tour when I got out there, and that's no way to make a living. My first tournament was the 1980 U.S. Open at Baltusrol. I practically wanted to go in the clubhouse and get autographs. A well-seasoned amateur or pro doesn't think that way."
Harmon played the Tour for three seasons, 1980-82, and managed a few top-25 finishes. His game is still solid today, as evidenced by multiple PGA section victories, and by qualifying to compete at the RBC Heritage at Harbour Town just a few years back.

Harmon amasses industry accolades the way Liz Taylor once collected jewelry. He has been honored as Retailer of the Year - not surprising, as he does a tremendous amount of business in a cozy 500-square-foot pro shop. He's a recent inductee in the Carolinas PGA Hall of Fame, and only the 41st member in its 100-year history. Harmon has been honored as the Carolinas PGA Professional of the Year and been nominated for National PGA Professional of the Year.

One of his most prestigious honors is the National PGA Bill Strausbaugh Award, presented to a PGA professional who distinguishes himself by mentoring his fellow professionals in improving their employment situations. At least 10 former Secession golf professionals under Harmon have gone on to run their own businesses.
"Seeing the young men who came in here as assistant professionals learn, develop and then go on to become head pros elsewhere has been extremely satisfying," Harmon says.

One of those who went furthest in the industry is Franklin Newell-though geographically, he's only a half-hour down the road from Harmon, working as general manager and director of golf at the highly-regarded Chechessee Creek Club in Okatie, S.C.

"One of the most important lessons Mike taught me was the importance of member relations," Newell says. "When Mike walks into a room he makes it a point to speak to everyone. It's not hard for him, because he is never at a loss for words. He always asks about family and their personal lives. He also constantly stressed to make myself available at all times to play with a group of members and guests, if even just for a few holes. The more you are able to play with them, the better you get to know them and the better they get to know you."

"He has this incredible ability to connect with people of all ages, all ability levels, whether he has known you for years or just met you," concludes GM John Marsh. "It's hard to think of Secession and not think of Mike Harmon. The two are practically synonymous."
John Farrell of Harbour Town deals with the general public at a high-end resort facility, as opposed to private club members and their guests, but theorizes the sensibility is the same. "We are charged with managing people's leisure time, and that's sacred, in some cases more valuable to them than money. Mike gets that, knows people don't come to Secession for a good time, they come for a great time, and he makes it happen. He is so consistent, so dependable and so personable that every time you see him, you think, I'm glad I ran into that guy."

Concludes Harmon, "I'm proud I made it out on Tour, but what we've accomplished at the club is more lasting. It gets to the heart of what the game is really all about."
Joel Zuckerman, called "One of the Southeast's most respected and sought-after golf writers" by Golfer's Guide Magazine, is an award-winning travel writer based in Savannah, Ga. His seventh and latest book, entitled "Pro's Pros - Extraordinary Club Professionals Making Golf Great!" is scheduled for release in April 2013. This is the first-ever golf book to shine the spotlight on the beating heart of golf - the unsung, yet hard-working club professional. Joel's course reviews, player profiles, essays and features have appeared in 110 publications, including Sports Illustrated, Golf, Continental Magazine and Delta's Sky Magazine. He has played more than 800 courses in 40-plus states and a dozen countries. For more about Joel, visit visit www.vagabondgolfer.com.