Head Pro Spotlight - Nicole Weller
By: Joel Zuckerman
Nicole Weller is different than most PGA professionals and not just due to her gender or relative youth. Her distinction is not that she's a black belt in karate, or that she is an accomplished pianist. No, what sets Nicole Weller apart from her peers is the facility where she practices her craft.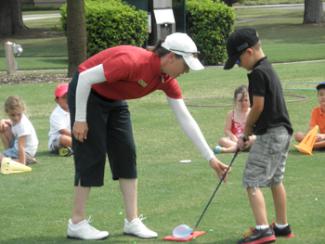 Nicole Weller at Work with the Juniors
Referring to the Landings Club in Savannah, Ga., as just another golf-real estate community is like calling Buckingham just another palace. It's not one or two courses, but a half-dozen. Not one clubhouse, but a quartet. Not just a head pro and a couple of assistants, but all told some 15 different PGA professionals employed in varying capacities. Not just a couple hundred members, but nearly 1,600 golf memberships that translate into some 2,500 golfers.

While golf instruction has been readily available and sought out by some during the club's 40-year existence, it has become an absolute priority for many hundreds - neophytes, kids, women, beginners, decent players and par shooters alike - since Nicole Weller became the head teaching professional.

"The instructional component of this club has grown significantly and measurably since Nicole took over, it's practically night and day," offers director of golf Tad Sanders, who has 25 years of tenure at the facility. "I began here as an assistant pro right out of college in 1987, and haven't seen anyone here who brings such a passion to teaching, with such a love of instruction, and to the junior golfers in particular. She has really elevated the instructional programs here, and is on the cutting edge of all the latest developments."
Sanders' boss is Landings Club general manager Steven Freund, who spent more than 20 years at golf properties in the Ritz-Carlton organization before taking the reins here in 2010. He is equally impressed, offering, "Nicole has inquisitiveness and a curiosity unlike anyone I've ever seen. She's not complacent with where she's at, she is constantly scouring the world to find new and creative ways to help our members - whatever age, experience level or ability - learn how to improve and accelerate the learning process in an enjoyable manner."

A Massachusetts native now in her early-40s, Weller was introduced to the game by her dad, who had her wandering the golf course chasing butterflies and swinging a club in earnest at age 4. She was playing competitively at 11, competed in three U.S. Girls Junior Championships, capturing the first AJGA event she entered, was an Honorable Mention for the AJGA Rolex All-American team, and awarded a four-year golf scholarship to Wake Forest University. "I studied psychology at Wake Forest, and then earned my Masters in Sports Psychology at the University of Tennessee. I became a golf professional almost by default, and started concentrating on teaching. It wasn't long before I realized I had found my calling," begins Weller.

In was during her 10 years in Tennessee that she met future husband Ty Weller at a PGA training seminar, where they were both studying to obtain their "Class A" cards.
Ty and Nicole married in 2000, honeymooned at Kiawah Island and fell hard for the Low Country, moving over from Tennessee to Savannah and the Landings Club in 2005 as assistant professionals, where both advanced quickly. Ty is now one of the head pros at the club, and Nicole was elevated to the head teaching position within a year and a half of her arrival.

All things being equal, each of the 15 golf professionals at The Landings would command a bit less than seven percent of the lesson revenue. Nicole Weller does nearly five times that amount, or about one-third of the total lesson revenue. She is quick to use the "right time, right place, right circumstance" explanation for her unprecedented success.

After all, she is a teacher first and last, with the latitude to simply teach and create programs, without the golf operations and shop responsibility that most of her colleagues have. As the only woman on the golf staff, the many hundreds of avid women golfers at The Landings have a natural affinity for her. (The LWGA, or Landings Women's Golf Association, is literally one of the largest women's golf organizations in the world.) But it goes beyond these natural advantages, compelling as they might be.
"Her results have been wonderful," continues Sanders. "It's her marketing savvy, her enthusiasm and dedication to service, the fact that she genuinely cares, not just about her own students but about all the members and their progress in the game. It is no wonder our lesson revenues and interest in instructional programs and seminars have never before approached the level they are at now."

The Landings is unique in that it attracts a large percentage of residents who have had limited, and in some cases, virtually no exposure to the game before deciding to relocate to this golf Shangri-La. "I love the 'never-evers' as much as any other type of student," states Weller, honored in 2010 as one of Golf Digest's "Top 40 Under 40" instructors.

"To see the spark when they grasp a concept, hit a solid shot in the intended direction, get the ball airborne, whatever it might be. It's also an opportunity to teach life skills in a golf context, things like strategizing, controlling the emotions, overcoming fear and doubt. They are all endemic to the game and life outside the game, and it's great to be able to impart some wisdom in this manner. We are opening up a whole new world for these people by virtue of this incredible game, and I absolutely love it."
"One of the things that really impresses me about Nicole is that she is so much more than an on-course or driving range instructor," remarks Freund, who has nearly 400 employees at the club but few capable of generating revenue like Weller. "She looks at the totality of a member, and is capable of helping not only with mechanics, but due to her martial-arts background can help with the mental and psychological demands of the game. Her combination approach of physical, mechanical and mental aspects of golf is something I've never encountered to this degree previously."

Weller finds success because she doesn't wrap herself entirely in swing technique, but uses a holistic approach to the game encompassing fitness, flexibility, emotional strength, mental strength and strategy. "I am a big fan of PGA professional Bob Day, my coach when I was growing up in Massachusetts, and also the work of Pia Nilsson and Lynn Marriott, whose books and seminars have as much to do with reaching your potential in golf and beyond as they do with any technical jargon or swing mechanics."

The vast network of amenities on Skidaway Island, not to mention the deep vein of human resources, are two of the reasons Weller relishes coming to work each day. "If one driving range happens to be closed for maintenance, there are three others I can teach on," she continues. "Where else is that possible? The diversity of backgrounds, geographies, experiences, professions and age groups of our members is remarkable, as is the fact that women are so empowered here, so welcomed and encouraged to learn golf and play with regularity."
The synergy that exists between Weller and her students is reflected in her success. "I have a great desire to learn and improve my teaching, and so many members have this deep thirst for knowledge, which I am able to provide. It works as well as it does because ultimately we are both after the same thing - a greater understanding of golf, and how we can play better and improve ourselves, on and off the course.

"I love to educate golfers and enhance their lives, get them moving, get them thinking, and get them to enjoy themselves more through this wonderful game," she adds. "I stay motivated every day and night thinking about breakthroughs with individuals, them understanding a concept and beaming after success. I get a great sense of accomplishment as they find the same sense of accomplishment by improving. I've actually shed a tear on the range watching a student make a major breakthrough."

Weller believes for the game to shake off its decades-long doldrums and thrive once again, kids should start as early as she did - introduced to the game as early as two or three, with simple and fun instruction and golf-learning games commencing at four or five years old. She also believes a nontraditional approach to beginners will ultimately pay dividends. Her philosophy is that it's easier to wean people from playing "relaxed rules" to playing traditional golf than it is to continuously recruit brand-new candidates to the game.
In other words, because golf can be so punitive and challenging, she bases her relaxed rules on the PGA of America's Get Golf Ready "It's OK Guidelines" and thinks beginners should, for example, be able to hit a mulligan on the first tee and on any tee, time permitting. Ground the club in the bunker, and if the ball refuses to be extricated, then toss it onto the green. Don't keep score and, if you do, then a swing-and-miss doesn't count because you didn't hit it.

"If they fall under the game's spell, start to love it, and take it more seriously then of course they need to learn to play by the rules," continues Weller, a 2010 and 2011 U.S. Kids Golf Top 50 Teacher. "But why run the risk of driving them away from the get-go, because the demands of 'real golf' are so overwhelming to those who have never played previously? We need to grow the game, and not scare people away or turn them off right from the start."
Joel Zuckerman, called "One of the Southeast's most respected and sought-after golf writers" by Golfer's Guide Magazine, is an award-winning travel writer based in Savannah, Ga. His six books to date include "Pete Dye - Golf Courses," which was honored as "Book of the Year" by the International Network of Golf. His seventh book, entitled "Pro's Pros - Extraordinary Club Professionals Making Golf Great!," is scheduled for release in early 2013. Joel's course reviews, player profiles, essays and features have appeared in 110 publications, including Sports Illustrated, Golf, Continental Magazine and Delta's Sky Magazine. He has played more than 800 courses in 40-plus states and a dozen countries. For more about Joel, visit visit www.vagabondgolfer.com.