Head Pro Spotlight - Scott Puailoa
By: Joel Zuckerman
Scott Puailoa has never needed to burnish his resume. After all, he's worked at only one club his entire adult life. But should he ever decide to test the employment waters elsewhere imagine the puzzlement his CV might cause after the GM had conducted a face-to-face interview: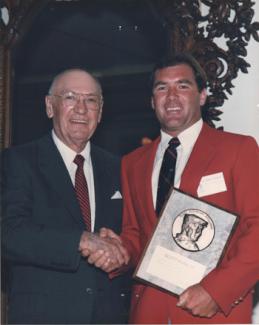 The Famed Ben Hogan with Scott Puailoa
Additional Language Skills: Samoan
Special Talents: Samoan Fire Knife

This highly regarded golf professional has the map of Ireland's County Clare (his mother's homeland), not Samoa, writ across his face. But the fact is that Puailoa (pronounced Pooh-Eye-Low-Ah) has a deep affinity for and with his father's people. The twin tenets of respect for all people and deep affection for one's extended family, both of which are endemic to this unique island culture, go a long way in explaining his ongoing success as the longtime head professional at the Valley Club of Montecito, a great West Coast club that most folks have never even heard of.

Puailoa, just past 60, explains that his granddad is full Samoan, offering with a chuckle, "I'm the only Irish-Samoan golf professional I know of, on the West Coast, anyway."

He was a coach's son, a star quarterback and defensive back, even at 5'9" and 200 pounds. After a couple of standout years at Santa Barbara Community College, where he was an All-State Western Conference player in both football and golf and MVP of both teams, he became the first Samoan to earn a scholarship in both football and golf at the University of the Pacific, a Division I school in Stockton, Calif. "Despite the success I was having on the football field, I started to concentrate more heavily on golf, figuring that offered better prospects for the future."
His golf interest initially stemmed from his dad, who worked at the local municipal course on the weekends, supplementing his income from high school teaching and coaching. "I grew up around the course, and started playing junior tournaments. I was very active in the Southern California Junior Golf Association from ages 12 to 17, and managed to win a few events along the way," explains the pro.

Lee Mikles has known Puailoa since both boys were playing junior golf together in the late '60s. Mikles played collegiate golf at Arizona State and then on the PGA Tour for three years before embarking on a successful Wall Street career.

"Scott was one of the most incredible three-sport athletes this region has ever seen," states Mikles, who wasn't at all surprised when his longtime friend was inducted into the Santa Barbara Sports Hall of Fame. He was honored not only for his decades-long service to the Valley Club, but also due to the fact that during his high school years he was an All-Channel League selection in football, basketball and golf and the San Marcos Male Athlete of the Year in 1972.
"I will also say he is far more competitive than 99 percent of the players I knew on Tour," continues Mikles. "But despite his competitive streak, Scott is the same mild-mannered, kind-hearted guy I have known for 45 years, although he is taller, broader and with far less hair!"

Upon his college graduation in 1977, Puailoa returned to his high school alma mater in Santa Barbara and began coaching football alongside his dad. He remained on the staff for 20 years, eventually working alongside his brother, who had taken over the program once their father retired.

That same year he was also hired as an assistant pro at the prestigious Valley Club, a longtime fixture on numerous worldwide top-100 lists. He made a single attempt at PGA Tour Qualifying School, and was readying for an encore. But the head pro, a short-timer at the club, resigned. Puailoa was asked to replace him and the decision was sealed. He has been there ever since, more than 35 years at this wonderful, yet little-known classic.
"This is a real throwback club, it has the look and feel of some great eastern clubs, partially because some of the original members came from back East," reasons the Pasadena-born pro. It's a 1929 Alister MacKenzie design with a bucolic parkland setting, offering distant ocean views on a half-dozen holes. The routing is out and back like a traditional links, the 10th hole being the farthest point from the clubhouse.

"It's a small, intimate membership, very close-knit, and we only do about 18,000 rounds annually, not many considering the year-round climate is so ideal." Puailoa describes Santa Barbara as a coastal desert, and its meager 13 inches of annual rainfall comes predominantly from January through March. "Bottom line is the weather is beautiful, basically, all year long."

It is better known in California but, with an ankle-high profile nationally, Valley Club is considered in much the same breath as Cypress Point, Olympic Club, San Francisco Golf Club, Riviera and L.A. North as among the finest private venues in the state. "It's somewhat intentional," relates Puailoa. "Our members have always wanted to keep this place quiet, and well under the radar. We have no high-profile events and very few outside events in general. It's a member's club, first and last."

Speaking of which, the first and last woman that Scott ever looked at is his wife Darci. She's not a golfer herself, but is the niece of a former PGA Tour player and answer to an excellent trivia question: Who is the only player to make his solitary PGA Tour victory in the U.S. Open? That would be Uncle Orville, aka Orville Moody, "The Sarge," who captured the 1969 Open for his only Tour win. Darci and Scott are high-school sweethearts who have been married since his college days. They have two daughters and seven grandchildren, ranging in age from high school to grade school.
Moody made a splash on the Champions Tour with 11 victories, but his nephew-by-marriage never got that chance. "I made several attempts to qualify for the Champions Tour a decade back," recalls Puailoa. "But my focus changed when my dad got sick, I began to concentrate on his comfort and health, and have since decided that the competition aspect of my golf game is no longer important."

"Scott still has the same zest for golf today as he did in junior high school," continues Mikles, winner of the prestigious and exclusive Horatio Alger Award, given to only 10 high-achieving individuals annually. "He is a great promoter of golf, his enthusiasm extends to all his members, and his encouraging attitude affects everyone at the club. It doesn't matter if he is with the 90-year-old member who can only play four or five holes, the rank beginners, the low handicap players, or the juniors. His main concern is that everyone has a good time," explains Mikles, a Valley Club member for more than a dozen years.

"This sounds odd, but in 35-plus years I've never really felt like I was coming to work," states Puailoa. "I have a passion for the game, for this beautiful facility, and for the wonderful, golf-loving membership that has embraced me. Every day we are talking about, working on and thinking about golf. I'm fortunate to make a living within this realm, I couldn't ask for more."
He supplements that living, just a tiny bit, as a member of a Polynesian review, a group that dons grass skirts, sarongs and aloha shirts for island music, Samoan dancing and fire effects. "I'm too old for some of the more dramatic parts of the show that I used to be involved with," admits Puailoa, who may look like the club's bouncer, but these days is actually the band's bass player.

He comes by the performance gene naturally. His grandfather emigrated from Samoa in 1924 and was an original member of the Screen Actor's Guild, working under the name Chief Satini. Scott's band is named Aiga, pronounced "eye-en-ga," which is the Samoan word for family. In this case it's truth in advertising because the band members, which, depending on the gig vary between eight and 15 individuals, include Puailoa's wife, brother, sister-in-law, cousin and various kids and grandkids.

"We get plenty of questions because none of us look very Samoan. People see me speak Samoan with other family members, and they probably think I'm either adopted or a linguist!"

Over the years Aiga has performed at the Valley Club nearly a dozen times. "The membership used to get such a kick out of it, especially my participation," he recalls with a smile. "Think about it: How often do you see a golf professional performing or entertaining people in some manner, particularly at their own club?"
"If I'm cornered in a dark alley, there is no one I would rather have by my side than Scott, yet he is a gentle soul," concludes Mikles, now the CEO of a chemical company. "I am a huge fan of his, but then again, I don't know anybody at the Valley Club who isn't."

Puailoa is as constant and steadfast a presence as the rhythmic waves breaking at the city's famed Goleta Beach. He explains his loyalty and longevity, his aversion to profound change or upheaval very simply. "When I am fortunate enough to find something that works wonderfully for me," concludes the smiling pro, referring to Santa Barbara itself, his wife Darci and the Valley Club, "I can't imagine doing any better, so I'm not inclined to let it go."
Joel Zuckerman, called "One of the Southeast's most respected and sought-after golf writers" by Golfer's Guide Magazine, is an award-winning travel writer based in Savannah, Ga. His seventh and latest book, entitled "Pro's Pros - Extraordinary Club Professionals Making Golf Great!" is scheduled for release in April 2013. This is the first-ever golf book to shine the spotlight on the beating heart of golf - the unsung, yet hard-working club professional. Joel's course reviews, player profiles, essays and features have appeared in 110 publications, including Sports Illustrated, Golf, Continental Magazine and Delta's Sky Magazine. He has played more than 800 courses in 40-plus states and a dozen countries. For more about Joel, visit visit www.vagabondgolfer.com.