Head Pro Spotlight: Tony Pancake
By: Joel Zuckerman
Editor's Note: The BMW championship, the third of four FedEx playoff events, and the tournament that precedes the Tour Championship, comes to famed Crooked Stick golf club outside of Indianapolis the weekend after Labor Day. Even though the event is still almost two months away, head professional Tony Pancake is deeply engaged in preparation. Luckily for all involved, he has been down this road numerous times before.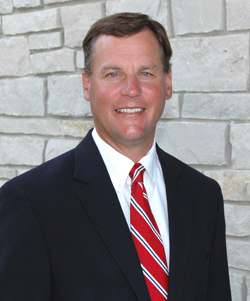 Tony Pancake
The majority of golf professionals go from little-known club to lesser-known clubs and the closest they get to a high-profile golf event is walking the grounds or watching it on TV.

Not so for Indiana native Tony Pancake. His distinctive name is matched by an equally distinctive career, having held the top job at several of the best-known and most highly regarded clubs in the nation. He has also been the host pro at important golf events some half-a-dozen times, more than a career's worth, all the more impressive considering the man is just past 50.

One needn't possess the deductive reasoning powers of the Inspector General to see the correlation between Pancake's impressive resume and his early exposure to an impressive lineup of teaching professionals. Despite being an all-state golfer in high school, he was lightly recruited heading to college, mostly in the Midwest, but chose Alabama. "I was determined to go to the warmest-weather school that offered me a scholarship," begins the director of golf at Crooked Stick, outside of Indianapolis. "I wanted to be able to work on my game year-round."

Working on his game quickly became working in the game. After two years on the golf team, the undergrad went to work for the esteemed teaching professional Hank Johnson at North River Golf and Country Club in Tuscaloosa. "I was basically a 'go-fer' at the Golf Digest Schools that were occasionally held at the club, and I watched and learned from teaching luminaries like Bob Toski, Jim Flick, Peter Kostis, Jack Lumpkin and Davis Love Jr.," continues Pancake, who is quick to admit he might have learned just as much outside the classroom as inside as he pursued an accounting degree.
Lumpkin took a liking to the aspiring pro and, shortly after graduation, hired Pancake as an assistant at the Elk River Club in the mountains of western North Carolina. In these early years Tony also worked as a teaching pro in Cleveland for a bit, spent a winter season in Vero Beach, and eventually at Troon Country Club in Scottsdale, which had the added benefit of keeping him close to his fiancÚ (now his wife and mother of their four children), Libby Akers, who was a finalist in the U.S. Girls Junior Amateur in 1980, and a scholarship golfer at ASU.

"I give lots of credit to Scott Davenport, who I worked for in both Alabama and Florida, for really teaching me the ropes," says Pancake. "He taught me as much or more about being a golf professional than anyone else I've met or worked with."

Pancake was just 24 when he was hired for his first head professional position, at Valhalla Golf Club in Louisville, Ky. "I had good references from some of the big-name professionals who had taken me under their wing, and I guess they liked the fact my hometown was just an hour or so north, across the Indiana state line."
Worried about his youthful appearance, "I looked about 16 at the time," he recalls. Pancake thought about wearing spectacles at the interview, but decided he would sink or swim with his usual contact lenses. He swam.

In his eight years at Valhalla, he was the host pro at the 1996 PGA Championship, in which Mark Brooks bested Kentuckian Kenny Perry in a playoff. "It had been nearly 45 years since Kentucky hosted a major, and I concentrated on making sure the players, fans and my own members had a great time and were well taken care of that week."

After a single-year dalliance as head professional at Hurstbourne Country Club, a 27-hole facility cross-town from Valhalla, Pancake was tapped for another big job at prestigious Baltimore Country Club, a top-100 facility featuring 36 holes of golf, including an A.W. Tillinghast classic from the 1920s. "We had three small kids at the time and wanted to stay in Louisville, but I couldn't resist the opportunity to work at such a highly-regarded club."
Baltimore CC had 3,000 total members, 800 of them golf members. "I always study the membership directory when I take a job, to accelerate my familiarity with the members," explains Pancake, whose career in Baltimore spanned six years: three years as head professional and an additional three as director of golf.

"But in this case, I might as well have been trying to memorize the phone book! I noticed there were about 75 different Miller's in the directory. When I first met all the members at an introductory meeting in 1998, I said, 'It'll take me some time to learn everyone's name, but I figure if I call you Miller I'll be right about 10 percent of the time!' "

The Baltimore years were fruitful and rewarding for the pro and his entire family, but the perfect opportunity was still to come. Pancake's longtime friend and home state mentor Jim Ferriell was edging close to retirement after spending nearly 30 years as the head professional at Crooked Stick, one of Hall-of-Fame architect Pete Dye's most compelling and renowned creations. Crooked Stick is where then-unknown John Daly burst onto the golf scene by winning the 1991 PGA Championship, and it's the club where Pete and his wife Alice make their summertime home. "It was a chance for Libby and me to get back to our families and to work in a more intimate setting of just 225 members. We were eager for the opportunity."
However, the Crooked Stick brass didn't quite match the pro's enthusiasm. In all his previous positions, the smooth-as-batter Pancake was either offered the position that very day or could sense he was the leading candidate. Not so for this most-coveted job; they had him back six separate times before offering the position. He explains the unique skill set that made him the "can't-miss-kid" three different times before Crooked Stick made him sweat.

"I think it's a combination of preparation, conversation skills and being somewhat quick on my feet," offers the pro. "In my experience, most candidates use handouts during interviews - tournament formats, pictures of scoreboards, their resume, things of this nature. I wanted the attention to be on me, not on any ancillary material I brought along and passed out to the committee.

"I also made the point of learning a bit about the committee members beforehand, and where their specific interests lay," Pancake added. "If there was a mother who had kids playing I would emphasize to her the junior program I would develop. If there was a low-handicap member I would emphasize the competitive events I would plan. If there were beginning golfers on the committee I would tell them specifically about the clinics and introductory basics I had implemented in previous positions.

"My feeling was that if I got the job, and someone asked me a pointed question on a Thursday afternoon, I wouldn't have a handout to give them, I would need to answer their question at that moment. By replicating the same environment in my interviews, I showed them what I was capable of in a more transparent manner, and things worked out every time."
Until Indianapolis. What turned out to be his "final interview" was "the most nerve-wracking round of golf I ever played," recalls Pancake. He was paired in the prestigious Dye Cup with Boyd Hovde, who was representative of the type of passionate, sophisticated and, in many cases, talented golfer that calls Crooked Stick their home club. Hovde is a former Indiana Amateur champion, a member of the Indiana Golf Hall of Fame, and the club champion many times over.

Also in their foursome was the tournament's namesake, renowned course architect Pete Dye, himself a former Indiana Amateur champion, and Dye's partner Mickey Powell, a former president of the PGA. Pancake sensed that his Hoosier status, self-assured manner and engaging personality could only take him so far. Crooked Stick wanted a real stick as its head pro, and when he managed to shoot a round near par that afternoon, the job was finally his.

It's not a job he plans on leaving. Though he has had four head professional positions in a career of 25-plus years, he's not looking for a fifth. "We are Midwesterners by birth, we love Indianapolis and this wonderful club. Crooked Stick was created nearly a half-century ago, and I am involved in long-range planning for the next half-century," continues Pancake, who is also the manager of club operations in addition to being director of golf.

"The members want and expect a first-class golf experience and that is my passion, delivering it not only on special occasions, but every day. I hope to stay here for the duration of my career."
Some of the special occasions Pancake has been involved with at Crooked Stick include the Solheim Cup, the U.S. Women's Amateur, the U.S. Senior Open, and the PGA Tour's BMW Championship. "They have all been exciting in their own way, but probably the most fun was the 2005 Solheim Cup, albeit nerve-wracking at the same time."

Though he has many fields of expertise, nowhere on his resume does it say audio technician. So even though it was not his fault that the public address system wasn't functioning as he was introducing the first set of Solheim Cup team pairings on the first tee the first morning of the competition, he was still in the firing line. "It was live on Golf Channel," recalls Pancake with a sigh. "The first tee was buzzing with noise because there were thousands of people on hand. Because the P.A. wasn't working, almost no one could hear me announce the first match, but I couldn't stop and wait because the cameras were rolling."

American team captain Nancy Lopez, always a default choice for one of the world's nicest people, was "pretty direct," recalls the pro, when she told him to get the system fixed before the second set of pairings were due on the tee several minutes later.

Because he prides himself on preparation, because he's a stickler for detail, Pancake had no problem with the tongue-twisting nature of some of the names on that European Solheim Cup team. Learning a dozen foreign names was a far easier task then memorizing the 800 golf members at Baltimore CC in short order, so despite the inherent pronunciation pitfalls of players like Gwladys Nocera, Ludivine Kreutz and Maria Hjorth, once his P.A. system was up and running he introduced them as easily as he might have introduced the Pointer Sisters - Ruth, Anita and June.

"Some names are easier than others to pronounce and remember," concludes Tony Pancake. "My last name, which is of German extraction, caused me plenty of grief when I was young. But in regards to my career it's been a benefit. Kids love it, adults will always remember it, and I'm thankful to my wife Libby for taking it!"

The name was given to him. But what of the work ethic, ambition, intelligence and people skills that have taken him to the heights of his profession? Those he came by all on his own.
This profile is excerpted from Joel Zuckerman's upcoming book entitled, "Pro's Pros - Extraordinary Club Professionals Making Golf Great!" The book, Joel's seventh, will be released in the spring of 2013.
Joel Zuckerman, called "One of the Southeast's most respected and sought-after golf writers" by Golfer's Guide Magazine, is an award-winning travel writer based in Savannah, Georgia. His six books to date include "Pete Dye - Golf Courses," which was honored as "Book of the Year" by the International Network of Golf. His latest is titled, "KIAWAH GOLF - The Game's Elegant Island," released in July 2012. Joel's course reviews, player profiles, essays and features have appeared in 110 publications, including Sports Illustrated, Golf, Continental Magazine and Delta's Sky Magazine. He has played nearly 800 courses in 40-plus states and a dozen countries. For more about Joel, visit visit www.vagabondgolfer.com.