Heck of a Good Golf Course in the Poconos
By: John Torsiello
As my wife Norene and I were driving to the Woodloch Resort we wondered just where the heck this place was that we had heard so much about. We had driven a number of miles off a major highway leading into eastern Pennsylvania and through some of the prettiest, albeit deserted, countryside in the Poconos. We worked the car slowly up a winding and steep hill, rounded a sharp corner and there, like a world unto itself, was our destination.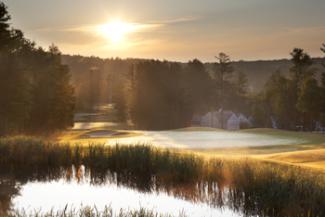 Woodloch Springs at Dawn
Woodloch is perhaps one of the sweetest hidden gems in the country. The resort is nestled in the northeastern tip of the Keystone State, surrounded by forest and sitting on the shores of Lake Teedyuskung, which we were informed means, "He Who Makes the Earth Tremble" in Native American. When I say that Woodloch is a multi-dimensional resort, I mean the word quite literally. There is so much to do here that you must stay a couple of weeks or keep coming back for more, which, we found during our stay, many guests have done for decades.

The emphasis at Woodloch is on fun and family. A number of the staff have been with the resort for 20 years or more and dinners are served in old-fashioned "family style," with seating in a massive although quite comfortable and attractive hall that overlooks Lake Teedyuskung.

The modern resort traces its history back over 70 years, when a woman named Mary Mould fell in love with what was at the time a small getaway while vacationing as a girl. In 1944, she married Harry Kiesendahl and the couple began raising a family. But Mary couldn't get thoughts of Lake Teedyuskung out of her head and fate intervened when her husband saw an advertisement in the New York Times listing a small resort for sale on a private lake in northeastern Pennsylvania. The small, unidentified lake in the ad turned out to be the Lake Teedyuskung Mary remembered from her childhood.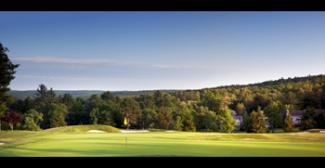 A Territorial View from Woodloch Springs
Events steamrolled from there and the purchase of the resort from the then owners, the Svenningsens, was smoothly completed. The Keisendahls, their children and Mary's parents took up residence at the resort in April of 1958, while Harry kept his Long Island business and stayed with his family at Woodloch Pines on the weekends.

The original 12 acres included a main lodge, annex and two cottages, all of which accommodated about 40 guests. By 1961, expansion had doubled the size of the resort and by 1983 it had grown into 150 acres with almost a mile of shoreline and 135 rooms. Currently the facility consists of over 1,000 acres and can accommodate over 900 guests. Nearby Woodloch Springs houses the resort's golf course and custom homes.

After sampling some of the many recreational pursuits the resort has to offer - which range from canoeing and hiking to tennis and a fitness facility - I decided to leave my wife by the lake for a few hours to catch some rays and check out Woodloch Springs Golf Course, which is about a two-mile drive from the main property. On the way I wondered how anyone could have routed a course over such hilly and wild terrain, but I got my answer when I toured the layout, which was designed by Rocky Roqeumore and opened in 1992. The architect did a masterful job working with the natural landscape and creating a course that is difficult but playable.

Woodloch Springs isn't overly long, 6,579 yards from the tips, but it fits the true definition of a shot-maker's track. The holes meander through fern-carpeted forests, lush wetlands and broad upland meadows, and there are a number of elevated tees and greens, all of which conspire to make for an aesthetically pleasing round.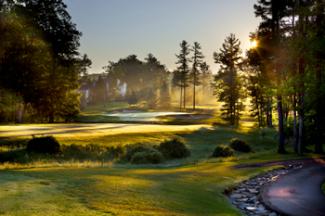 One of the Lovely Holes at Woodloch Springs
The beauty and challenge of Woodloch Springs hits you pretty quick. The third hole is a wonderful, 558-yard, dogleg-right par-5 that demands an accurate drive to the end of a landing area and then a second shot across a stream and wetlands to another landing area below, from where you will have a short wedge into the green. The first two shots must be true to avoid all sorts of trouble lurking both sides of the hole.

The seventh is another great par-5 that plays less than 500 yards from the tips and again has two fairway landing areas. Big hitters who bomb it straight on this down-hiller can think about going for the green in two, but a stream fronts the putting surface, so you better be accurate and long on the approach.

There are a number of short par-4s, such as the 346-yard 12th and 357-yard 13th, where a good drive will provide an opportunity at birdie if you can stick a mid- or short-iron near the flag on the rather large greens.

The 14th is one of the coolest par-5s you will find. The drive from the back tees requires a 220-yard carry over what is called "Hells Gate Gorge," which was carved from the rugged mountainside by rushing water some 200 feet below the tee. Even if you play the hole from a tee across the ravine, pro John Pillar recommends taking a try at clearing the valley to see if you can do it. I tried and did, which left me feeling robust and, well, manly. However, the 14th doesn't get any easier after the drive, as the fairway is narrow up to the green, which is tucked to the left, sitting below a fairway landing area. You've got to get your second shot inside 140 yards to have a clear look at the target.
The course concludes with a tough, 435-yard par-4 that, again, necessitates a drive over a stream from an elevated tee and a lusty second to a green above the fairway.

Woodloch Springs is one of those courses you have to play more than once because of its design and routing, which places a premium on well-thought-out shots over brawn, except on that 14th back tee. The conditions are very good and superintendent Jeff Hugaboom does a commendable job caring for what must be a difficult layout to maintain, what with all its elevation changes and proximity to wetlands and streams.

When we visited Woodloch the kids weren't yet out of school, so the crowd was mostly older and the atmosphere laid-back. The resort really hops in the summer when families bring their children to enjoy a myriad of youth-targeted activities, such as bumper boats, miniature golf, batting cages, basketball, go-karts and swimming. They tell me that Woodloch has been called a "cruise ship on land," and I could see what they meant.
The staff organizes lots of things to do, from a Broadway-style theme show to bingo. A nice plus is that you don't have to drive anywhere to enjoy all the resort has to offer. If you don't want to walk, there are vans and small buses that constantly circulate throughout the property and will take you wherever you want to go, pick you up and bring you back to your quarters.

The resort also offers exclusive access to spa treatments at its sister property, the Lodge at Woodloch, which is beginning to attract a well-heeled following of its own. The resort has high-speed wireless Internet access and isn't far from the Delaware and Lackawaxen rivers, where you will find great fishing and bird-watching. Be on the lookout for bald eagles that make this one of their prime nesting areas.

A side trip to the sleepy little town of Hawley is worth the 10-mile ride. There are funky shops and a number of good restaurants in the town that could just have well have been named Mayberry.

For more information, visit www.woodloch.com.
John Torsiello is an editor/writer living in Connecticut. He has written extensively about all aspects of the golf industry for a number of national and regional publications. He is a regular contributor to "Golf Course Industry," "Lawn and Landscape," "Golfing" and "Fairway Living" magazines as well as various online publications. He has strong, ongoing relationships with industry professionals and has worked closely with course owners, architects, developers, course superintendents and general managers around the country. He has won a number of awards for his writing, including first place from the Turf and Ornamental Communicators Association for a piece that appeared in "Golf Course Industry" magazine.