Hemingway Would Understand the U.S. Open
By: Jay Flemma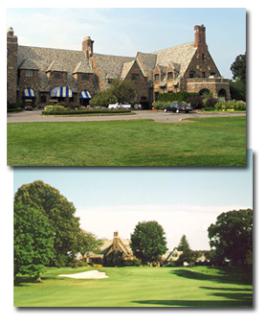 Ernest Hemingway once wrote that, "the purpose of art is to bring order out of chaos, a tall order when chaos is static and a superhuman task when chaos is multiplying."

Hemingway should have covered the chaos that is the U.S. Open. This pressure-cooker is a microcosm of the rule of how you'll benefit from keeping your head when all about you are losing theirs. And there is a deep chasm of philosophy between the younger players yearning, hunting for their first taste of major victory and those who have broken through and won majors.

To paraphrase Hemingway again, the difference between the major talent and the major winner is the difference between the lightning bug and the lightning.

Some of our young lions look and sound ready for anything. With his win at the AT&T Pebble Beach and his T-4 finish at Colonial, Arron Oberholser looks to improve upon his excellent T-9 Open debut from last year. But is his preparation enough?
"I only really started to think about the Open this week" he said without any regret. "There was nothing I really did different or special to get ready early. Last week was a great tune-up for this tournament. The greens have a lot of contour, the rough was tough as well. It was almost as thick and was spongy so lies were difficult. Last week we hit a lot of mid-irons and this week we'll hit a lot of mid-irons."
He mixes respect and some wisdom with this admission. "You really can't put the pedal to the metal anywhere here. You have to hit the middle of the green and get out of there with a two-putt. These greens have big breaks and lots of slope."
When asked how he'll handle the pressure come Sunday if he finds himself in position to win he replied, "The way I handle the pressure is I just remember that I have hit the important shot and overcome the pressure at every level so far – high school, college mini-tour. I think about how I've worked my whole life to get to this position and try to draw on that. Sure you get nervous, but when I think about how I've succeeded at all the prior levels, it helps me stay calm out here."
Charles Howell was equally excited. "You could say I have been prepping all year. I've been trying to treat each tournament like a major and give each week 100%." Yet, even he was respectful of the tornado in wait that is Winged Foot.
"Off the tee, you have to be in the fairway. You have to ask yourself, 'Is the driver worth the risk?' The fairways are really narrow and the rough is really deep, so long bombers are really taking a chance here. On the greens, you must be below the hole. Seventy-two pars will go a long way to winning the golf tournament. You're going to make bogeys but, at all cost, avoid the doubles. It's like Bethpage in one regard, you clearly see the challenge laid out in front of you."

Oberholser and Howell have the fearlessness of youth and the desire of hungry animals. Charles' eyes are steely and his speech crisp and full of conviction. He looks ready to go out and start right now. Oberholser seems equally resolved – as if his way of dealing with the pressure is to welcome it and wrestle with it full bore. He seems ready to rumble. Howell is only one notch down on the dial, despite having finished no higher than T-33 all year, (16 starts) excepting his T-2 finish in New Orleans.

Youthful exuberance and fearlessness don't often carry the day at the U.S. Open and are even less effective at Winged Foot.

Perhaps no one is better positioned to comment about winning a major than past major champions. As a group, they are slightly more subdued, most likely because they know what it takes to win, rather than think they're ready.

"It's not so much walking on eggshells as it is cautious aggression," said 2003 PGA champion Shaun Micheel. "How did I learn to overcome the pressure? It wasn't anything like 'drawing from past experience.' The nerves are always going to be there. You can't get away from that, but I overcame the nerves and won the PGA simply because I got sick and tired of letting the mental side drag my game down."

Shaun suddenly seems to show a genuine human candidness for a moment most golfers have forced themselves to tune out. "I used to get down on myself and then I just realized how sick and tired I was of that. I would get too uptight, but now I realize no one is going to hit 100 percent of their shots and that other people will make mistakes and bogeys too. But no nervous mistake is going to beat me."

Shaun has carefully planned his way around Winged Foot. "You want to get off to a good start," he explains. "Ernie Els is right that the first four may be the worst four and you cannot play this course from behind. You have to hit fairways, then hit the middle of every green and you'll have some of birdie chances. Not a lot mind you, but enough. I have been finding the most difficult places on the greens and practicing those putts. There are not too many places to really take a chance. Maybe some of the par-3s are places where you might get a breather, but you also don't want to take a big number on an easy hole. And of course the winner will have to putt well."

The mental aspect is also never far from his mind. "Mentally, I started preparing for the Open about a month in advance. Majors are always in the back of your mind as a player."

While Micheel has finished no higher than T-12 this year (the Wachovia), the experience of winning a major is a huge leg up. Moreover, parkland gem Oak Hill is not totally dissimilar to Winged Foot with its narrow fairways, shot-shaping requirements and severe greens.

1994 and 1997 U.S. Open champion Ernie Els shows a major champion's depth of preparation and course analysis in his full media interview when he analyzes the places to "hit the gas" and the places to "play safe."

"The pitch on number-one green has to be 6 or 7 percent," he said with a hint of incredulousness. "You have to get through the first four holes. If you're level par after that, you're smiling, believe me. That's like being two under! This morning I hit all four fairways and was two over, so it's a really difficult start. When you get to the weekend, the guy leading the golf tournament can lose it in the first hour. You can be plus-4 after four very easily. The lead won't mean much until the back nine on Sunday. But saying that there are a couple birdie holes on the back nine. Eleven is a short par-4 and 12 is a par-4. Seventeen and 18 aren't playing too long either. On the front, five through seven is an opportunity."

Defending champion Michael Campbell also spoke of intense preparation in his media day interview. "I prepare at home by looking at the golf course, not actually playing it, but looking at it – practicing from very heavy rough and very fast greens. You need to hit it long and straight here this week, more so than Pinehurst, which was a bit more forgiving off the tee. The fairways [are] really undulating. You can hit a good shot and still be in the rough and the rough I saw yesterday was brutal. You can't see the ball sometimes, it sinks right to the bottom."

Finally, Mickelson was as relaxed could be – seeming more like he'd dropped in on an old friend for a glass of port and some cheese than a player about to try to bag his third consecutive major confronting the media frenzy. He's been in town practicing so long he might as well be a citizen (after multiple coffee shop and dinner sightings). Still, his analysis was laser-precise and his preparation tireless.

Phil told the assembled media at his player interview that while he won't have his second "driver" (the draw driver) in the bag come Thursday, he'll adjust his game plan during the course of the tournament depending on the weather.

"I think that it's supposed to rain Wednesday and Thursday and, if that's the case, I want the 45-inch fade driver that I feel comfortable with in the bag. As it's heating up Friday, Saturday, Sunday, and the weather gets dryer, I may go to the 43-inch driver we designed, which is really more of a 3-wood. It's right in between a driver and a 3-wood – almost like a 3-wood – in there as well. I hit it about 15 or 20 yards shorter, but if it's crowded enough, that shorter distance off the tee may help me hit fairways. I'll start with the 45-inch driver and later see if I wanna make a change."

There seem two critical differences between the major winners and the major talents. First, the major winners have as a whole put in more time and analysis. Second, they seem more ready for the crucible on Sunday.

Break hard and jagged this week and your card and mind will be a disorganized hell broth. Channel all your potential and patience on the back nine Sunday and the sky is the limit. Find your inner Hemingway. "Papa" would understand the pressure.
Since launching his first golf writing website in 2004, http://jayflemma.blogspot.com, Jay Flemma's comparative analysis of golf designs and knowledge of golf course architecture and golf travel have garnered wide industry respect. In researching his book on America's great public golf courses (and whether they're worth the money), Jay has played over 220 nationally ranked public golf courses in 37 different states. Jay has played about 1,649,000 yards of golf – or roughly 938 miles. His pieces on travel and architecture appear in Golf Observer (www.golfobserver.com), Cybergolf and other print magazines. When not researching golf courses for design, value and excitement, Jay is an entertainment, copyright, Internet and trademark lawyer and an Entertainment and Internet Law professor in Manhattan. His clients have been nominated for Grammy and Emmy awards, won a Sundance Film Festival Best Director award, performed on stage and screen, and designed pop art for museums and collectors. Jay lives in Forest Hills, N.Y., and is fiercely loyal to his alma maters, Deerfield Academy in Massachusetts and Trinity College in Connecticut.