Here Today, Gone to Maui
By: George Fuller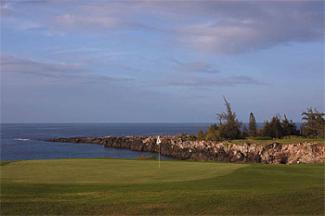 Maui combines the best of all the Hawaiian Islands. It's green and lush like Kauai; entertaining and full of fun like Oahu; big, with open spaces and sweeping vistas like The Big Island; and has tradition and spirit like Molokai.

Yet it has its own distinct history and sense of place, too: the old whaling village of Lahaina – formerly the capital of Hawaii; the majesty of Mount Haleakala from the summit of which scores of bicycle riders glide downhill every day after watching the sunrise; the charm and isolation of Hana. And, like all of Hawaii, the Pacific Ocean is front and center. Visitors find it all before them: surfing, swimming, whale watching, snorkeling.
Maui is also home to the PGA Tour's season-opening event, the Mercedes Championships at Kapalua, and offers three of Hawaii's best golf destinations: Wailea, Kapalua and Makena. Each of these destinations lures visitors with superb beaches, excellent dining, fun swimming pools and resort activities, and three of the best courses in Hawaii: Wailea Gold, Kapalua Plantation and Makena North.
Wailea Gold is the Robert Trent Jones Jr. design that hosts the Senior Skins Game. One can hit away here and not lose too many golf balls, but accuracy is required for scoring. The ocean views are superb, the course is always in good shape and one can't beat Seawatch Restaurant for its wide-open ocean views as you're enjoying a Hawaiian-style fish sandwich after the round.
Measuring more than 7,000 yards for the best players, average golfers play it from the 6,653-yard blue or 6,152-yard white tees. Women play the course at around 5,400 yards. From the appropriate set of tees, the design is a test of your game, but never demoralizing. The Emerald Course and the older Blue Course are the other golf options here.
One of the newest developments on the accommodations side of Wailea is that Marriott has become operator of the former Wailea Outrigger. One focus of the Marriott is on "wellness travel," a concept that goes beyond spa travel into such areas as nutrition counseling, weight management strategies, anti-aging programs, fitness and yoga, Hawaiian healing arts and Feng Shui. Guests find these programs at the Maui Wellness Center. Of course all the traditional spa treatments are also offered at the adjoining spa.
Another benefit of having Marriott in Wailea is for those traveling on rewards programs, whose options on Maui have been limited until now.
At Kapalua, host of the PGA Tour's season-opening Mercedes Championships in January, the three courses are Bay, Village and Plantation – the latter being host of the tournament. Those who have played the big, hilly Plantation Course on a windy day – which is pretty much every day of the year – will know what director of golf Marty Keiter means when he says, "Hawaii's courses are defenseless without wind," as was the Plantation at the 2003 event when Ernie Els took the Mercedes (and a cool million bucks) with a score of 31-under-par.
Don't expect that when you visit. Typically, it's windy at Kapalua, which adds to the challenge of the golf courses.
"From top to bottom, this could be the strongest field we've ever had," Keiter says of the 2004 Mercedes Championships. "Annika Sorenstam and (Hawaii resident) Michelle Wie are both playing in the pro-am. And this tournament, being on Maui with a total of 6,000-7,000 people per day in the gallery, is about as close as you can get to watch Tiger or Ernie compete."

While the Plantation is the premier course at Kapalua, both the Bay and the Village are fun courses, with the Bay course boasting one of Hawaii's prettiest holes, No. 5. It is a par-3 with an ocean inlet between tee and green. Golfers can rest assured that it's better to be long than short, as a big open area presents itself behind the green.

At The Ritz-Carlton Kapalua, a new chef and a "talk story" program run by the resort's cultural ambassador, Clifford Na'eole, are two more good reasons to visit.

Chef Antony Scholtmeyer, an Australian with Dutch and Japanese influences, has taken over at The Banyan Tree restaurant. His preparations depart from the Hawaii Regional Cuisine that has been the rage for more than a decade. At Banyan Tree one is likely to see an entrée of grilled shutome fish with a Maui onion salad and a sweet potato dahl, with a black truffle parfait with a honey and black pepper glaze for dessert. Now that's cross-cultural!

Another Kapalua dining tip: Go to Vinos at the Village Course clubhouse. An unassuming hot dog and hamburger stop during the day, by night this restaurant breaks out of the telephone booth with some super Italian cuisine. It's fresh, creative and concentrates on texture as much as flavor. Thus, the "handkerchiefs" of homemade pasta are not only coated with a creamy, smooth pesto, but topped with roasted almonds and pecorino cheese. The result is both crunchy and flavorful, a wonderful combination.

And while those resorts are the top-of-the-line luxury destinations, Maui also offers choices for all budgets and requirements. One can stay in a three-star property in Kaanapali – such as Kaanapali Beach Hotel, where a three-night package includes accommodations, daily buffet breakfast for two persons, compact rental car and two rounds of golf per person at the Kaanapali Golf Courses (including cart) starting around $1,000.

Alternatively, many people choose a budget-wise week-long condo rental in the town of Kihei (next to Wailea) and play the nearby Dunes at Maui Lani course, Sandalwood or Elleair (formerly called Silversword). These courses can be played for between $50-$100.

Of these choices, the Dunes at Maui Lani, a Robin Nelson design, is one of the locals' favorites. It plays among some dunes near Maui's main airport, with a variety of fun and memorable holes. For less than $100, put this one on your play list on Maui.

George Fuller has played every course in Hawaii and has a photo book called, "Discover Hawaii's Best Golf." Click on his byline link above for more information about the book.



Photographer and writer George Fuller has been covering golf and adventure travel for more than 15 years. His assignments have taken him throughout the United States, Asia, Polynesia, Europe and Mexico.

As an author, he has eight books to his credit, the two most recent being "California Golf – The Complete Guide" (11th edition, 2004, Avalon Travel Publishing) and "Discover Hawaii's Best Golf" (second edition December 2001, Island Heritage Publishing). Others include "Hawaii: Adventures In Nature," (October 1999, John Muir Publishing).

A former editor of "LINKS – The Best of Golf," he has contributed stories to many newspapers and magazines, including TIME, San Francisco Chronicle, Coastal Living, GOLF Magazine, Travel & Leisure Golf and others. Based in Marina Del Rey, Calif., George is a monthly travel correspondent for the PGA Tour (pgatour.com), and a Contributing Editor to The Golfer.