Hereee's Johnny! - A Kindler, Gentler Johnny Miller Makes His Mark at Silverado
By: George Fuller
"I never thought I'd be an owner," Johnny Miller says of Napa Valley's 36-hole Silverado Resort & Spa, his voice and face belying great pride. "But I've been redesigning these courses in my mind for 40 years."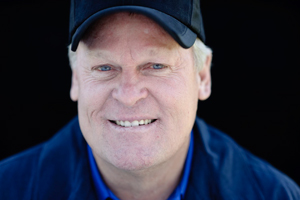 Johnny Miller
So when Miller - a 25-time PGA Tour champion and now lead commentator on golf telecasts for NBC Sports - and an investor group purchased the landmark resort in 2010, his first mission was to start work on redesigning the North Course, bringing it back to the championship level it once enjoyed.
br> Having grown up in the San Francisco Bay area, Miller played several junior and amateur tournaments at Silverado. He also won two PGA Tour events there, the Kaiser International Open Invitational in 1974 and '75. He says he knows "every inch of both courses," having competed here so frequently, as well as playing leisurely rounds with his sons, who learned to play on Silverado's fairways when the family moved nearby.
br> Thus, when it came time to redesign, Miller knew exactly what he had to work with and what he wanted to do. The original design was one of Robert Trent Jones Jr.'s first after he broke away from his father's employ. Opened close to 50 years ago, it stood the test of time as a resort and popular members' course, but its runway tee boxes, flat bunkers and straightaway fairways were dated.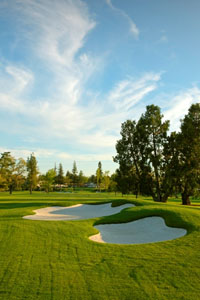 The 18th Hole at Silverado North
Enter Miller. "I took out 15, 20 bunkers," he says, "but the bunkers that are left are there for a reason. They don't always come into play for the members, but for better players they will. We also moved tee boxes to create doglegs and add shape to the holes. We pulled many bunkers into the fairways and flashed the faces. The only common denominator in great courses is great bunkers, and now I think we have great bunkers."

Saying he was influenced by the bunker styles at Pebble Beach and Augusta National, Miller's bunker work at Silverado transformed the playing experience by adding an element of strategy from tee to green. Now, standing on any tee box is not just a matter of gripping and ripping, but contemplating position and even club selection.

One thing that Miller left pretty much untouched from a design standpoint was the putting surfaces. But with the superior agronomy standards brought to bear by the facility's new management company, Troon Golf, the greens now not only showcase great design, but are in tip-top shape. "The greens had not been good for 20 years," Miller says, "but now they are the best they have ever been."

Miller is convinced by the resort's potential and so enamored with the property - and so personally involved - that even during the most hectic period of his NBC broadcasting schedule he would fly back to Napa on his off-days to work on the North Course redesign.
"I came some 30, 40 times," he says. "You can't name many places better than Napa Valley and Silverado. Our oak trees average 150 years old, with some as old as 300 years. There's no hidden OB on the course, no hidden water, not a lot of squirrel-y stuff. The greens are not mine, but everything else is mine."

Miller also added some 300 yards to the overall length of the North Course. It now measures more than 7,200 yards and has the ability to challenge the best players in the world. Confirming his interest in hosting championship play at Silverado, Miller says, "We are looking at bringing tournament golf back, but we want to get our ducks in a row first."

By getting his "ducks in a row" he means working with Troon to ensure the playing experience is superior in every way; working with new hotel management partner Dolce Resorts to improve and upgrade the guest experience, from lodging to dining; working with the more than 600 members to redesign the South Course; add a world-class practice facility; develop plans for a teaching academy and junior golf programs; possibly adding a five-star golf lodge and more.

"It's an iconic property," Miller says, and announces his intentions to bring it on par with the top golf resorts in the country. "We're focusing on improving all aspects: lodging, golf, service. Arnie (Palmer) has Bay Hill, Jack (Nicklaus) has Muirfield, and now I have mine."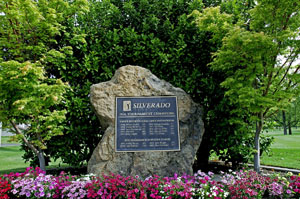 Sign at Silverado Shows Resort's Pedigree
He's also interested at this juncture in his life - on April 29 he celebrated his 65th birthday by hosting the Grand Reopening of the North Course - in creating something the members and his kids and family can be proud of and involved with for many years to come.

"I learned something from Greg Norman," he shares. "He said he wanted to create a business that was a family legacy. Maybe my announcing doesn't bring that much pleasure to the players," he says with a sly grin, "but at this stage in my life, my goal is to bring pleasure to people. I hope Silverado does that."

If his work renovating the North Course is any indication of how good the property will be when all the work is completed, Silverado is certain to bring great pleasure to all.
For more information, visit www.silveradoresort.com.
Award-winning publisher, editor, writer and photographer George Fuller has been covering golf travel and lifestyle for more than 30 years. From 1992 to 1997 he was editor of LINKS-The Best of Golf, based in Hilton Head, S.C. In 2005, after having spent several years in the Pacific starting two magazines for Continental Micronesia Airlines and writing two books, Fuller launched GOLF LIVING Magazine for the Los Angeles Times, a "super-regional" magazine of travel, real estate and the lifestyle surrounding the game of golf. In 2009, he helped redesign and re-launch TEXAS GOLFER, a magazine with 25 years of history in the Lone Star State. Most recently, Fuller partnered with Troon Golf to launch TROON GOLF & TRAVEL, a monthly eMagazine with an annual print component. In addition, Fuller's newspapers and magazines credits include TIME, Wall Street Journal, San Francisco Chronicle, The Los Angeles Times, Robb Report, Coastal Living, Palm Springs Life, Estates West, GOLF Magazine, Golf Digest, Travel & Leisure Golf, LINKS, Successful Meetings, Honolulu and many others. He has reported for Reuters, United Press International (UPI), written for Copley News Service and is a regular on-line travel correspondent for Cybergolf. Based in Pacific Palisades, Calif., he can be contacted at gfuller@earthlink.net or 310/245-9550.