Hicks Hanging Up Bib - Payne Stewart's Caddie Retiring after 33 Years on Tour
By: Dave Droschak
Mike Hicks leaping into the arms of Payne Stewart is one of golf's all-time great photos, the raw emotion displayed as a U.S. Open-winning putt hits the bottom of the cup and the meaning of it all captured in "One Moment in Time" on the game's greatest stage.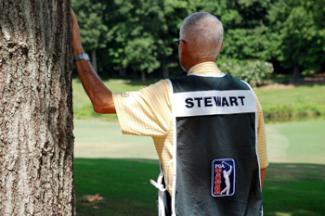 Mike Hicks Shows His Allegiance
So much has changed since then as the U.S. Open returns to Pinehurst No. 2 in 2014 - 15 years after Stewart and his caddie exchanged a hug for eternity.

Stewart died in a bizarre plane crash a few months after that major championship, a bronze statue of his fist pump guarding the rear of the 18th green at the famed Donald Ross layout. Hicks trudged on in what amounted to a journeyman caddying career on Tour after the passing of his boss and good friend Stewart.

Sure, Hicks caddied for other top players in the game - Greg Norman, Justin Leonard and Steve Stricker - to name a few, but it was never the same without his pal by his side. Now, after 33 years lugging a golf bag around the world, Hicks is calling it quits, saying he will likely caddie at next year's Open only if his son Jacob, a sophomore on the East Carolina University golf team, qualifies.

That's a long shot.

Hicks, 52, has diabetes, a bad back and is tired of having to depend on the success of others to piece together a living at a job many think is glamorous but is far from it. He has opened up a golf-teaching school at a club near his home in Mebane, N.C., to remain in the game he loves and has given him so many lasting memories.
Hicks says he's anxious to begin what amounts to a second career in golf. "The big thing is teaching these kids what it takes to become a professional," said Hicks, who caddied a dozen years for Stewart. "The kids I want to work with are the kids that dream at night of playing in the Masters or the U.S. Open. I want to work with kids who have ambitions of becoming the best in the world."

Hicks was set to begin a third season of caddying for Spencer Levin when the golfer called him less than a week prior to leaving for Hawaii to inform him a thumb injury would prevent him from playing in 2013. Luckily, Hicks was able to hook up with Josh Teater for the season, who was added to a long list of players - Norman, Leonard, Stricker, Levin, Bob Estes, Charlie Howell, Jonathan Byrd - that Hicks has looped for on Tour since the death of Stewart in 1999.

Hicks first met Stewart on several World Tour events in Japan as he was caddying for Curtis Strange, who was friends with Stewart. One thing led to another and Hicks was offered the bag a few months into the 1988 season. "Payne said, 'We'll go a month and see how it goes," ' Hicks said. "Well, we finished in the top-10 all four weeks and that turned into 12 years.

"I knew when to talk to Payne and when not to. I wasn't like a chatterbox, but when I had something to say I would say it and he appreciated that. I would kick him in the butt when he needed it . . . and he did not take it personally. He never berated me on the golf course like some of these other guys who are never wrong. Payne never blamed me for anything. Now I may have suggested a wrong club, but the way he looked at it he had the final decision to hit the shot. He was a joy to work for. I really didn't realize how easy I had it until he passed and I have been working for all these other guys since."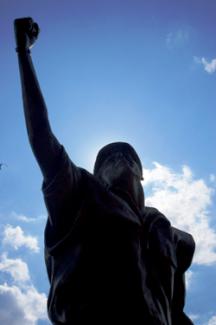 Payne Stewart Statue
During the magical U.S. Open week of 1999, Hicks said he took a back seat. "I never read a putt that whole week, not one," Hicks said. "I did nothing that week other than carry the golf bag and offer words of encouragement. I think I pulled one club and that was with a lay-up shot on the 10th hole, a par-5. That was unusual. It was weird that week; Payne was just in his own little world. In 1998 when he lost the U.S. Open everybody was saying that's too bad, but that guy took nothing but positive out of that. He wanted to prove to himself that he could still do it."

Stewart had a seven-shot lead in the final round at the Olympic Club in San Francisco and couldn't close the deal, losing by a stroke to Lee Janzen. Unusual on Tour, Stewart had Hicks on salary, meaning his earnings weren't always tied to Stewart's success.

"I was getting paid every month. I had a deal that you just don't get," Hick said. "Life was good for me. I knew I had money coming in in the off-season. Payne was just a real generous person to me."

Then the call came from the local golf pro as Hicks was in Houston prepping for the upcoming 1999 Tour Championship. There was an issue with a plane involving a PGA Tour player, and many believed that player was Stewart. At first, Hicks dismissed the call as "crazy." Five minutes later, his wife called after talking to Stewart's wife.
It was true. Later that day, Stewart was gone, his runaway plane crashing into a remote field in South Dakota.

"I don't know that there is any closure," Hicks said. "I mean, time heals all wounds, but the fact that how it happened was hard. There was a guy who worked at Orlando International where the planes came in and his name was Amelio and he was always there. He said to me the last thing that Payne said when he got on that plane was 'what are we doing on this tin can?' It was a 35-year-old plane.

"The deal with that is just not knowing exactly what happened. That's hard. I miss him and I look at him every day. There is a big picture on him on our refrigerator; he's standing there in his outfit, kind of posing."

Part of Hicks' golf-teaching school will center on the pressures of the game at the highest level, and how to react while under the microscope. He will draw on experiences with Stewart to teach others.
Mike Hicks
"I learned more from Payne about how to act on the course and the transformation that he took in his life from being kind of hard to be around and hard to deal with at times, depending on which side of the bed he woke up on, to being at peace with himself and just becoming a wonderful person to be around 24/7," Hicks said. "And the transformation he made with his game."

As Hicks walks through his Mill Creek Golf Club studio - somewhat of a shrine and memorial to Stewart, he points out the story behind each piece of framed memorabilia. He then stops at a favorite photo and smiles.

"This is the night we won the 1999 Open," Hicks said. "Payne came to my house and spent the night with me. We drank moonshine . . . you name it we drank it out of that trophy. We went to bed at 4 a.m. Man, those were the days."
David Droschak has covered golf in the Carolinas for three decades, mostly with The Associated Press, where he worked for 20 years as AP sports editor in North Carolina prior to launching Droschak Communications, a full-service marketing and PR firm based in Apex, N.C. Dave, 51, has covered numerous major golf tournaments, including the 1999 and 2005 U.S. Opens at Pinehurst Resort, and is a longtime member of the Golf Writers Association of America.

Dave was honored with the Sports Writer of the Year award in North Carolina in 2005, and is currently editor of Triangle Golf Today (www.trianglegolf.com), a print and online publication regarded as the "No. 1 Source for Golf News in North Carolina." He is golf editor for Pinehurst Magazine, an award-winning glossy publication, and was instrumental in helping launch Triangle Golf Deals powered by Twongo (www.trianglegolfdeals.com) in the fall of 2011.

Dave also is the co-founder of www.HurricanesBeat.com, a website devoted to coverage of the Carolina Hurricanes, an NHL franchise he has covered since the team moved to North Carolina from Hartford in 1998.

Dave grew up in Penn Hills, Pa., about five minutes from the famed Oakmont Country Club and was introduced to the game of golf as a caddie at Green Oaks Country Club in nearby Verona, Pa.

Dave was the co-captain of the 1978 Penn Hills state championship baseball team, was a pitcher for the 1982 Atlantic Coast Conference champion University of North Carolina Tar Heels, and pitched professionally for two years in the St. Louis Cardinals organization. He is a member of the Penn Hills High School Sports Hall of Fame, which also includes NBA coach George Karl and former four-time Pro Bowl offensive lineman Bill Fralic.