Hidden Lakes: A Gem in Idaho's Panhandle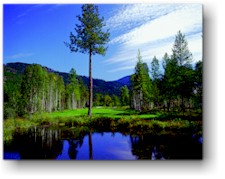 Located six miles east of Sandpoint in the northernmost part of Idaho's panhandle, Hidden Lakes Golf Resort is an ever-evolving facility that seems to be adding a new amenity each month. The 1987-built course has been remodeled, a new clubhouse recently opened, and a massive new lodge is in the works.

The Jim Kraus-designed layout underwent a major remodel last year that repositioned several holes. The work resulted in new ratings – 73.5 and a 139 slope – which made Hidden Lakes the most difficult course in Idaho, Western Montana and Eastern Washington. The length of the 7,077-yard layout is somewhat mitigated by its location in a valley positioned at 2,100 feet above sea level.
Though altered by the new holes, the track retains its predominant characteristic – water hazards in all shapes and sizes. Ponds, wetlands, creeks, canals and the Pack River enter play on virtually ever hole. The course's name sure fits, as watery graves lurk in fairway landing areas, near greens and in other strategic areas. Further compounding the quest for par are over six dozen bunkers.
The Pack River is a mixed blessing: its waters swallow errant golf shots but the river is beautiful. The pristine waterway is also a haven for wildlife. Among the species inhabiting the area are moose, deer, elk, geese, coyotes, bobcat, eagles, osprey and woodpeckers. Black bears have been seen lumbering across fairways.
Though within a scenic wilderness, Hidden Lakes boasts considerable sophistication. The resort recently opened an 18,000-square-foot clubhouse. According to many visitors, the bi-level structure made of log and rock is spectacular. After-round activities take place on an expansive deck, inside the spacious bar, or at the Cabin on the Greens Restaurant.
The Hidden Lakes reserve also contains 100 single-family home sites on 244 acres. All but three of the lots front the river or a fairway, with many adjoining both. Most have been sold, but still available are eight waterfront and four fairway lots ranging from 12,000 to 20,000 square feet in size. Also on the market are hillside-view lots ranging from three-quarters of an acre to nearly seven acres. Lots run from $89,000 to $225,000.
Up next for this blossoming recreational reserve is an 80,000-square-foot lodge. Ground is slated to be broken on this major resort component this fall, with its opening scheduled for mid-summer '02. Besides 80, 750-square-foot rooms, the lodge will contain an indoor pool, tennis courts, a spa and fitness center.
For more information on Hidden Lakes Golf Resort, call toll-free 1-888-80-MOOSE (888-806-6673).