High Desert Masterpiece at Dove Mountain
By: George Fuller
"Stay out of the bunkers and stay out of the desert," was the advice I received on the first tee from my cart mate, Dan Moulton, about playing The Ritz-Carlton Golf Club at Dove Mountain in Marana, Ariz. The words immediately conjured in my mind an image of PGA Tour pro Ben Crane reaching under a cactus for his errant golf ball in the 2010 Accenture Match Play Championship in February and pulling away quickly with a nasty barb of jumping cholla lodged in his wrist. I thought it a good idea to avoid a similar fate.
Turns out it was also a good idea to avoid the bunkers, although I was nowhere near as successful in doing that: if I wasn't in EVERY bunker on the golf course (I counted 82 of them, sized from pond to oceanic), it sure felt that way. And it went without saying that avoiding the washes that dissected several fairways would also be preferable.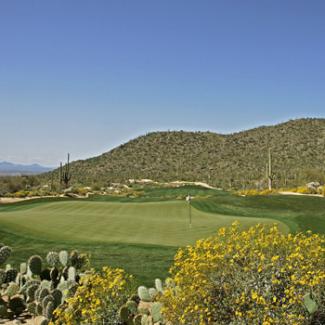 Tortolita No. 6 at Dove Mountain
There are 27 Jack Nicklaus-designed holes at The Ritz-Carlton, where Dan and I were teeing up, and two John Fought courses at the Gallery Golf Club that is also part of the Dove Mountain development. Combined, they are 63 of the best high-desert holes in the Southwest U.S. If you also add in the two Tom Fazio courses at nearby Ventana Canyon and the two at Omni Tucson National, this part of Arizona is a bonanza for golfers these days.

Moulton, an assistant professional at The Ritz-Carlton Golf Club, hits the ball way beyond all the high-faced fairway bunkers I so frequently found myself in. He crushes it past the corners and places it on the greens in the correct positions to score. In other words, he plays the course as the PGA Tour guys play it, which is good to see, because for me, even from 6,800 yards, the course is a challenge.
"Our guests know what they're getting into before they get here," Moulton says. "They've seen it on television with the Accenture and seen the pros play. But with five sets of tees, there's a good deal of variety in how hard you can make it."

The pros play the Saguaro and Tortolita nines, typically from around 7,600 yards; the third nine, Wild Burro, is somewhat more forgiving, though it's still a good idea to avoid the desert and the bunkers. On all three nines, golfers have plenty of room to hit the ball off the tee and large chipping and putting aprons around the greens. You won't lose a lot of balls out here, but accuracy is required to score well; approach shots have to be placed in small windows to hold the speedy putting surfaces that often slope away toward the edges.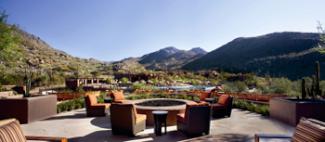 View from Dove Mountain
Desert golf - but not target golf, the course is framed by saguaro forests and tobacco-hued mountains and looks out across the desert floor from an elevation of 2,500 feet toward Tucson and the distant mountains of Mexico beyond. Several holes, particularly on the Tortolito nine, are tucked into the folds of the namesake Tortolito range and much of the year it's several degrees cooler than Phoenix and other Arizona destinations. It's also quite colorful in spring; when I was there in early April, the desert was blooming with bright-yellow flowers.

Several things stand out about The Ritz-Carlton, Dove Mountain in addition to the golf. There are 253 guest rooms, suites and casitas (the casitas are located a short walk behind the hotel core, where guests can find a more private experience). A 235-foot waterslide is the frolicking center of attention for kids, while 20 miles of hiking and biking trails wander through the 850-acre property, jeep tours, horseback riding and tennis courts occupy adults.
Alternate to a day of desert play is a visit to the 17,000-square-foot spa, where wellness counseling and anti-aging therapies complement a lineup of more traditional massages and treatments. An outdoor pool proves a relaxing environment and a separate salon provides a variety of hair and beauty services.

The dining options are outstanding, with CORE Kitchen & Wine Bar dishing creative Southwestern-influenced cuisine with local ingredients under the direction of chef Joel Harrington. Though open for breakfast also, dinner is where the Mohawk-haired Harrington shines. His approach to food is as out-of-the-box as he is, and signature dishes include a chili-lacquered New York strip, buffalo tenderloin with chili aioli and fresh fish daily.

For lunch, the poolside restaurant, Turquesa Latin Grill, offers a not-to-be-missed Sonoran Hot Dog, a quarter-pound, all-beef sausage that comes bacon-wrapped and loaded with beans, grilled onions, pico de gallo and guacamole. Maybe not so good for the figure, but ever so tasty.
The resort's exterior architecture appears stark and hospital-like from the entrance road, but once inside, a calm Southwestern elegance takes over. Dark mesquite woods, flagstone and quartzite flooring, crafted furniture, copper and woven leather accents and historical artifacts are found throughout. Carpets have colorful cacti patterns, and a room off the lobby is devoted to a display of Hohokam Indian (the original occupants of the land) history, art and pottery. At sunset each day a Native American flautist stands on a rock outcropping above the hotel and plays a musical tribute to the Hohokum peoples.

I wondered as I listened to his enchanting song one evening if he could come up with a melody to soothe golfers stuck in bunkers . . . I sure needed one.
For more information or a tee time, visit http://www.ritzcarlton.com/en/Properties/DoveMountain/Default.htm.
Award-winning publisher, editor, writer and photographer George Fuller has been covering golf travel and lifestyle for more than 30 years. His book and magazine assignments and projects have taken him throughout the United States, Canada, Europe, Asia, Polynesia and Mexico.

From 1992 to 1997 he was editor of LINKS-The Best of Golf, based in Hilton Head, S.C. In 2005, after having spent several years in the Pacific starting two magazines for Continental Micronesia Airlines and writing two books, Fuller launched GOLF LIVING Magazine for the Los Angeles Times, a "super-regional" magazine of travel, real estate and the lifestyle surrounding the game of golf. After a successful year of publication, he purchased GOLF LIVING from the newspaper and sold it to Media That Deelivers of Scottsdale, Ariz., with a contract to operate it for them.

In 2007, he launched TEE IT UP Magazine in partnership with the nationally syndicated radio show of the same name; and in 2009 he gained the contract to redesign and re-launch TEXAS GOLFER, a magazine with 25 years of history in the Lone Star State.

He has nine published books to his credit, the most recent being I Golf, Therefore I Am...Nuts! (2008, Human Kinetics Publishing). Others include Discover Hawaii's Best Golf (2001, Island Heritage Publishing) and California Golf: The Complete Guide, (11th edition, 2005, Avalon Books). He has contributed to many guidebooks, notably the Berlitz Travelers Guide, Birnbaum Guide, Citibank's Great Resorts of the World and several city editions of Guest Informant.

Fuller's newspapers and magazines credits include TIME, Wall Street Journal, San Francisco Chronicle, The Los Angeles Times, Robb Report, Coastal Living, Palm Springs Life, Estates West, GOLF Magazine, Golf Digest, Travel & Leisure Golf, LINKS, Successful Meetings, Honolulu and many others. He has reported for Reuters, United Press International (UPI), written for Copley News Service and is still a regular on-line travel correspondent for CBS Sports.com.

George Fuller is based in Newport Coast, Calif. He can be contacted directly at: gfuller@earthlink.net; 310/245-9550 (cell).