High Maintenance
By: Tony Dear
[Editor's Note: This is a special installment by Cybergolf's Tony Dear in which he puts the spotlight on some of the top golf course superintendents in the U.S. and the UK. In it he lets the "supers" discuss some of the special issues they face in the world of agronomy, technology changes that threaten traditional jobs, and what it's like overseeing the conditioning of golf courses in the face of economic challenges.]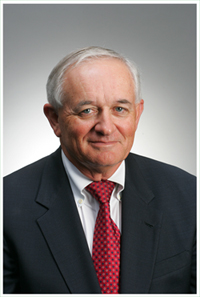 Bob Randquist
Unless you happened to hang around the maintenance shed at Augusta National when you were young, you probably remember greenkeepers as a fairly lethargic bunch. They might not have been quite as sluggish or vacuous as Carl Spackler (Bill Murray's character in "Caddyshack"), but they certainly weren't the highly-qualified, highly-motivated uber-professionals they are today.

Take Tom Vlach, head superintendent at TPC Sawgrass - home of the Players Championship. As well as having to keep a staff of 90 content, productive and working on the same page, he is ultimately responsible for 36 holes of championship golf, 18 of which (Stadium Course) carry a peak green fee in excess of $350, meaning those fortunate enough to play them have a right to expect playing surfaces they don't get at home. Not only does the Stadium Course need to be in flawless, tip-top and in A1 condition for the Players Championship each May, it needs to remain as close to perfect as possible for the rest of the year as 45,000 golfers (that's the number of rounds the Stadium handles each year) funnel through hoping to find dry land at the famous par-3 17th.

"We're fortunate in that we don't have many agronomic issues here at Sawgrass," says Vlach. "But our customers, PGA Tour players and my bosses at Tour headquarters are very demanding."

Right now, Vlach is overseeing the sort of construction work and course upgrades that take place regularly at Sawgrass. Three fairways and 11 tee boxes on the Stadium Course are being re-sodded, while five of the greens are being softened following a visit from course architect Pete Dye. "Mr. Dye visits every summer to discuss how we can keep the course relevant," says Vlach, who distributes a survey to Tour pros at the end of Players Championship week asking for their comments on the course's condition and set-up.

Because of the work being carried out, the Stadium Course is currently closed for two weeks. During this down-time Vlach will need to make countlessly quick but effective decisions, and marshal his troops expertly if the changes are to appear seamless and the golfers who arrive for their much-anticipated tee-time later in the month can play the course unaware of what work was actually done. And Vlach will need to do this while keeping an eye on Dye's Valley (what the other course is now called) where, according to his maintenance blog, a pressure-maintenance (PM) pump that went on the fritz last weekend is causing major problems.

Tom Vlach
"The alarm on the Flowtronex system went off, not allowing us to operate with this pump until it was repaired," the blog says. "A large hole in the intake pipe caused the PM pump to fault. Not being able to use it does not allow all three of the irrigation pumps to run efficiently."

Scroll down the page and you read that Vlach and his crew also erected an antenna and repeater to monitor irrigation. "Installing a new antenna closer to the satellite boxes has improved our communication a great deal," he writes. "This will allow for a better communication with the radios and the irrigation boxes to maximize our irrigation system."

One can imagine the glazed look on Carl Spackler's face were he to read about electronically-operated irrigation systems and greenkeepers erecting antennae and repeaters to improve communication between satellite boxes, radios and irrigation boxes in an effort to maximize the irrigation system.

But this is the stuff today's superintendents need to know about - those that work at high-end facilities at least. After having served their apprenticeships and done the grunt work necessary to get a foot in the door in an era when the course's inventory of maintenance tools probably consisted of little more than a few rakes, hoses and lawnmowers, the modern superintendent now needs to know about sub-surface soil temperature/moisture regulators, computer-controlled irrigation sprinkler heads, light spectrum-monitoring sensors, GPS, slow-release fertilizers and the like.

He must be able to reel off the list of nutrients in his course's soil and the amounts of each as quickly as the names of his children. He must know which of the thousands of varieties of turfgrass available today is best-suited to his course based on the soil type, climatic conditions and the needs and desires of the golfers who play there.

And, of course, he has to know all this, and get results that satisfy his superiors and golfers, while being cognizant of the environment which he must avoid harming in any way, shape or form, and do it all within a budget that, if he's lucky, has remained the same the last few years but which, most likely, has shrunk considerably.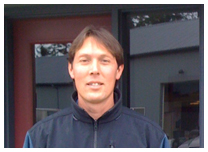 Ken Nice
"Over the past few years the big challenge for me and just about every other superintendent has been figuring out how to do more with less," says Ryan Kreizenbeck, head superintendent at We-Ko-Pa in Fountain Hills, Ariz. "Since the economic downturn, we have significantly cut the maintenance budget here."

Jon Lobenstine at Falls Road Golf Course in suburban Washington D.C. certainly hasn't avoided the problem. "I have two assistants, an equipment manager and only five guys on my crew, so we look for efficiencies everywhere," he says. "We have suffered lower revenues, which have resulted in budget cuts. If you had 25 guys on your crew and you lost two or three of them, you could make do.

"But when you only had seven to begin with and you lose two of them, you have to start identifying tasks that need not be completed so regularly, if at all. One of the biggest and most important areas (where) this has hit us is in keeping up with cultural practices. My guys chase their tails just trying to keep up with mowing, especially with the tremendous growth we had this spring."

Lobenstine's bi-weekly verti-cutting and needle-tining of greens has gone by the wayside this year. He and his staff are raking bunkers less often. String-trimming and other detail work now gets done every three weeks instead of every few days. "We have tried to keep focused on making the course playable and prioritizing tasks to minimize the impact on our customers. But it is a constant challenge."

As if all this wasn't enough, there are rumblings - very distant, but audible nonetheless - that jobs in the industry will start to disappear when robots and laser-enabled equipment take over. Yes, it's hard to imagine a robot zooming up and down the fairway mowing the grass, especially in a place like northern Scotland where sheep still do most of the cutting. But according to an article on www.grit.com that focuses on the development of electrically-powered "lawnbotts," large "golf course-sized" robotic mowers are now in testing.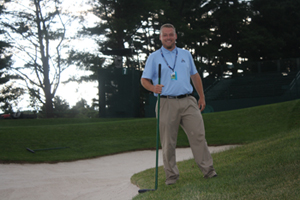 Jon Lobenstine
Chris Haspell, superintendent at Castle Stuart, which hosts the Scottish Open early in July, fully expects robots to be maintaining his grass before long. "I think we'll see lasers used for cutting, and drones used for more mundane tasks like fairway mowing and rough mowing," he says. "They may replace younger, less qualified workers on the maintenance staff. However I don't think they will replace more experienced people as they won't be able to do the very detailed work . . . not for a while anyway."

But while the superintendent must certainly face his share of hardship, hindrance, and hurdles - not to say threats to his job - it's not as if he isn't handsomely remunerated for his labor. Bob Randquist, president of the Golf Course Superintendent's Association of America (GCSAA) says that during his 30 years as a superintendent he has seen the average salary rise considerably faster than inflation. "When I started, I never dreamt we'd be earning the sort of compensation we receive now," he says.

Because of the fatter wage packets and the increased opportunity for superintendents to show their creative and professional talents, Randquist suggests that actually he and his contemporaries might never have had it so good. "In tough times, employers tend to recognize and reward their most valuable employees," he says. "The necessity to keep on growing and improving makes this a wonderful time to be a superintendent."

Until the robots show up anyway.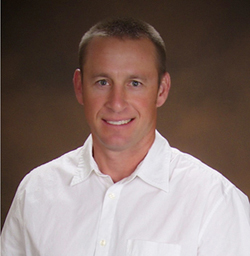 Ryan Kreizenbeck
Superintendent Interviews

Cybergolf conducted interviews with a handful of the most respected superintendents in the game (listed below), seeking insight into their profession's biggest challenges, what changes the industry has seen in recent years, and what the future might hold.

Ken Nice - Director of Agronomy at Bandon Dunes Golf Resort, Bandon, Ore.
Oregon State University - Horticulture
First superintendent job - Construction superintendent at Pacific Dunes in 2000.

Ryan Kreizenbeck - Director of Maintenance at We-Ko-Pa GC - Fountain Hills, Ariz.
Washington State University - Crop Science (with Turf Management emphasis)
First superintendent job - superintendent at Trophy Lake in Bremerton, Wash., in 1999.

Chris Haspell - Head Greenkeeper at Castle Stuart GC, Inverness, Scotland
Reaseheath College (Nantwich, England) - Phase 4 Greenkeeping & Management
First superintendent job - head greenkeeper at Rungsted GC, Denmark in 1995.

Woody Moriarty - Superintendent at Blue Hills Country Club, Kansas City, Mo.
Kansas State University - Agriculture (emphasis in turf grass)
First superintendent job - superintendent Hillcrest Country Club, Kansas City, Mo. in 1991.

Jon Lobenstine - Superintendent at Falls Road Golf Course, Potomac, Md., and Director of Agronomy for nine Montgomery County courses
Kansas University - Spanish, plus Turf classes at Penn State World campus.
First superintendent job - Falls Road in 2006.

Tom Vlach - Director of Golf Course Operations at TPC Sawgrass, Ponte Vedra Beach, Fla.
University of Wisconsin - Soil Science and Turf Management
First superintendent job - Twin Rivers, Orlando, Fla., in 1993.

What are the biggest challenges you face not related to your location?

Nice
Personnel - Building a strong maintenance team is and will always be a tremendous challenge.

Kreizenbeck
The biggest challenges I have faced as a superintendent have been managing people and effectively communicating turf-related issues to golfers, non-maintenance staff members (F&B and golf shop) and my superiors.

Haspell
Personally I believe golfer expectation and environmental pressures and, in many parts of Europe, green speeds and the way we achieve them. We strive to produce good year-round surfaces in inclement environments; architects all too often insist on using grasses which do not suit local climatic conditions, which generally leaves the Super with a problem. These situations can and should be avoided. I also believe the pressures brought on by TV and tournament golf and golfers' lack of understanding that the courses are "polished" for these events for one or two weeks a year gives a very false impression. Nature as we all know is not perfect. Until the governing bodies for golf clubs, golf rules and players decide that less than perfect is acceptable we will all be on a ride we cannot stop. This is a daily challenge on any golf course with any budget. I feel under more pressure now to produce perfect surfaces over the whole course than ever before. Golfers want the links to be in good shape all year, but greenkeepers know this is unrealistic. However, our customers do not, and it's our challenge to try a deliver what they expect. Having said all that, I believe we are poor at selling the upsides of golf in terms of our positive impact on nature.

Moriarty
Possible water restrictions, chemicals disappearing because it's bad for the environment, and working on very tight budgets.

Lobenstine
The biggest challenges a head superintendent faces day to day really relate to people. You have a lot of different personalities to manage, get on the same page, and do a great job for you and the course. And you also have to do a great job managing the relationship with the golf pro and his staff, as well as customers. Being a great communicator and understanding what really drives people to be their best will make you successful at what you do.

Vlach
Player expectations are a superintendent's biggest challenge. We're fortunate here as we have the resources necessary to maintain the courses in superb condition year-round. Most courses don't. People want the best conditions wherever and whenever they play, but that's a little unrealistic. Not only are there financial and climatic issues, there just isn't enough time. I know several superintendents who work day and night because their job is so demanding. Unless the greens are fast most people think the superintendent has done a bad job, but that's flawed thinking.

What are your biggest on-site challenges?

Nice
Wind. It affects us in several ways, from compromising irrigation distribution to keeping sand in bunkers. It also makes chemical and fertilizer applications difficult.

Kreizenbeck
Over the past few years the big challenge for We-Ko-Pa and just about every other course has been figuring out how to do more with less. Since the economic downturn, we have significantly cut the maintenance budget. But I think we've found ways to maintain a high-quality product at the same time. The big money saver was eliminating overseed in the rough. Agronomically, my biggest challenges are spring transition (transitioning from ryegrass overseed back the hybrid Bermuda base) and controlling poa annua.

Haspell
Right now, the Scottish Open and what that brings - intense pressure to deliver perfect conditions and a course that looks good on TV and also plays well. We are only two years old, so keeping on top of dry patch, poa, wear patterns, etc., is a problem. Our biggest worry, however, is Basidiomycete Fungi, which might not compromise playing conditions but certainly doesn't look good on your 42-inch plasma!

Moriarty
My budget remains stagnant while the cost of goods continues to rise. It's getting harder to keep our golf course in tournament condition all the time.

Lobenstine
Traffic. Falls Road has a 10-year average of 55,000 rounds a year (18 holes), and a large percentage of our golfers are beginners and have not really been taught how to care for the course. Greenkeepers typically fix 50 to 75 ball-marks before mowing each green every morning. We regularly find divots taken out of the greens, and cart signs are largely ignored, so it seems like we are always adding rope and stakes across fairways and approaches to guide the thundering herds of traffic to cart paths around greens. It's not pretty, but it works. We have to move them almost daily to spread the traffic out.

Soils. Some of our renovated fairways had as much as 12 feet of soil removed to re-contour them, and very little topsoil was replaced by the contractor before seeding. So we are trying to grow grass on gummy subsoil on a few holes, and it has required a lot of inputs (compost, tons of gypsum per acre, lots of soil testing and trying to get a better nutritional balance). Our greens are another interesting challenge. We have 13 original 1961 pushup greens, which overall behave pretty well as long as we can control the water (we installed drainage last year on the wettest one, and it's been performing much better . . . and we will do a couple more greens this winter).

There are seven USGA-spec greens, two of which are an 80-20 mix (10 years old), and five grown on a 90-10 mix (seven years old). Managing all these different greens in different environments around the courses is a huge challenge, and keeping a consistent green speed between the old bent/poa pushups and the newer, predominantly bent greens is another challenge.

Labor. I have two assistants, an equipment manager and only five guys on the crew, so we look for efficiencies in everything we do. Like a lot of courses we have suffered lower revenues, which have resulted in budget cuts. We have tried to keep focused on making the course playable and prioritizing tasks to minimize the impact on our customers, and although we have had a lot of challenges this year, we continue to receive many accolades on the condition of the course. I am very fortunate to have a team here that understands the importance of finding the efficiencies in every job we do, and takes a lot of care in their work.
Vlach
At Sawgrass we really have no agronomic problems to deal with. We have a lot of golf - 45,000 rounds on the Stadium Course, but really our conditions in September are as good as those for the Players Championship in May. The only difference is the speed of the greens (10.5 on the Stimpmeter as opposed to 12.5). So really the challenges I face are dealing with a big staff; meeting people's very high expectations; and maintaining typically good conditions when everything is becoming so much more expensive - pine straw, sand, fuel etc.

What changes have you seen in recent years?

Nice
I think golf course maintenance has become more environmentally conscious. Low input, sustainable agronomy is becoming more and more the norm. On the equipment side, I think mowers are becoming more advanced. There's an increase in precision and environmental advancements. Manufacturers are producing more hybrid and electric options.

Kreizenbeck
There have been huge changes over the last 15-20 years in turf varieties, equipment and chemical development. These changes have definitely made it easier to maintain golf courses at a very high level. However these new tools come at a price. I think over the last few years most superintendents have had to really think about whether or not it's a good business decision to purchase and incorporate all of the new technologies into their operation. We've all just had to become smarter businessmen lately.

Moriarty
Changes in green speed; it truly feels like a race amongst other golf courses. I wish we could just do what's right for the grass.

Lobenstine
The biggest change I have seen in recent years is the focus on the environment. That's not to say superintendents weren't environmentally conscious before, but the big push on research that shows the green side of golf, and the communication of that information to the public, has really increased. A lot of courses are involved in programs like Audubon International's Cooperative Sanctuary Program for Golf Courses, and the Groundwater Guardian Green Site program, which I think is a reflection of how more and more people see the world these days - with a higher regard for nature and wildlife than in previous generations (generally speaking, of course).

Another big change is the reliability and precision of mowing equipment. With most equipment being engineered on computer these days, they can do a lot of extensive testing on the stress points and tolerances of the machines well before they go into production. When you have higher expectations by golfers and lower mowing heights all around the course, the equipment obviously has to change to match the needs of the superintendent.

Vlach
Two major areas: greatly improved equipment and tools and less hazardous chemicals; and a greater consideration of the environment.

Where is the industry headed in the future?

Nice
Environmental advancements will continue to improve on both the equipment and agronomic side.

Kreizenbeck
I think golf course operators will need to continue to be creative and intelligent about managing their businesses in order to maintain profitability. I think the cutbacks we've experienced recently are here to stay for a while. Golf courses that can continue to put money back into their operations even though profits have shrunk will have a bright future.

Haspell
I would expect to see lasers used for cutting, drones used for more mundane tasks. GPS will be used more and more widely and there will be more emphasis on ball roll/trueness. Water conservation will be a big one over here in the UK (not an insignificant issue in the U.S. either) with more demand and less supply, I am not a great believer in global warming; I believe our weather goes in cycles. I would like to think golfers will start to accept that every action has a reaction and that green does not always constitute health of sward.

Also, that speed of greens is dependent on whichever climate zone you are in, not just the superintendent. I hope the players and governing bodies all take positive steps to educate golfers on becoming more open-minded about what makes a good golf course great. I hope we can sell our industry in a more positive way to the outside world. We have lots of wildlife on our courses which are havens for all types of flora and fauna. If you couple this with the health benefits that golf brings in urban areas we have a lot to be proud of, so let's tell the world!

Moriarty
I love the new bentgrasses. We do need better low-mow bluegrasses and drought-tolerant grasses. We need to learn how to do get better results with fewer inputs.

Lobenstine
In the future, I think that despite our efforts to research and demonstrate to the world the numerous benefits golf courses have on the environment, we will continue to see more and more restrictions on our use of plant protectants and fertilizers. However, the trend will also continue, as it has in the last decade, for more and more products to come to market that have lower use rates, longer lasting effects on plant health, and are highly efficient carriers for nutrients, etc., so I believe we will always stay ahead of the game. I also expect that we will continue to see the development of new turfgrass cultivars that offer better drought and disease tolerance. It is up to every superintendent to get involved and help educate the public and the lawmakers about our industry.

Vlach
It's only going to get tougher for young guys hoping to come through the ranks. With courses closing and none opening, the opportunities are becoming harder to find. It will take young crew members a lot longer to built their career and become a head superintendent. And the job won't get any easier. Yes, the equipment we use is getting better every day but we work in an organic, living, breathing office that can change every day. Technology can only go so far.
Brief interview with Bob Randquist, president of the Golf Course Superintendents Association of America and head superintendent at Boca Rio Country Club in Boca Raton, Fla.

What is it that attracts young people to the job?
A love for the game of golf; a sense of stewardship regarding the playing fields nature has provided us; and a love for working outdoors.

What about salary, benefits, etc.?
During my 30 years in the job the average superintendent salary had risen much faster than inflation. That is true of the maintenance crew's wage scale, too. I am also very pleased with the increased recognition we have received as professionals who make a considerable contribution to the game and the industry. The opportunity to watch nature's beauty and ever-changing characteristics from day to day, and the very flexible work schedules that most of us are privileged to have, make being a golf course superintendent a very attractive career option. The best part though is being able to see the results of our hard work. That is extremely satisfying. I do recognize, however, that not everyone receives the compensation and benefits they were hoping for, but that is true of any industry. I don't believe ours is unusual.

Do you think now is a good time to be a superintendent?
The increased economic and regulatory challenges we face demand that we become more creative, committed and willing to continually be better educated. The profession tends to make us passionate about our work and brings out our best qualities, and inspires us to give our best effort. In tough times employers tend to recognize and reward their most valuable employees. The necessity to keep on growing and improving makes this a wonderful time to be a superintendent.

What can superintendents do to positively impact the game?
The economic challenges we have endured the last few years have seriously affected the golf industry. The growth we experienced for a long period slowed to a snail's pace or even reversed. We need to get more people playing the game so our voice becomes more clearly heard when we address the economic, environmental and public perception challenges we need to resolve.

The game faces tough challenges of course, but superintendents can do their part by maintaining our golf courses so that they can be enjoyed by golfers of all skill levels. Not every course has to provide difficult "championship" conditions for customers. We need to make it more affordable and enjoyable for new players. If we can make our courses fun and affordable, I'm convinced the game of golf will sell itself quite well to most people.
Tony Dear is an Englishman living in Bellingham, Wash. In the early 1990s he was a member of the Liverpool University golf team which played its home matches at Royal Liverpool GC. Easy access to Hoylake made it extremely difficult for him to focus on Politics, his chosen major. After leaving Liverpool, he worked as a golf instructor at a club just south of London where he also made a futile attempt at becoming a 'player.' He moved into writing when it became abundantly clear he had no business playing the game for a living. A one-time golf correspondent of the New York Sun, Tony is a member of the Golf Writers Association of America, the Pacific Northwest Golf Media Association and the Golf Travel Writers Association. He is a multi-award winning journalist, and edits his own web site at www.bellinghamgolfer.com.