Hills Golf Club Opens in Sweden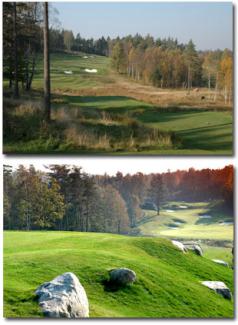 Already the recipient of international design laurels and tipped as a future Ryder Cup venue, Hills Golf Club in Molndal, Sweden, finally got around to holding its grand opening this summer.

Designed by Arthur Hills/Steve Forrest and Associates, Hills Golf Club opened for play late last year and was immediately hailed by Travel+Leisure Golf magazine as one of the top 10 new courses to open worldwide in 2005. In a ceremony on July 15, 2006, members and Swedish golf dignitaries gathered in the club's distinctive clubhouse (designed by Stig Börjesson) to officially christen the most talked-about new course in Europe.

Laid out on terrain that moves from lowland marshes to wooded ridgelines, the routing at Hills GC winds through thick forests and protuberant rock outcroppings – all of it accented with long, golden fescues and the classic design strategies that are hallmarks of Hills/Forrest designs.
In its short life, Hills GC has definitely created a stir. The new club has held discussions with the European PGA Tour about hosting the Ryder Cup in 2018, and the LPGA – fueled by the draw of Annika Sorenstam and her fellow Swedes – may come calling much sooner than that.
This was all part of the plan. Measuring more than 7,000 meters from the tips (that's 7,700 yards) and purposely equipped to accommodate large galleries, Hills GC was conceived, designed and built to be Northern Europe's premier championship venue.
"That was the goal of our clients and, frankly, we're not shocked by all the talk – this is one of the strongest, most dramatic designs our firm has yet produced," said Steve Forrest, the Hills/Forrest partner and principal who directed the Hills GC project. "To a certain extent, all new course developers have championship or tournament aspirations for their projects. But I needed about 48 hours on this piece of property to realize that we all had an opportunity create something truly spectacular."
Located in Mölndal, 10 kilometers south of Gothenburg (Sweden's second-largest city), Hills GC begins and ends with an expansive, natural amphitheater. The clubhouse, first and 10th tees all share space on an enormous rock promontory that looks down over the par-4 9th and par-5 18th holes, both of which play risk-reward style along either side of a lake where bunker features transition from sand to rock, then water.
The 10th is another tournament-ready hole: From the back tees, it's a testing mid-length par-4 that plays down into a valley before funneling uphill to a tiny, perched green. From the forward tees, the hole is reachable for pros. "That's definitely a match-play hole," Forrest said, "but we're especially pleased with 10 because it's just as compelling a par-4 for amateurs. Many of the tees at Hills GC sit very high on natural rock shelves, providing both the drama and everyday playability we sought."
Hills GC also serves up a variety of looks that make it difficult to pin down stylistically. The uphill par-5 8th, measuring more than 600 yards from the championship tees, is cut from a thick forest as it bends gently right. Block out the sing-song accents of your playing partners and you could be in Northern Michigan. The open par-3 13th is straight out of the British heathland tradition, while the stretch of holes from 3-7 employs a series of water hazards – at maddeningly strategic angles – as a Florida course might.
"Just don't think you're going to play this course in January," Forrest warned, noting its location at 57 degrees latitude.

Hills GC is a members club, but Swedish law requires that private facilities make tee times available to the golfing public. This little known fact pegs Sweden as one of golf's as yet undiscovered destinations – something Hills/Forrest is working hard to bolster.

Having christened a new design at Torrekulla in 2005, Hills/Forrest unveiled Sand GC in August 2006. A flamboyantly lunar faux links on the order of Whistling Straits, Sand is located in the town of Jönköping (pronounced yun-shipping), midway between Gothenburg and Stockholm. The firm also broke ground this year at the 36-hole Vasatorp Golfklubb in Helsingborg, host to the European PGA Tour's Scandinavian Enterprise Open (what became the Scandinavian Masters) from 1978 to 1981.

Hills/Forrest has also designed a new 18-hole, 7300-yard, 'championship course' at Vasatorp, which has aspirations of hosting the Scandinavian Masters once again in the near future.

Hills/Forrest already has a golf trail to his name – the Arthur Hills Michigan Golf Trail (www.arthurhillstrail.com). Come 2007, it could well initiate a Swedish sister spur.