Hills/Forrest 18 to Debut at Vasatorp in Sweden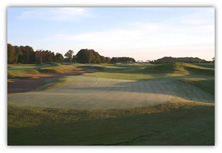 Vasatorp Golfklubb, one of the few venues in Scandinavia with a long tradition of hosting championship events, looks to open a new chapter with the June 6 unveiling of its new tournament course.
The new 18 at Vasatorp in Helsingborg, Sweden, was designed by Arthur Hills/Steve Forrest and Associates specifically to court European PGA Tour events and, in a perfect world, the Ryder Cup Matches when they come to Sweden in 2018. The club now boasts 54 holes. The original layout, completed in 1974, played host to the European PGA Tour's Scandinavian Enterprise Open (what became the Scandinavian Masters) from 1978 to 1980, when Sweden was just emerging as a European golf hotbed.
Having produced champions such as Seve Ballesteros, Greg Norman and Sandy Lyle, the Scandinavian Enterprise Open and Vasatorp are generally credited with establishing golf in Sweden as a spectator sport. The tournament's success was also a key component in launching the country's player development movement. Gabriel Hjertstedt, the first Swede to win on the U.S. PGA Tour, is a product of Vasatorp's junior program. Indeed, a product of the national program, Annika Sorenstam, bested another Swede, Sophie Gustafson, when the European Ladies Tour revisited Vasatorp for the Compaq Open in 2002.
With its new tournament course, Vasatorp looks to burnish its place at the center of Swedish golf. It was no accident the club chose for its grand opening June 6, which is Sweden's National Day.
"Attracting top-quality professional tournaments, of course, depends not merely on the quality of the golf course, but on financial support, as well," noted Ove Sellberg, manager of golf at Vasatorp and the first Swede to win on the European Tour. "There are many fine courses in Sweden - many fine new courses - and several have championship aspirations. However, Hills/Forrest has created for us a golf course difficult enough, strategic enough and beautiful enough to keep Vasatorp in these championship conversations for many years to come, and, most important, they have created a golf course that members and guests will enjoy playing day in and day out."
Under the direction of Hills/Forrest partner and principal Steve Forrest, ground was broken at Vasatorp in mid-December 2005. Forrest completely re-imagined nine existing holes and created nine entirely new ones to form the new 18.
"This project was indeed part renovation, part new design. But our remaking of the existing nine holes is so extensive, it's more accurate to call it a brand new 18-hole course," says Forrest, immediate past president of the American Society of Golf Course Architects. "As one gathers from Vasatorp's history, the club has maintained an interest in improving the facility, expanding it and attracting prestigious tournaments. The course we've designed here does all three things."
Some 35 Hills/ Forrest designs have hosted PGA Tour, European PGA Tour, Champions Tour, LPGA Tour, USGA and PGA of America events. Most recently, Oitavos Dunes, a 2002 Hills/Forrest design, was named long-term home to the European PGA Tour's Open of Portugal. The firm's 130 renovation projects include the refurbishment and preparation of two U.S. Open sites (Oakland Hills, Oakmont) and another Senior Open venue, Inverness.
"We're helping Vasatorp do something similar to what we helped Inverness do: upgrade its championship-hosting capabilities," Forrest explains. "The difference is that, in order to meet this goal, we're creating a new championship venue as opposed to refining an existing one."
Stylistically, the existing nine-hole property is accented by stands of mature trees - oaks and towering, old pines - while the new nine has been routed on open land using a links-land theme, with spectator mounding separating the playing corridors. It's going to be long enough to test the world's best players, some 6,700 meters, or 7,300 yards, but Forrest believes competitors, spectators and club members will be most struck by the variety of strategic challenges.

Two of the more interesting holes include the short par-4 8th and the tough par-4 13th. "The two-level green on eight is neatly positioned at the end of a tranquil lake that lines the entire left side of the fairway, in a lovely wooded setting," the architect muses. "The bold player can aim for the putting surface and try to avoid the water and a couple gaping bunkers. Others will lay back, but have a much longer approach shot to the undulating putting surface.

"On 13, the water hazard is on the right side of a fairway that meanders across an open linkscape. It's a long par-4 but it plays like a short, double dogleg par-5 - with a second water hazard protecting the left side of the green complex. A towering, bunker-riddled mound right of the green and the prevailing wind makes a tough hole even tougher. These holes will be gallery favorites, I'm sure. I like them because they typify all the holes at Vasatorp: there are countless ways to play the holes well, and countless ways to play them poorly."

Vasatorp now has 54 holes of golf, presenting four distinct golf experiences to members and guests: the club's classic British parkland 18, a full-length nine -hole course with a moor character, a newly opened nine-hole short course (designed by Sellberg), and the new tournament course from Hills/Forrest.