Hills/Forrest Breaks Ground on First Korean Design
The architects at Hills/Forrest and Associates have staked a claim in South Korea where ground has been broken on the first 18 of the 54-hole Sanyosoo Resort in Chuncheon.
Hills/Forrest partner Steve Forrest has directed design efforts on the Yosoo Course in collaboration with the developer and construction firm, Seoul-based AM Engineering, which made its mark via construction of the Sky 72 project beside the airport serving South Korean's capital. Grading began this winter and shapers should be on site March 1, said Forrest, who foresees a 2011 grand opening.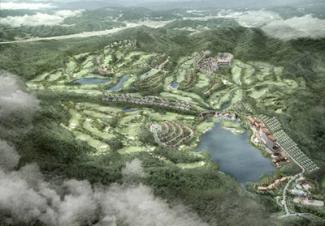 Artist's Conception of Sanyosoo Resort in South Korea
The Sanyosoo Resort will include three courses; the Yosoo - which can be translated as "the enjoyment of rivers" - will precede construction of designs from Tom Weiskopf and Kyle Phillips. Forrest compared the setting at Yosoo with several mountainous designs Hills/Forrest had completed including Eagle Ridge at Yatesville State Park in eastern Kentucky, in the Appalachian Range, and Bighorn Golf Club in the mountains surrounding Palm Springs, Calif.

"Land-use policy in Korea fairly well restricts golf course development to mountainous terrain, so as not to diminish the country's limited resources in arable land," Forrest explained. "It's very difficult to design golf courses in this sort of mountainous environment without previous experience on comparable terrain.

"We will move 6 million cubic meters of fill at Sanyosoo. That puts a huge onus on the grading plans. If they're just a bit off, it can have huge ramifications not only to the course design itself, but also to the construction cost. In short, design decisions on a project like this one must almost always be made in the context of the grading efforts. And I have to say, I've been very impressed with AM Engineering and the accuracy of the mass grading plan with which we started."
While the other two courses will sport links and target-golf themes, the theme at Yosoo will be essentially Korean, but with a nod to the home of golf. This is in keeping with the forested mountainside setting and the plans for a super-opulent, traditionally Korean-themed clubhouse.
Forrest explains that a "Korean" theme affects the golf course design in specific ways: "It means that we must have two par-3s and two par-5s on each nine, and there must be at least two holes with a different par between the two threes and the two fives," Forrest notes.
"Here's another example: Tea houses are organic to the Korean golf experience. The caddie culture is strong here and it includes the ladies serving tea to the foursome. Furthermore, it must take place at specific intervals: after the 5th and 14th holes. At Yosoo, we have routed the course accordingly, of course, but we have also sited the tea houses so they have nice, relaxing views of a couple lakes."
Forrest notes that the 15th hole, a long down-and-up par-5, is actually flanked by rice terraces all along the left. Yet, the first three holes and the 18th are laid out in a lakeside setting on a flat piece of the valley floor, in the fashion of Florida golf courses. The testy par-4 closer is a mirror image of the closer at the TPC Sawgrass, home of the PGA Tour's Players Championship.
"The bunker style is very flashed up and very tight to the green's edge," the architect explains. "In several instances, the putting surfaces just roll over into the bunker and there is frankly a lot more bunkering at Yosoo than you would see on a typical Hills/Forrest course; I would say twice what we'd normally use. This is another example of how international course design must allow for and encourage the expression of the local golfing culture. It's not just about working with varied terrain."

In researching that culture in 2009, Forrest recalls visiting a 36-hole facility near Seoul where the thermostat read 3 degrees centigrade (about 38 degrees Fahrenheit) and the wind blew briskly. The course was packed wall-to-wall.

"There is no flat participation rate in Korea. These courses are doing 80,000 rounds a year (in an eight-month season), through a fairly severe winter climate, at 200 USD a round. It makes an American sort of jealous, and it explains the need for golf courses here. It's golf heaven, basically."
In practice since 1966, Hills/Forrest is responsible for more than 200 original designs and some 130 major renovations on four continents. The firm has burnished its international reputation over the past 18 months with a series of strategic partnerships that target particular regional markets and market niches in the course design field.

In 2008, Hills/Forrest formed Ochoa Hills Golf Design to serve the Mexican market. In 2009, it formed a strategic partnership with Arjun Atwal to create Hills-Atwal Golf Design India (www.hills-atwal.com), to serve the burgeoning market taking shape on the sub-continent. In 2010, Hills/Forrest will team with Australian swing gurus BannLynch to bring a practice facility model to Asia-Pacific markets, specifically China's.
"We've always worked abroad at Hills/Forrest, but today everyone wants to work internationally, and we believe these local partnerships simultaneously provide our clients unmatched design expertise along with serious marketing power," explained Hills/Forrest President John Strawn. "We are working on several partnership deals to serve the Korean market. We expect to announce something before the close of 2010. However, it's important that we secured the Sanyosoo deal on the strength of our own design reputation. With a project in the ground and the marketing appeal of our potential partners, we like our chances in the Korean market going forward."

For more information on Hills/Forrest, visit www.arthurhills.com or contact Strawn at 503/360.5644 or jstrawn@arthurhills.com.