Hilton Head & Bluffton: Yesterday & Today
By: Joel Zuckerman
It was more than half-a-century ago that visionary land developer Charles Fraser saw the resort and vacation potential of an anonymous little island called Hilton Head off the South Carolina mainland. The 55-square-mile landmass was thickly forested, and had previously been used for growing rice, indigo and cotton.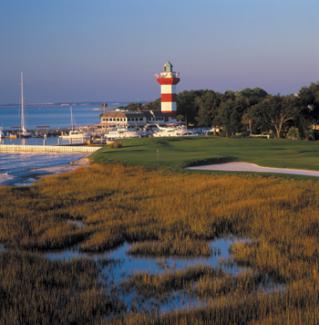 The Iconic Tower at Harbour Links
It had served as temporary quarters for 50,000 Union troops during the Civil War. As it slowly morphed into a vacation destination, Fraser decided early on that this bucolic island would never be overly commercialized, and he is probably the single most important individual in the island's tourist history.

But golf-wise, special mention must be given to "The King" himself, the great Arnold Palmer.

It was a fortuitous stroke of luck that the world's most popular golfer, then and now, won the initial PGA Tour event on Hilton Head. The Tour came to the place to help showcase and publicize the newly-built Sea Pines Resort on the island's southern tip in the hopes of stimulating interest in building lots, second-home sales, and vacation getaways.

Just a few months after men walked on the moon in 1969, Palmer walked over the competition in the inaugural Heritage Classic at Harbour Town Golf Links. While the tournament itself wasn't an earth-changing event - much as the moonwalk was earlier that summer, it proved large numbers of naysayers and skeptics dead wrong.
Common wisdom at the time dictated that you couldn't hold a PGA Tour event on an untested golf course, away from a major city, over a holiday weekend, or in the South during football season. The Heritage Classic broke all the rules.
Harbour Town was completed just in time for the tournament, which took place over the Thanksgiving holiday weekend. The pros were quick to profess their admiration for the quirky Pete Dye design with its tiny greens, twisting playing corridors and dynamite par-3s. Palmer's win gave the event instant credibility, and the golf scene on Hilton Head was in bloom.

The Tour returns to the island once again this spring, April 12-18 for the 42nd staging of the Verizon Heritage, featuring defending champion Brian Gay and a field full of stars, both homegrown and international. Gay is a lesser-known entity, despite two PGA Tour wins in 2009. But he has joined a legacy of champions with few equals, as the roster of tournament victors at Harbour Town reads like a "Who's Who" of modern golf, a testament to the quality of the golf course.

Arnold Palmer was followed to the winner's circle by a veritable Hall of Fame roster that includes names like Jack Nicklaus, Hale Irwin, Johnny Miller, Payne Stewart, Fuzzy Zoeller, Tom Watson, Greg Norman, Nick Faldo, Bernhard Langer and Nick Price. What's more impressive? The fact that Harbour Town champs have almost 70 Majors combined? Or that the championship roster has won about 400 tournaments on the PGA Tour?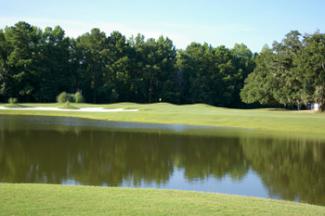 Island West Golf Club
The lure of the tournament and the surrounding Carolina "Lowcountry" makes the area one of the most golf-centric regions in the world. So much so that a visitor can enjoy a full-volume golf vacation and never once tee a ball on the island itself. Harbour Town is, of course, the bellwether, the single must-play 18 on the island, the heavyweight draw, and consistently ranked among the world's top 100 courses.

However some of the cognoscenti argue that the gateway town of Bluffton, S.C., on the mainland just west of Hilton Head, offers an equal amount of quality golf to that on the island itself. One popular choice is sporty Island West, designed by two-time Major champion Fuzzy Zoeller, who won the Heritage in 1983. However, his more enduring Lowcountry legacy is as the designer of this underrated, affordable, yet very pleasant daily-fee club, located some 15 minutes from the Hilton Head Bridge.

A long-time favorite of residents and vacationers, Island West (www.islandwestgolf.net) features beautiful rolling fairways, elevated tees, carefully preserved natural marsh areas, and large live oaks.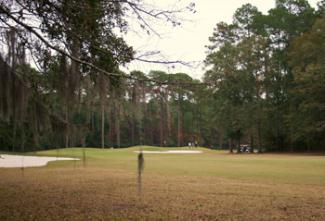 Rose Hill Golf Club
Nearby Rose Hill Golf Club (www.golfrosehill.com) is another up-and-comer, reopened after a several-year closure. New management decided to reduce the original 27 holes down to 18, and the refurbished course, which debuted in late 2008, is gaining momentum and attention among both visitors and residents alike. Conditioning problems caused by an extensive fallow period when the course was closed were an early concern, but the course has recovered nicely and is improving by the month.

Unlike the housing sensibility that pervades so many golf-real estate communities in the Southeast, Eagle's Pointe, designed by five-time Heritage champion Davis Love III, has just a smattering of on-course homes, and those that do exist are for the most part located well away from the playing corridors. There are dozens of area courses where an egregiously sliced or hooked tee shot could end up in somebody's patio-side martini pitcher, but not here.
A round of golf at Eagle's Pointe (www.eaglespointegolf.com) seems to take place almost entirely in the woods, particularly through most of the outward nine. The feeling of serenity is enhanced because there are few parallel fairways; it's a relatively rare occasion to view groups other than the ones directly ahead or behind.

Its "sister course" is Crescent Pointe, designed by Palmer and undoubtedly one of Bluffton's tougher public tracks. Golfers are by definition a masochistic lot. Why fritter away half the day and hard-earned cash besides trying to master a game that will invariably disappoint you in the end? As envisioned by one of history's most macho golfers, Crescent Pointe (www.crescentpointegolf.com)is proof positive. The fairways are rife with bunkers, swales and water hazards. Lush stands of ball-swallowing fescue grasses are interspersed at the most inopportune moments. It's exhilarating but exhausting, and nowhere in greater Hilton Head does a beer taste any better than in Crescent Pointe's 19th hole.
Rose Hill may not have 27 holes anymore, but Hilton Head National (www.golfhiltonheadnational.com) does, 18 of which were executed by South African legend Gary Player.

There's Old South Golf Links (www.oldsouthgolf.com), designed by Clyde Johnston. It's the closest mainland course to the island itself, and offers abounding water views and several petite and ultra-strategic par-4s.
One of the newest golf entries in greater Bluffton is at Palmetto Bluff, which is one of the largest undeveloped land tracts on the East Coast, fully two-thirds the size of Hilton Head itself. The resort's May River Golf Club designed by Jack Nicklaus, is one of the most tranquil and beautiful golf experiences in the South and, as an adjunct to the Inn at Palmetto Bluff, a posh Auberge Resort, certainly one of the priciest. (Information for all of the above facilities can be found at www.palmettobluffresort.com.)

Speaking of pricey, the long-running hit TV series reminds us that 90210 is the ritzy zip code of Beverly Hills. But avid golfers, looking for a wide range of challenge to suit their different abilities and price points, will find just as desirable a zip code at 29910 in up-and-coming Bluffton, South Carolina.
Joel Zuckerman, called "One of the Southeast's most respected and sought-after golf writers" by Golfer's Guide Magazine, is an award-winning travel writer based in Savannah, Ga., and Park City, Utah. He has written five books, including the epic "Pete Dye Golf Courses" in 2008. Joel's course reviews, player profiles, essays and features have appeared in more that 100 publications internationally, including Sports Illustrated, Golf, Continental Magazine, Travel & Leisure Golf, Sky Magazine, Golf Connoisseur, Golfweek, Estates West, Millionaire and Golf International. For more of Joel, visit www.vagabondgolfer.com.