Historic Abilene CC's Two Courses Full of Character
Any trip to or through the near-West Texas city of Abilene is always a welcome one, not only because the city has some of the best golf courses per capita in that part of the state but also because it boasts some of the friendliest people you'll find anywhere.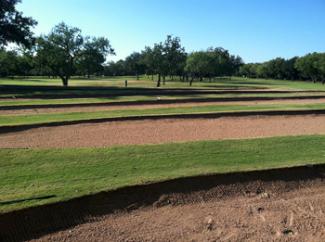 The Church Pew Bunkers on
9th Hole at Abilene CC's Fairway Course
On my latest stay in Abilene, I was privileged to play the two courses at Abilene Country Club, a stately facility south of town established in 1921. Abilene CC, which is open to outside play by members of other PGA-staffed private facilities, boasts a pair of distinctive 18-hole courses.

Both layouts - the original Club course and the newer Fairway course a few miles southwest of the main club - are grassed with Tif-Sport fairways, and the bentgrass greens are kept in immaculate shape year-round.

Abilene Country Club has welcomed families for five generations. Both its courses offer spectacular vistas along with tree-lined fairways and tricky putting surfaces.

Abilene CC's Club Course
Two Tests Worth Taking

The par-70 Club course (the original 18 holes here) occupies 165 acres of rolling hills amid lush surroundings. It was designed by the legendary John Bredemus (who also fashioned the original Colonial CC in Fort Worth, among others), with renovations in 1975 by Marvin Ferguson and later in 1993 and 2010 by George Williams.

It's fun to figure out which of the Bredemus holes remain following the three renovations. Here's what H. Allen Botkin, Abilene CC's director of golf, related after my round:

To the best of my recollection and, from information from various members over the years, the remaining holes with the original Bredemus layout are Nos. 2, 3, 8, 10, 13, 15, 16 and 17. All of the green complexes are new, but the basic hole layout is the same.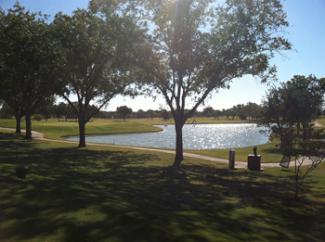 Abilene CC's Fairway Course
I came to Abilene CC in 1978. At that time, I believe, 16 of the 18 holes were Bredemus's design. At some time the creek that runs down the eastern side of the course was reconfigured, changing hole No. 11 [a 360-yard par-4].

Hole No. 9 [one of the course's most difficult holes, a 390-yard par-4 played into the wind and over a pond to a huge green] was also changed at some point, moving the tee from the west side of No. 8 green to the east side against the creek. Then, in the 1970s, I think, Marvin Ferguson remodeled No. 14 [a 190-yard par-3 over water].

Even at its relatively truncated length, the Club course plays much more difficult than its 70.1 rating and 129 Slope. It's also home for Abilene's "Play Golf America" and the "Family Course" tee programs, an initiative that allows for way-forward tees to be established with separate scorecards for juniors.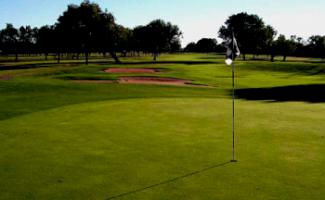 Abilene Country Club
The newer Fairway course, designed in 1981 by Ron Garl and Masters' champion and local product Charles Coody, is a lengthier layout that flows harmoniously past some of Abilene's most distinctive homes.

Though more typical of a country club course within a residential area, it was designed to host top-notch pro and amateur events while offering up a testing round of golf. More than 6,000 trees define the routing.

Abilene CC bought the track - originally called Fairway Oaks - in 2006, and it's much longer (at 7,136 yards from the tips) than its Club counterpart. Fairway Oaks is where Abilene's "new" money folks congregated in the early 1980s before the first oil bust; it hosted a PGA Tour stop from 1981-88 and a Champions Tour event in 1989 and 1990.

In 1982, Raymond Floyd, who was engaged in a tight battle with Craig Stadler for that year's leading spot on the PGA money list, left Abilene after shooting 146 for the first two rounds thinking he would miss the cut. By the time Floyd learned he qualified for the weekend, he had already returned to his home in Florida. Unable to make airline connections to meet his Saturday tee time, Floyd had to withdraw.
The Fairway course was also the site of the first PGA tour win for Mark Calcavecchia, who in 1986 beat Tom Byrum by three strokes for the Southwest Golf Classic title.

The putting surfaces, while smooth and with many undulations, are a relative breeze when compared to its sister course.

Perhaps the best stretch of holes on Fairway is its final trio. No. 16 is a 165-yard par-3 that ends at an island green (it's the No. 4 handicap hole despite its brevity), while the 465-yard par-4 17th features an island fairway. The closer - a 565-yard par-5 - gives players the chance to end on a high note as long as three accurate shots can be executed.

My take is that the Club course, though shorter, is the better track of the two, with its lightning-quick greens and a bigger scope than imaginable for a property pinched by the surrounding community. That said, it's hard to go wrong with either course. Both are must-plays and should be on the short list of great courses in the Lone Star State.
For more info, visit www.abilenecountryclub.com.
Steve Habel is a freelance writer contributing Cybergolf news stories, features, equipment and book reviews and personality profiles from his base in Central Texas. He also works as a contributing editor for Horns Illustrated magazine, a publication focusing on University of Texas sports, and is a contributing writer for Golfers' Guide and Golf Oklahoma magazine, Texas Links magazines and Golfers Guide. Habel's main blog (www.shotoverthegreen.blogspot.com) features news on golf and the Longhorns, and another (www.checkinginandplayingthrough.blogspot.com) chronicles his many travels, including playing more than 600 golf courses since 2008. Habel is a member of the Golf Writers Association of America and the Texas Golf Writers Association.