Historic Times for Women's Golf
By: Elisa Gaudet
The "big W," for me, is not just for Win, but Women Winning, especially after last week's performance by Michelle Wie at the 69th U.S. Women's Open.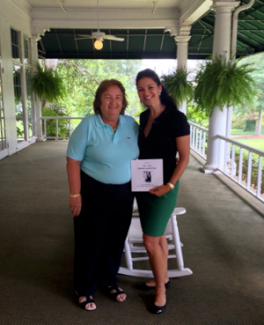 Catherine Lacoste & Elisa Gaudet
There seems to be a groundswell of empowerment opportunities and platforms to help women excel in every aspect of life. Women are front and center and yes, roaring louder than a lion. You can hear them from sports to music, fashion, business and many other areas, including golf, highlighted this weekend when, for the first time ever, the USGA held back-to-back U.S. Opens for the men and women at the same venue.

Pinehurst Resort in North Carolina was a very gracious host to the historic event in which women played the same course, Pinehurst No. 2, a week after the men. What's remarkable is to see how far women have come with the coupling of the two Opens.

The arc of women's golf is traced through the performances of such players as Catherine Lacoste - the only amateur to win the U.S. Women's Open in 1967, and Stephanie Meadow, a 22-year-old from Northern Ireland, who, in her first appearance as a professional on golf's biggest stage, finished third behind champion Michelle Wie and runner-up Stacy Lewis.
Women have been taking chances and succeeding for a long while against tough odds and slim opportunities. Lacoste is the daughter of French tennis player René Lacoste, founder of the fashion brand named after him, and his wife Simone de la Chaume, winner of the 1927 British Ladies Amateur.

Catherine Lacoste won the U.S. Women's Open in 1967 as a 22-year-old; she remains the only amateur to win the U.S. Women's Open. In 1969, Lacoste also won the U.S. Women's Amateur and British Ladies Amateur, but never turned professional, opting to raise a family instead. Catherine won the British Ladies Amateur 42 years after her mother; they are the only mother-daughter pair to do so. Her grandfather built the Chantaco Golf Club in St. Jean de Luz, France, and it's still owned and run by the Lacoste family, most notably her daughter Veronique, current president of the club.
After bursting on the world golf scene at age 11, Wie began pushing the envelope by playing against men in pro tournaments. It looked like she was destined for greatness, but it took time and maturity for her to fulfill what looked like the potential for a stellar career. She finally proved that with her Open victory.

As if they all received a combined memo from Madeleine Albright and Katy Perry, women are making great strides in sports and business. Albright once famously said, "There is a special place in hell for women who don't help other women." And listen sometime to Perry's lyrics in her song "Roar":

I got the eye of the tiger, a fighter, dancing through the fire
'Cause I am a champion and you're gonna hear me roar.
Louder, louder than a lion
'Cause I am a champion and you're gonna hear me roar.
Now I'm floating like a butterfly
Stinging like a bee I earned my stripes
I went from zero, to my own hero.
You held me down, but I got up (HEY!)
Already brushing off the dust.
You hear my voice, you hear that sound
Like thunder gonna shake the ground.
Organizations have blossomed beyond the big cities to empower and enhance women's lives and participation. I live in New York City, where many of these events and organizations have taken root and expanded elsewhere. Within the past 60 days there have been events that amplified what both Albright and Perry have expressed.

WISE, Women in Sports and Events, with its mission to create and support programs that enhance the success and growth of women in the business of sports and events, recently held its first-ever symposium, WISE/R. It was held in conjunction with the organization's 20th anniversary. It now has chapters in Atlanta, Boston, Chicago, Cleveland, Los Angeles, NYC Metro, Pittsburgh, San Francisco/Bay Area, Syracuse University (WISE on Campus) and Washington, D.C.
Four women were honored for their outstanding work: Val Ackerman - commissioner of the Big East Conference; Christine Driessen - executive vice president and CFO of ESPN; Barbara Paddock - senior VP of JP Morgan Chase; and Judy Sweet - co-founder and board president of the Alliance of Woman Coaches.

Another event, Thrive, hosted by Arianna Huffington and Mika Brzezinski, featured panel discussions with leaders from many professional fields. Though geared largely towards women, there were a number of men as guest speakers and in the audience, which added tremendous value. The event proved to go far beyond the typical lecturing and networking as it tapped into insights, tips, inspirational stories and examples for living a "Third Metric" life of well-being, wisdom, wonder and giving.
The Executive Women's Golf Association is another networking resource, using golf as its platform. The EWGA has helped countless women find a comfort zone in a sport that has been predominately male, important in business and networking, and a game played for a lifetime.

Ellevate Network, formerly 85 Broads, has grown since Sallie Krawcheck took the helm in May, 2013. 85 Broads is a reference to the address of the former headquarters of Goldman Sachs on Broad Street in Manhattan, where founder Janet Hanson, a former executive of Goldman Sachs, started the organization. In a symbolic baton-passing arrangement, Krawcheck, a former executive of Bank of America and Citigroup, purchased 85 Broads and renamed it Ellevate. With 34,000 members in 130 countries, its mission is the belief that networking and lifelong learning are keys to success. It also believes that women are still a largely untapped resource in the business world and in society - and it's time to change that.

It seems there is no better time to be a woman. There's a sense of untapped potential and organizations to assist a woman to accomplish her goals. As women of all ages take risks and pursue their dreams it's important to tip our hats to the remarkable predecessors who paved the way and continue to be a resource and encouragement for growth.

In the world of golf, that would include people like Catherine Lacoste.
Elisa Gaudet brings a wealth of entertainment and golf experience to Cybergolf. Elisa has spent the past several years in the golf industry in the U.S., Latin America and Spain. She worked for the PGA Tour and the Tour de las Americas before founding Executive Golf International, a golf marketing company that works with clients to develop strategies using golf as the medium. Often referred to as the Maria Bartiromo (a business analyst for CNBC) of golf, Elisa says: "Golf, as a marketing tool, has been around for years. It's amazing how many new ways companies can align their brand with the golf market to reach their target audience. Our goal is to create alliances and establish cross-border relations." Elisa also worked in the entertainment industry for over 10 years, including five in Los Angeles as a model and actress. She can be seen at many celebrity golf events and often gets the inside scoop from PGA Tour players. In 2011, Elisa published her first book, "Two Good Rounds" (Skyhorse Publishing). Her second book, "Two Good Rounds Superstars," was published in late 2013. Her story for Cybergolf, "Golf a Romantic Affair at Cabin Bluff," won the top prize in ING's 2012 Travel Writing category, and that same year she won the ING's Outstanding Achievement award for the Op/Ed Writing Category for her Cybergolf article, "I Want to Fall in Love with Tiger Again." For more information about Elisa, visit her websites at www.onthelip.com or Executive Golf International www.execgolfintl.com.