History of Northwest Golf on Display at U.S. Senior Open
The Pacific Northwest Golf Association (PNGA) is bringing together under one roof the largest temporary collection of Northwest golf history at the 31st U.S. Senior Open Championship, to be held July 26 - August 1, 2010 at Sahalee Country Club in Sammamish, Wash. Trophies, prints and photo exhibits will be on display, telling the story of the rich history of golf in the Northwest. The museum will be free and open to the estimated 140,000 attendees of the championship.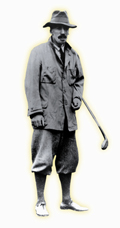 Arthur Vernon Macan
On display will be some of the oldest trophies in North America, including the Bostock Cup (for the B.C. Men's Amateur), the Flumerfelt Trophy (B.C. Women's Amateur), the Macan Cup, as well as the trophies from the Washington Open, Northwest Open, Hudson Cup, PNGA Cup, WSGA State Amateur Championships, among others.
Also on display will be the Wanamaker Trophy (from the 1998 PGA Championship at Sahalee) and the Ouimet Trophy (from this year's U.S. Senior Open Championship).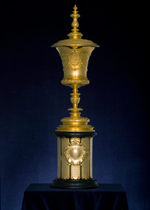 The Havemeyer Trophy
With the 110th U.S. Amateur Championship coming to Chambers Bay in University Place, Wash., on August 23-29, there will be a U.S. Amateur display inside the museum, complete with the championship's Havemeyer Trophy.
Attendees will have the chance to see how golf came to the Northwest; who built the game and the courses that have made this region unique; and how local players such as Fred Couples, Peter Jacobsen, JoAnne Gunderson Carner, Anne Quast Sander, Ryan Moore, Nick Taylor and Paige Mackenzie have taken the Northwest to the golf world.
Called the Founders Museum, the venue is made possible with a donation by Gene Lynn, one of the original founders of Sahalee. The museum will highlight the history of Sahalee, with its hosting the '98 PGA Championship, the '02 NEC Invitational and this year's U.S. Senior Open, as well as the club's legendary figures Paul Runyan, Rick Acton and PNGA Hall of Famer Carl Jonson.
Also participating in the Founders Museum will be several regional charitable initiatives to promote their programs, with the overriding theme being, "Golf is a Good Thing." Charities will be represented during the entire week of the Championship, beginning Tuesday, July 27, and include: The First Tee, Friends of American Lake Veterans Golf Course, the First Green Foundation and Evans Scholars Foundation (both of which are funded by the Washington State Golf Association), Special Olympics of Washington, and the PNGA Foundation.
For additional information about the PNGA, visit www.thepnga.org.
Throughout the week of the championship, kids 17 and under receive free admission when accompanied by a ticketed adult. Tickets for the 2010 U.S. Senior Open are available online at www.2010ussenioropen.com, in store at all Fred Meyer locations, or by phone at 877-281-OPEN.