Ho Chi Minh Golf Trail Bridges Gap between Vietnam's North & ASouth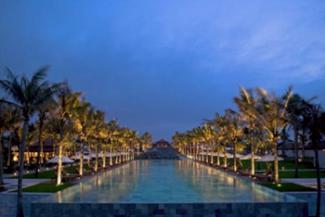 The resort at Nam Hai.
Vietnam's Ho Chi Minh Golf Trail, perhaps the world's most exotic golfing itinerary, has added to its appeal by admitting Central Coast tourism bastions Montgomerie Links Golf Club and Nam Hai Resort to its list of offerings.
The move brings the number of Trail courses to six and accommodations to five, while creating a cohesive link between Vietnam's north and south.
"We gave the Central Coast its first golf course in August, so it's only natural that we become the Ho Chi Minh Golf Trail's first Central Coast golf member," said Jon Tomlinson, general manager of Montgomerie Links. "Obtaining membership also aligns us with the best clubs in Vietnam. That's a group we belong in."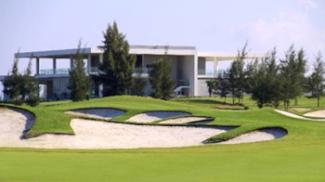 The 18th hole and clubhouse at Montgomerie Links.
The Ho Chi Minh Golf Trail was launched in July 2007 as Southeast Asia's first integrated, comprehensive golfing itinerary. It matches courses with some of the most remarkable accommodations in world golf, while connecting golfers to cultural offerings and transport options through its partnership with seasoned tour operator Golfasian.
The Trail has generated news coverage in more than 200 different publications worldwide, including the New York Times, The Wall Street Journal, a cover feature in the February 2009 edition of Golf magazine and mention in a September 2009 Newsweek column by Richard Haass, who called the formation of the Ho Chi Minh Golf Trail "the clearest evidence of how far things have changed" in Vietnam since the end of the war in 1975.
As if to further reinforce that spirit of détente, Montgomerie Links recently hosted the Ambassador's Cup, a golf outing for three dozen influential members of the international business and diplomatic community. The guests included representatives from Brazil, Germany, Finland, Belgium, Italy, and Argentina, as well as UNESCO and the International Monetary Fund.
Designed by sitting European Ryder Cup captain and eight-time European PGA Tour Order of Merit winner Colin Montgomerie, the 18-hole Montgomerie Links capitalizes on the natural, dune-strewn topography of the Central Coast for a memorable challenge.
The 70-hectare development also features a golf academy staffed by a team of international PGA golf professionals and equipped with video swing-analysis technology; and a 3,000-square-meter clubhouse with views of the Marble Mountains and famed China Beach.

Five kilometers south, near UNESCO World Heritage site Hoi An, Nam Hai provides guests a fine resort experience. Most of the 35-hectare retreat's 60 one-bedroom villas and 40 pool villas border the East Sea around five horseshoe-shaped spits of sand - a set-up that prompted Travel + Leisure to call it "Best Resort" in the world in its 2008 Design Awards.

Other Ho Chi Minh Golf Trail lodging options include Saigon's Caravelle Hotel, celebrating its 50th anniversary this year as one of Vietnam's most prestigious 5-star hotels; the Emeraude, a Halong Bay cruising vessel built as a near-replica of a stern-wheeler that plied the same waters in the early 1900s; Mövenpick Hotel Hanoi, a new 154-room, five-star hotel in the heart of Hanoi; and Blue Ocean Resort, a seaside resort in Mui Ne, about 230 kilometers east of Ho Chi Minh City.

Golfing venues along the Trail include:

* Vietnam Golf & Country Club, a 36-hole facility 30 minutes from downtown Ho Chi Minh City and the recent host of the Asian PGA Tour's Hana Bank Vietnam Masters.

* Long Thanh Golf Club & Residential Estate, a tale of two courses - the older of which was designed by the architects at Golfplan - in a tropical setting, just a few minutes east of VGCC.

* Dalat Palace Golf Club, a mile-high track laid out in the early 1930s for Bao Dai, the last emperor of Vietnam, and voted the top course in Vietnam by Asian Golf Monthly in its annual December rankings issue.

* Ocean Dunes Golf Club, a windswept Nick Faldo design lapped by the waters of the East Sea and host to the GANNON Vietnam Open.

* Kings' Island Golf, Hanoi's oldest club and home to two superb 18s that cross some of the most diverse topography in Southeast Asia.
For information on the Ho Chi Minh Golf Trail or to book a trip, visit www.hochiminhgolftrail.com or email golfasian@hochiminhgolftrail.com.