Ho! Ho! Ho! – New Holiday Gifts for Ladies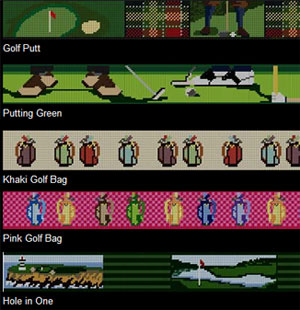 If you are looking for that special Christmas gift for a woman golfer, here are two suggestions. These are brand new items that she does not have.

The first is a custom needle-point belt (yes, it's pricey $285 – but worth the splurge). Barbara Story, the owner designer of Itz-a-Stitch needle-point belts, has come up with four fantastic designs for Christmas giving. The belt looks great on a golf skirt on the course but also on any skirt or pants – anywhere.

For Christmas delivery, the belts must be ordered by December 7. Measurements are easy to take from an existing belt. If you don't want the Christmas motif, choose any other design and customize it with initials or a special design. Pro shops can even design a belt with their golf course logo. See the website www.itzastitch.com or call Barbara Story at 505/989-1162. The belts are made by hand in Rumania and the company has a very fast turn-around.
Also brand-new on the market is a travel golf bag – just for women. It rolls, it works on a cart and is the first of its kind on the market. The owner of Trav-a-lite told me that he noticed that many of his orders for their standard line of travel bags were coming from women; so, they decided to design one for women. It makes sense because over 50% of women golfers who play regularly report that they travel to play golf. And, many women don't like carrying a 25-pound golf bag through the airport. I personally tried the bag out and got lots of compliments. The bag is very well-designed and fits a full set of clubs (providing there are not too many woods and hybrids). See http://www.itzastitch.com golf for details. The bags sell for about $170.

Happy shopping … and happy golfing.
Nancy Berkley is an expert on women's golf. Her book, "Women Welcome Here! A Guide to Growing Women's Golf," published in 2003 by the National Golf Foundation, is the industry reference on how-to attract and retain women golfers. She updates her research and best practices on her website www.nancyberkley.com.

Nancy consults with facilities on how they can increase participation and revenues from women golfers and is a frequent speaker at industry events. Nancy also reviews courses for "The Golf Insider," an international golf and travel newsletter, and "Ladies Golf Journey," a golf publication for women. She's contributed articles to "Golf For Women" magazine and is the author of the 2004 PGA Magazine cover story about women golfers.

A respected resource in the golf industry, Nancy participates in Golf 20/20, the annual strategic invitation-only conference sponsored by the PGA Tour, the PGA, the LPGA, and the World Golf Foundation. At the November 2004 Conference, she moderated the panel discussions on player development with a focus on women golfers. She has addressed the National Golf Course Owner's Association at their National Conference as well as at numerous marketing seminars for the PGA and LPGA professionals. Nancy serves as a consultant to the Golden Links Advisory Board of Corporate Meetings & Incentives, a PRIMEDIA Business Publication. Nancy is an experienced golfer and has competed on the Metropolitan Women's Golf Association (N.J., N.Y., Conn.) interclub matches. She's served on the Board and Golf Committees of her golf clubs in Florida and New Jersey.

In 1998, Nancy founded Berkley Consulting and The Woman's Only Guide® to Golf to share her long-time passion for golf and to help grow the game. Prior to working in the golf industry, Nancy was an attorney for a Wall Street firm and then held a number of senior executive positions with Prudential Financial, including Assistant General Counsel and Vice President of Corporate Marketing & Business Integration. Nancy began her professional career as a high school teacher.

Nancy holds a bachelor's degree in political science from the University of Minnesota; a master's degree in teaching from Harvard University Graduate School of Education; and a law degree from Rutgers University School of Law, where she was a member of the Law Review. She is a graduate of the Program for Management Development at Harvard Business School.

Nancy describes herself as a bogey golfer and plays on her home courses in Florida and New Jersey. To contact her, write, call or email Nancy at: Nancy Berkley, Berkley Consulting, 242 Eagleton Estates Blvd, Palm Beach Gardens, FL 561-776-7243 or at info@nancyberkley.com.