'Holy MAYAKOBA Batman . . . I mean Brian'
By: Elisa Gaudet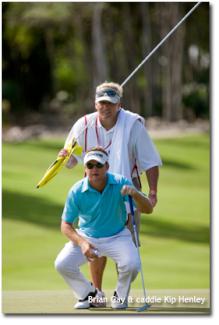 Throughout time there have been great Dynamic Duos - Bonnie & Clyde, The Lone Ranger & Tonto, Han Solo & Luke Skywalker, Tom & Jerry, Starsky & Hutch, Bert & Ernie, Mac & Cheese and probably the most well known, Batman & Robin. Add to that list Brian Gay and Kip Henley.
Otherwise known as the "BK Special" (not to be confused with the hamburger) this player/caddie combination has been progressively paying off. While in many ways they make a great team, in reality they're quite the opposite. Yet it is precisely those differences that, when combined, make a winning golf team. This was most evident at the 2008 Mayakoba Golf Classic when winner Brian Gay took home the coveted 50-pound chameleon trophy.
The only PGA Tour stop south of the border, the event was played on a Greg Norman-designed, 7,039-yard course that is unique - not just to México but throughout the golfing kingdom. The course is grassed with the drought- and salt-tolerant Paspalum turf, and winds across three distinct landscapes - tropical jungle, dense mangroves and oceanfront stretches of sand with holes bisected by massive limestone canals.
There are also "cenotes," deep natural wells or sinkholes formed by the collapse of surface limestone that exposes ground water underneath. The first and largest can been seen in the middle of the fairway on the first hole. "Holey rusted metal, Batman! The ground. It's all metal. It's full of holes. You know, holey." These cenotes were once used by ancient Mayans for sacrificial offerings. There is water all around, deep jungle like mangroves and an array of wildlife that suddenly appears like the chameleon for which the course is named.
On the golf course in the Batmobile:
Robin: "Let's get going and make an emergency bat-turn!" Batman: "Not this time, old chum. Have to think of the golfers. The retro-rockets would burn up the course.
Similar to Batman and Robin, Brian and Kip each bring talents that help make them a special team. Brian has been playing on Tour since 2004; he was joined by Kip in 2006. Over the past four years Brian has moved up the rankings and improved his game significantly - his first PGA Tour victory was just a matter of time.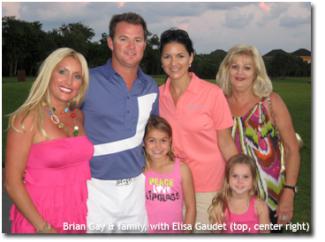 Golf enthusiasts may recognize Kip as he was the winner of Golf Channel's hit show Big Break 2 in 2004. This enabled him to play on the Nationwide Tour for a while and take a shot at making it as a touring. After playing a number of tournaments without success, Kip realized he would be best suited as a strong sidekick.
When asked to describe his relationship with Brian, Kip claims they are more like Felix and Oscar from the Odd Couple. "Brian is very calm and methodical. He has excellent course management and is patient. Also, he has the perfect amount of ego and you need that to survive in professional golf. He is confident on the golf course and knows he is a great golfer. I am more inclined to act fast, I'm loud and aggressive.

"This is what makes us like Felix and Oscar, yet we really work well together because I see things differently and he is interested in my opinion and takes it to heart some of the time. I will tell him to go for a shot he may not see or would take a more conservative approach using an extra shot. The lessons I have learned from Brian have been many and mostly non-verbal."

Brian's comments mirrored Kip's in that he describes himself as cautious and analytical, whereas Kip is aggressive and takes chances. "Kip keeps it light when we are on the course; he jokes and gives me another perspective. For example, if I have a water penalty he will say, 'It is just a golf ball - you get them for free.' It helps me to relax and not get too in my head."

When Brian was asked which dynamic duo best represents their relationship, his response, accompanied, by a chuckle, was macaroni and cheese. "Well . . . I like mac and cheese and Kip likes to eat."

Brian does see some possible comparisons to the Batman and Robin duo in their relationship. Batman was more a serious character in the TV series, while Robin had a total of 352 "holy," including such nuggets as "Holy Agility" and "Holy Zorro." While Kip may not be quite so prolific in his "holy" phrases, he often says "forshizzle," his version of "for sure."

During the final round of the Mayakoba, Gay had a three-shot lead and faced a 15-foot downhill putt on the 17th green. He asked Kip if it was going to be "super-fast." Kip responded, "Forshizzle," the type of word from a caddie that releases tension in his player.

Both men have high praise for Mexico, Mayakoba and the people they met. They enjoyed the international flavor (alluding to more than the guacamole and cervesa) of playing a PGA Tour event outside the U.S., and found the Mexican people to be gracious hosts. Many are now their friends.

Batman: "The green button will turn the car a la izquierda o a la drecha." Robin: "To the left or right. Threw in a little Spanish on me, huh, Batman?" Batman: "One should always keep abreast of foreign tongues, Robin."

Along with their abilities to beat mere mortals with a single golf stroke, Gay and Henley possess other superhero qualities, like belts. Yes, most superheroes have a special belt and these two are no exception. Racing to the scene of the crime in the Batmobile, Batman and Robin must (with the help of the trusty Bat-utility-belt) thwart the efforts of a variety of master criminals.

Brian wears 59 Belts, custom-made in Las Vegas. The one he wore the day of his Mayakoba win has a star; being a Dallas Cowboy fan he takes it to represent the team emblem. Gay prefers to avoid superstitions on his belts, shirts, or any other clothing article for that matter. He relies on talent and shies away from placing importance on anything other his ability to play golf. Kip wears Fligo belts from Canada because, he says, "they make a fat guy look cool."

Robin: "Where'd you get a live fish, Batman?" Batman: "The true crime fighter always carries everything he needs in his utility belt, Robin."

When asked who'd be the likely candidate to drive the Batmobile, the response from Kip was quick and decisive, "Not up for discussion… me. If it was up to Brian we'd be going the speed limit."

Same Bat Time, Same Bat Channel - The Mayakoba Golf Classic will be held February 25 - March 1, 2009, when the team of Brian and Kip will defend their title.

Travel packages are available as well as ticket information by going to www.mayakobagolfclassic.com. Be sure to watch this Dynamic Duo in action on the Golf Channel in the U.S. and Latin America, or Televisa in Mexico if you are unable to see the action live.
Elisa Gaudet brings a wealth of entertainment and golf experience to Cybergolf. Elisa has spent the past several years in the golf industry in the U.S., Latin America and Spain. She worked for the PGA Tour and the Tour de las Americas before founding Executive Golf International, a golf marketing company that works with clients to develop strategies using golf as the medium. Often referred to as the Maria Bartiromo (a business analyst for CNBC) of golf, Elisa says: "Golf, as a marketing tool, has been around for years. It's amazing how many new ways companies can align their brand with the golf market to reach their target audience. Our goal is to create alliances and establish cross-border relations." Elisa also worked in the entertainment industry for over 10 years, including five in Los Angeles as a model and actress. She can be seen at many celebrity golf events and often gets the inside scoop from PGA Tour players. For more information about Elisa, visit her websites at www.onthelip.com or Executive Golf International www.execgolfintl.com.