Honda Classic Pro-Am - Report from the Fairway
By: Nancy Berkley
The Kenny G Golf Pro-Am began at 6:45 Wednesday morning with Tiger Woods teeing off the first hole on the Champion Course at PGA National Resort and Spa in Palm Beach Gardens, Fla. The event began on the eve of the $5.7 million Honda Classic, which begins Thursday.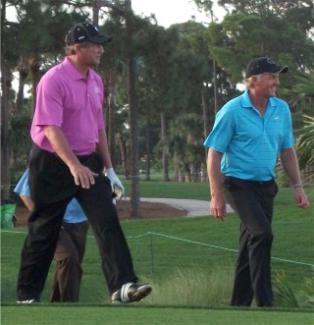 Joe Theisman & Greg Norman at the Honda's Pro-Am
The sun was shining as Tiger teed off - perhaps a good omen for him - alongside four amateur partners. The pro-am is a major money-maker for the tournament's charity, the Nicklaus Children's Health Care Foundation. It's also a priceless opportunity for the tournament sponsor and partners to bring in their top customers and employees for a chance to play with the pros.

Following the pro-am, there is usually evening events where all the players mingle and socialize. It's good fun, good for business and good for the tournament's charity.

Today, 46 PGA Tour golfers were scheduled to play - each with four amateurs. At $28,000 for each amateur foursome this year's event raised over $1 million for the Nicklaus' Foundation. That's a great way to kick off a tournament.

So if you have some loose change around and want to play in a PGA Tour pro-am, how do you do it? It's simple. Most tournaments have a specific person in charge of the events and there is often a dedicated page on the tournament's website explaining how to enter. For example, take a look at the www.hondaclassic.com website, click "Sponsorships" and click through to the "Pro-Am" tab.
One requirement for any pro-am is that the amateur players must have an official USGA handicap. Many spots are spoken for by the sponsors so there is no guarantee golfers not affiliated with the sponsors or the host course will be able to get a spot.

But if you do, you'd better have your "A-game." Pro-am players usually have low handicaps and are seasoned competitors. Kenny G, for instance, is a not only a fine sax player but a "scratch" golfer. Not every amateur will be that good but, in general, the level of play at a pro-am is well above average.

Most of players scheduled to play in today's event are men. After a quick review it looked like there were about six females in the amateur field of 88.

The group led by PGA Tour player Camillo Villegas teed off at 7:45 A.M. It included Lynn Parker, a golf professional and instructor from Texas. Parker was the only player in that group to par the 15th hole – the short par-3 that begins the famous Bear Trap. Although Parker has played professionally in the past on the LPGA Tour, she no longer plays professionally. That foursome was lucky to have her as one of their amateurs.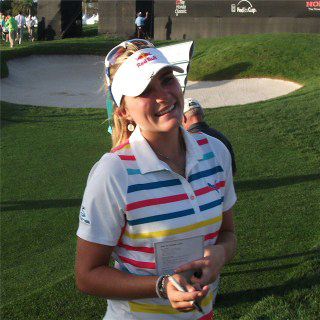 Lexi Thompson at the Honda Classic Pro-Am
One female player drew a lot of attention Wednesday. Lexi Thompson, the youngest member on the LPGA Tour, was scheduled to tee off with World Golf Hall of Fame member Greg Norman along with three amateurs - New England Patriots' coach Bill Belichick, former NFL player Joe Thiesmann and Kenny G - at 12:45 p.m. That was the Pro-Am group to watch.

But Mother Nature had a say about Wednesday's pro-am. At about 11 a.m. it started to drizzle. By noon, the rain was coming down in buckets. This was a real surprise because all the weather forecasts showed sunshine.

Around noon, the pro-am was postponed as the greens filled with puddles. The risk to the course as people and carts drove across the course could cause serious damage and endanger tomorrow's first round.

But by 2:15, the sun was out again. This is Florida after all! The decision was made by tournament officials to change the 18-hole pro-am to nine holes. It's as if Mother Nature was blessing a nine-hole round and reinforcing the PGA's recommendations - along with suggestions of Jack Nicklaus himself - to make the game a shorter experience.

Under sunny skies at around 2:15, the players who had not finished nine holes returned to their ball positions and finished either the front or back nine. Those groups that had yet to tee off took up their positions on the first or 10th hole as assigned and play resumed.

I caught up at the ninth hole with the star foursome including Greg Norman, Lexi Thompson and Kenny G. Lexi played from the tips along with the men. Her drive was just a few yards shorter than Norman's - about 275 yards. Both were on the ninth green in two with possible birdie putts - which neither made.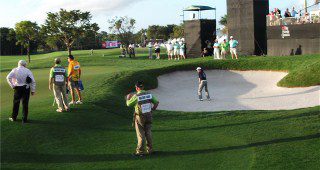 Kenny G in the Bunker
Lexi shines on the golf course and the gallery loves her. I chatted with her briefly about how, at the age of 12, she made the cover of our Golfer Girl Magazine. She may be the tipping point in the golf industry's recovery.

Back at the ninth: Kenny G sliced badly off to the right and made a great shot back onto the fairway. Unfortunately, his third landed in a bunker. But he made another great recovery and shouted to the gallery, "I have a lot of practice with that shot."

Bellichek and Thiesmann struggled a bit. Norman offered some tips and their play improved. (Hey, I want to play with Norman who, by the way, I think creates the best set of forward tees for women among the contemporary golf course architects.)

Tomorrow's forecast for Palm Beach Gardens looks good. The greens will be a little wetter and slower, which will make approach shots a bit easier. But the rough could be wicked. I'm looking forward to a good first round of the 2012 Honda Classic.
Nancy Berkley, President of Berkley Golf Consulting, is an expert on women's golf and junior-girls golf. She is a frequent contributor to www.cybergolf.com/womensgolf. Her book, "Women Welcome Here! A Guide to Growing Women's Golf," published by the National Golf Foundation, is an industry reference on marketing golf to women and spotting trends within the industry. She offers information and advice about the golf industry on www.berkleygolfconsulting.com and is often quoted in national publications. She was a contributing editor of "Golf for Women" magazine and a founding advisor of "Golfer Girl Magazine." Her interviews with women in the golf industry now appear on www.golfergirlcareers.com. Nancy lives in Palm Beach Gardens, Fla., and is a graduate of the University of Minnesota, Harvard University and Rutgers Law School. After a business and legal career, she decided to write about the game she learned and loved as a teenager. She describes herself as a good bogey golfer with permanent potential.