Honk If You've Got Golf
By: Elisa Gaudet
One might think that NASCAR and the PGA Tour could not be farther apart on the sports spectrum. Not true. For one – most obviously – participants from both sports are successful drivers. More surprising is the crossover of golfers who love to drive and drivers who love golf.

Will Farrell in "Talladega Nights – The Ballad of Ricky Bobby" is the equivalent of Bill Murray in "Caddyshack." These two sports are morphing more than you think. This is also evident with the recent addition of the PGA Tour's FedEx Cup, similar to the Nextel Cup, a point system devised to reward players for varying degrees of success and a way to tie together events to create a cumulative point win based on multiple factors. (For more on each, see www.nascar.com/2002/kyn/nascar_101/02/02/Points and www.pgatour.com/fedexcup/overview.)

Surprisingly, these NASCAR guys "Got Game." Forget the stereotype of the redneck racer: jacked up on Mountain Dew and doing donuts on the front lawn. These men are articulate, funny and talented golfers as well. This is what three of NASCAR's finest had to say about golf.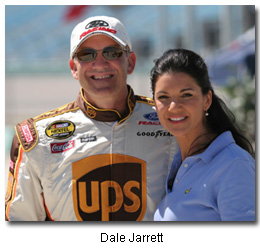 Dale Jarrett, a three-time winner of the Daytona 500 and the 1999 NASCAR champion, received a full scholarship to the University of South Carolina – for golf. He did not attend, opting instead to enter racing. He admits that these days many of the people he plays with would find his scholarship surprising, as his golf game is not as strong as it used to be (between 38 races a year and sponsor commitments, he does't get to the course as often as he'd like). His whole family is addicted to golf. The 7-handicapper started playing when he was 9 years old. Currently, there are three generations of Jarretts golfing: Dale's dad, Dale, and his two sons all enjoy playing, but perhaps not nearly as much as his brother, who Dale says "plays 8 days a week."

Dale's favorite course is Augusta National. He confesses, "If I was not a race-car driver, I would be starving somewhere on the Tour." He sees a definite correlation between racing and golf. "In racing, it is just you and the car. In golf, it is you and your clubs. Hand-eye coordination and handling pressure are two other similarities. Standing over a 3-foot putt on the last hole to win a tournament can be compared to making a pass or holding a guy off on the final lap of a race."
When asked about his greatest golf moment, he cites a tournament he played in with Jay Haas, where they finished second. Surprisingly, it was not one of his FIVE hole-in-ones.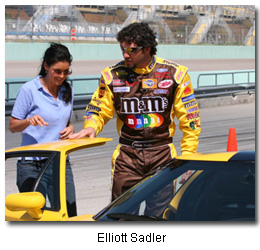 Elliott Sadler admits to liking plain M&Ms over the peanut. With that cleared up we were free to move on to golf. Sadler started playing at age six, when his parents would drop him off at the club and he'd play golf all day, walking every hole. A few years later, he started racing go-karts but continued to play golf. In high school Sadler played on the Brunswick Academy golf team.

These days he admits that his weakness is his short game and prefers to go to the driving range and hit "300 bombs" all day. "I can hit it a mile; a long ways. I have a pretty good mid-iron game, but my short game is horrendous. I can not putt it a lick."

His favorite course is Shadow Creek in Las Vegas, and his dream foursome would be Tiger, M.J. and Charles Barkley. When asked to describe his perfect golf cart, it would be ". . . jacked up with mud-grip tires so I can go after my right to left hooks in the woods. It would have a great radio; when we go golfing, we are jamming on the course to Metallica, Kiss and Bon Jovi."

Ok – so perhaps here there is some divergence between the two sports. Sadler notes one similarity between golf and racing: just as some guys play better on certain golf courses, the same is true in racing. Some drivers perform better on a 1.5-mile track than the half-mile track, just as some pro golfers perform better on a links course vs. heathland, parkland or desert courses.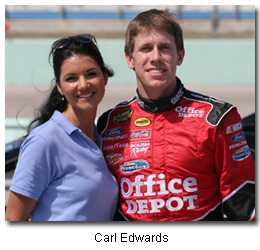 Carl Edwards, who started playing in college, is the least experienced golfer of the three racers. When asked to describe his golf game he says, "One out of 50 shots I feel like the greatest golfer of all times – and the other 49 I hope that nobody is watching." Edwards sees much correlation between the two sports, noting, "As a race-car driver, my biggest fault is I believe if I try extra hard I will go extra fast. That is not how it works. Finesse, being patient and repeating the process are the attributes to a great driver – just as they are in golf."

Edwards' dream foursome? John Daley, Phil Mickelson and Dale Jarrett. When I cheekily suggest they would probably have to carry him in that round he agrees, admitting, "Yeah, well, I can carry their clubs." Edwards' dream golf cart would be a convertible, with a big stereo and a big cooler. "Really, right now the only part of my golf game I am comfortable with is driving the golf cart." My dream foursome?Dale, Elliott and Carl and myself racing a new Ford GT. Dreams do come true!
Elisa Gaudet brings a wealth of entertainment and golf experience to Cybergolf. Elisa has spent the past several years in the golf industry in the U.S., Latin America and Spain. She worked for the PGA Tour and the Tour de las Americas before founding Executive Golf International, a golf marketing company that works with clients to develop strategies using golf as the medium. Often referred to as the Maria Bartiromo (a business analyst for CNBC) of golf, Elisa says: "Golf, as a marketing tool, has been around for years. It's amazing how many new ways companies can align their brand with the golf market to reach their target audience. Our goal is to create alliances and establish cross-border relations." Elisa also worked in the entertainment industry for over 10 years, including five in Los Angeles as a model and actress. She can be seen at many celebrity golf events and often gets the inside scoop from PGA Tour players. For more information about Elisa, visit her websites at www.onthelip.com or Executive Golf International www.execgolfintl.com.