Hoosier Daddy! Purdue Grad Overcomes Palm Tree, Wins Senior Amateur Tour Championship
By: Jay Flemma
Indiana native Ron Carter won the 28th Society of Seniors Championship today at Quail Ridge Country Club - the de facto Tour Championship of Senior Amateur golf - but not before channeling his inner Lon Hinkle on the back nine.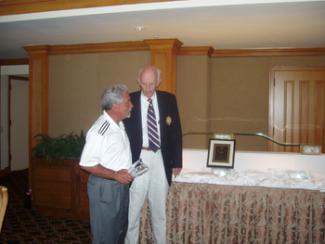 Ron Carter Accepting the Winner's Trophy
With his feisty demeanor, you thought he might pull a "Mister Roberts" instead.

After a scintillating 5-under 31 on the front nine, Carter was running away with the golf tournament in Boynton Beach, Fla. He had started the day just one shot clear of phlegmatic Bill Zylstra and only two ahead of a quartet of well-decorated players (including one former champion who won at Quail Ridge), but four birdies in five holes helped him open up a gargantuan lead by the 11th tee. He was suddenly 13-under and poor Zylstra, whose putter never got out of the trunk of his car, was his closest pursuer, a distant seven back and fading fast. Carter looked unstoppable.

But then a Canary Island palm tree - "and an expensive one at that," joked a blue-jacketed member - made up its mind that Carter was having too much fun and decided to command a little ink.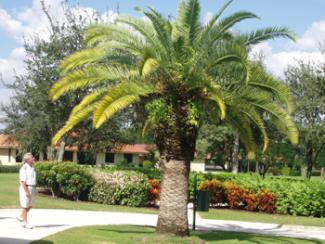 Ron Carter's Tree
"It was my only bad shot of day," Carter recalled, as he chatted with a gaggle of journalists after the round. "I was playing so well, I tried to put it close out of the fairway bunker instead of just playing safe and running it up on the front of the green."

The result was the strangest shot of the week: a bladed flare that zoomed over the green, and stuck in the thick, bushy upper fronds of the squat but tall palm.

Then the zaniness began - the weirdest opera you ever saw. For openers, poor Carter is only 5'5" in spikes, and the fronds are at least 12 feet off the ground. He walked around the tree again and again trying to figure out a way up it, looking at the tree as though it might bite him, while everybody else just stood there, whistling and playing with their pocket change. A few geniuses got the bright idea of pointing at the tree and looking surprised. One spectator was even napping on the 12th tee.

Thanks for that, guys! It's a good thing for us you're not doctors.

Finally, someone channeled their inner rocket scientist and drove a golf cart over by the tree, so Carter and co-competitor Ron Woulfe, who is almost a foot taller, could get up on its roof to start hunting, and into the tree they went. They found Dr. Livingston, Private Ryan, Amelia Earhart, Glenn Miller, the crew of the "Marie Celeste," a lost and bewildered wood ape, and several Roanoke colonists before finally - after poor Carter actually disappeared entirely in the fronds of the tree - finally the ball fell out. He took a penalty stroke and carded a double bogey.
Ron Carter, Meet Lon Hinkle

All week, Carter had been a firecracker, motivating himself with fiery, unprintable pep talks. So it seemed likely that he would want to channel his inner Henry Fonda in the movie "Mister Roberts" on that Canary Island palm. For those of you who haven't seen the epic 1955 comedy film (which won Jack Lemmon an Oscar for best supporting actor as the hapless Ensign Pulver), Fonda plays Lt. Doug Roberts, the naval assistant to a tyrannical sea captain on a World War II supply ship, the U.S.S. Reluctant. The captain's prized possession is a palm tree he won for service to the navy and, after the captain humiliates the crew once too often, Roberts hilariously throws the tree overboard in a fit of rage, setting off one of the great showdowns in moviedom.

Knowing Carter as we do, we thought he'd cut down that Canary Island Palm with his teeth. Instead, Carter just channeled his inner Lon Hinkle and brushed it off.

You'll remember Lon Hinkle for his own famous run-in with a tree, a Black Hill spruce for those of you scoring at home. In the first round of the 1979 U.S. Open at Inverness, Hinkle came to the long, uphill par-5 8th tee and, next door, saw the 17th fairway to the left through a gap in the tree-line. Instead of playing the hole the right way, he drove through the gap, over the trees deep into the 17th fairway, making the hole much shorter, reaching the green with an 8-iron and carding an eagle. Upon hearing about the shortcut, many players followed suit.
That night, the USGA had a meeting on that tee. They muttered about "the integrity of the hole" and "playing it the right way" and "embarrassment" and what not, and the next morning there was a forlorn-looking, droopy, 25-foot-high Black Hill spruce about 20-25 yards away from the tee box that hadn't been there the previous day.

As one ink-stained scribble wrote, only God can make a tree . . . well, God and the USGA.

"But it didn't block the opening entirely," said the late golf architect Mike Strantz, who was Tom Fazio's associate at the time, and who planted the tree himself. "I told the USGA that they had to move it over and that it wasn't in the right place . . . but . . ." he trailed off with a smile and a shrug. To top it off, some irreverent wag had place a hand-painted sign on one of the lower branches that read "A Hinkle Tree."

When Hinkle got to the eighth tee he grinned, said "Trees sure grow fast in Ohio," and promptly hit his tee shot over the tree and into the 17th fairway en route to another birdie.
Just as an aside, Chi Chi Rodriguez did the same thing, teeing up his ball on a golf pencil. When asked by a Pittsburgh Post-Gazette writer how he got the ball to stay atop the pencil he replied, "I hollowed out the top of the pencil with a ball-mark repairer. I had to use that because they don't allow Puerto Ricans to carry knives in Ohio."

Anyway, like Hinkle, the Canary Island Palm didn't bother Ron Carter either. "I wasn't going to lose the tournament because of that tree," he said. "I still had to finish the hole, and I had a lot of golf left to play. But I also was running hot. So I decided to play safe on the next hole."

Smart decision. The next hole is a short, but deadly par-3 called "Bonhomme Richard," and it is a pint-sized terror that will sink your scorecard. The green is fronted by sand and water and actually slopes left into the pond. Of course, the pin was tucked left, on the most dangerous edge, just begging Carter to try for it in his anger so it could fire a full broadside at him, burn his sails, disable his rudder, shatter his masts, and really make things interesting.

"I just calmed down a bit and aimed for the fat part of the green instead," he observed.
He pured it: dead center of the green. Two putts later and a safe drive into the middle of the treacherous 13th fairway, and the worst of Quail Ridge was behind him. He did bogey 15, but a birdie at the short par-5 16th restored the five-shot lead, and he could coast home.

"With the exception of 12, where I had to regroup for just a second, I played aggressive all day, all tournament in fact. These guys are so good, you can't let up. They will go out and get birdies and catch you if you stand still, so I had to go out and win this, not play not to lose," he surmised. "On 17 though, I started to play to the center of the greens and not take any chances."

Two holes later, he got his 68 to the house, hoisted the Waterford crystal trophy that is the spoils of victory and tucked into a humble lunch of iceberg lettuce salad and two slices of rare roast beef, a well-liked and admired winner. Here are a few quick facts about our newly minted champion:
* He played some baseball at Purdue as a reserve shortstop, but never started, and quit after his junior year. "The hand-eye coordination helps only a little, but the swing mechanics are completely different and a hindrance to golf," he observed;

* He is a retired insurance agent;

* His wife is the co-owner of a beauty shop;

* For fun off the course, he spends time with his wife and dog named Bo, a cross between pit bull and lab;

* His daughter Keely is married to Kirk Olivadotti, the linebacker coach for the Washington Redskins, who is the only coach left on the team from the Joe Gibbs era;

* His oldest son Kyle is the assistant golf pro at Royal Melbourne Golf Club in Arlington Heights, Ill.;

* Another son just graduated from Purdue. "He's on the Obama plan. He needs a job," he joked.
As an aside, Quail Ridge should consider putting a plaque on the Canary Island palm in his honor, or renaming it the "Carter Tree." They do love their history there and with good reason. They have the best senior players in America at the club. How good are the players at Quail Ridge? Heck, even the lost and bewildered wood ape that fell out of the tree can spot you three a side, stripe drives down the center, get up and down from the deck of a sinking ship, putt the lights out, and leave your pockets lighter than when you teed off.

So in the end, a black-and-gold golfer left the North Course at Quail Ridge black and blue after putting up a dazzling 69-68-68 for a total of 11-under and a four shot victory. Meanwhile, everyone at Indiana University can just "Boiler Up!" and answer one question: Hoosier daddy?!

Top 10 things you didn't know about Quail Ridge Country Club and the Society of Seniors:

1. Sam Snead, a long-time resident and Quail Ridge member will be inducted into the Quail Ridge Sports Hall of Fame this January. Clubs, gloves, hats and pictures will be on display.

2. Famous members of Quail Ridge include Moss Beecroft, Bob Ferrell, Bob Ferris, Stan Fischer, Ronnie Grove, and Harreld Kirkpatrick.

3. Claude Harmon, Masters' champion and quintessential club professional at Winged Foot, was also a long time resident and member.

4. The club is renowned for the vast number of scratch-handicap senior players, whose daily games and leagues are perhaps the most competitive and high-quality golf matches in the country. Many other area club pros such as Jay Sigel, Laurie Hammer, Bob Murphy and Denis Watson compete in the daily games as well making them, outside of Isleworth or Lake Nona, the deadliest games in Florida.

5. The founding members of the Society, great players like Dale Morey, Ralph Bogart and Johnny Owens, brought the Society of Seniors to Quail Ridge as the group's permanent home.

6. Quail Ridge has more Society of Seniors members than any other club in the United States.

7. The SOS Championship has been won by such luminaries as Jack Van Ess, (the first winner in 1983), Bob Rawlins, Ed Tutwiller, Joel Hirsch, Jerry Greenbaum and Vinny Giles.

8. Quail Ridge has held numerous qualifiers for USGA Championships.

9. Quail Ridge's archrival is their neighbor from across the street, Delray Dunes, who they play ever year in a Ryder Cup-style blood match called the "Road Cup." The matches even pit father against son, friend against friend, and neighbor against neighbor. Quail Ridge has some work to do. Delray won the Cup last year and has been strutting around town and parading the trophy up and down Golf Road like bantam roosters ruling the barnyard.

10. Everything on the menu is out of this world, so look at it and say "okay," then get ready for extra time at the gym. The flank steak is a personal favorite of your author.

For the complete list of winners in the Society of Seniors Championship, visit http://www.societyofseniors.com/events.


Since launching his first golf writing website in 2004, http://www.jayflemma.thegolfspace.com, Jay Flemma's comparative analysis of golf designs and knowledge of golf course architecture and golf travel have garnered wide industry respect. In researching his book on America's great public golf courses (and whether they're worth the money), Jay, an associate editor of Cybergolf, has played over 220 nationally ranked public golf courses in 37 different states. Jay has played about 1,649,000 yards of golf - or roughly 938 miles. His pieces on travel and architecture appear in Golf Observer (www.golfobserver.com), Cybergolf and other print magazines. When not researching golf courses for design, value and excitement, Jay is an entertainment, copyright, Internet and trademark lawyer and an Entertainment and Internet Law professor in Manhattan. His clients have been nominated for Grammy and Emmy awards, won a Sundance Film Festival Best Director award, performed on stage and screen, and designed pop art for museums and collectors. Jay lives in Forest Hills, N.Y., and is fiercely loyal to his alma maters, Deerfield Academy in Massachusetts and Trinity College in Connecticut.