Hootie at Bulls Bay - Day 2
By: Jay Flemma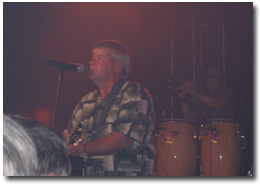 Editor's Note: Associate editor Jay Flemma recently completed his stint at Bulls Bay Golf Club in Awendaw, S.C., host site of the Hootie at Bulls Bay invitational college tournament. Here's the third of Jay's daily reports as he covers the action on the second day of the event. Jay also provides a recap of the performance by John Daly with the hosts, Hootie and the Blowfish.

We had a runaway and now it's a war. In the span of a half-hour, Central Florida's nine-shot lead over Florida State and Baylor dwindled to just one, before late birdies swelled the lead back to the four-shot advantage they enjoyed at the start of the day. They finished the day at 10-under. Meanwhile, Wake Forest (6-under) rode a strong performance through the lineup to surge into second place. Baylor got strong rounds from Jeremy Alcorn and Jeremy Frye to ascend into a tie for third with Florida State, who shed five strokes to par over the day. Both teams are at 5-under.

UCF's Greg Preston took medalist honors for the second day in a row firing a blistering 67 to finish with a two day total of 133 (9-under). "I wish we could have held that lead late," lamented UCF coach Nick Clinard. "We had a chance to get some separation, but we dropped some shots in the last five holes."

UCF had their team total to 17-under with six holes to play. Wake Forest and Florida State battled back and forth, switching second and third places at 8-under and 7-under. But as the round climaxed, Forest and his UCF teammates Nuno Enriques and Gene Suh played the last six holes a combined 4-over. At one point, the nine-stroke bulge whittled to one as UCF sank to 7-under before Forest Enriques and Preston Brown scraped one more birdie each to regain the 10-under total.
"We're still in good position and the guys are in a great state of mind," Clinard said encouragingly. "I know Wake Forest is hot on our tail and they are a great team, I welcome a chance to have my boys try their best against my alma mater. It would be sweet to beat them."
Wake Forest found the form that led them to run away with last year's title, as Hootie veteran Webb Simpson carded a 3-under 68 and Dustin Groves (a.k.a. "Rusty Grooves" to his friends and coach, Jerry Haas) fired a 69. The team picked up two shots to par from the prior day's total. The team might have saved a few more, but former ACC and North & South champion Sean Moore took a hard-luck triple bogey on 18. "My tee shot rolled next to the lip of a bunker and my next plugged in another bunker." The bad break turned a probable 70 into a 73, which meant his score was thrown out. Four out of each five-man team's scores count in the team competition, and the last is discarded.
Moore, a religion major and disciple of famed Wake religion department chair and golf nut Dr. Charlie Kimball, remained upbeat about the Demon Deacons' chances to make up four shots on the Golden Knights. "Any one of our five guys has a chance to win a tourney when they step on the first tee. Having that competition between us makes us play better and that faith in each other makes us come back from adversity more easily," the senior stated vigorously. Moore won his first tournament, a 10-and-under competition at only age six.
"Despite the hiccup at the last, Sean is a big game player," explained Wake Forest coach Jerry Haas, brother of grizzled tour veteran Jay Haas. "Sean holds the course record (a 64) at Tot Hill Farm, another Mike Strantz course in North Carolina. He did that at just 17 years old. He always plays well in big moments. He never shrinks from pressure."
Several Baylor players are coming up big in pressure situations as well. Jeremy Alcorn had five birdies en route to a team best 68. "I birdied 2, 3, 7, 11, and 13, but maybe the biggest moment was the par save on 16." The senior from Brownwood, Texas, scraped a par after surviving a plugged lie in a fairway bunker and then blasting the approach over the green. "I made a 25-footer for par. If I miss that putt, with the way the last four holes were playing with the wind whipping, a bad hole could have ruined my round. But our whole team stayed steady in the wind and we're in position at 5-under to give it a shot at winning this thing tomorrow."

The senior, who's only bogeys came at Nos. 5 and 15, was not fazed by the wind. "We're used to the wind in Waco, but there's a lot of elevation change here and the greens are tricky. You have to stay patient," he said calmly. "The course gives you plenty of room to drive it, but you have to stay out of trouble and take your opportunities when they come and not force things."

Florida State's Matt Savage, who tied Forest for the low round at 67, echoed the sentiment of patience. "I didn't let the ball get swept away in the wind," explained the sophomore communications major from Louisville, Ky. "Yesterday I finished three over for the last four holes. That's a good way to blow a tournament. So today I stayed in control by not doing anything stupid. I put the ball 20 feet away on my approaches instead of trying to flag hunt. I took what the course gave me and made my putts."

Despite his claim of striving to keep an even keel, Savage lived up to his name by lighting the most fireworks the tourney has seen from any player. He holed a 40-yard bunker shot at the par-4 fourth that ignited his round. He then made birdie putts of 30 feet on the par-5 sixth and another of the same length on the par-4 11th, a hole which features a severe, modified-Biarritz style of green.

"That made up for yesterday when I couldn't buy one," he laughed as his eyes lit up. "But the key was surviving the last four holes. They can change your card so much for good or bad and the wind changes them completely from day to day," he said with a look of deep respect for their difficulty. "Take 15. A lot of guys get caught up in going for the hole, but the green runs away and it's tough to hold with a long iron. 17 is straight down-wind so its hard to club. I hit 6-iron and went over the green and made bogey."

But Savage rallied for a rare birdie at 18, hitting 5-iron to 20 feet. "It was the perfect spot. I had a straight uphill put and rolled it in. The key to my round was playing the last four holes birdie-par-bogey-birdie. The whole tournament will come down to how well we all manage those last four holes and they in turn depend on what the wind is doing."

Tournament director Doug Carnes agreed with Savage's assessment. "Those last four holes, the wind and the greens are why this tournament tightened up late. The winds and greens of Bulls Bay are part of the course's personality. The course is completely different from wind change to wind change. 15, the par-4, was toughest on the course yesterday and today. It was right dead into the wind," he said pointedly. "That young fellow was dead on. The tourney will be won on 15-18. Whoever plays those the best will win."

The affable Savage also praised the tough conditions, the course and tournament staff. "I really like this design. It's fun and unique in that you can drive it anywhere, but you can't fall asleep out there because one mistake and the hole will get out of hand," he said thoughtfully. "This is the best college tourney I ever played. The concert was a blast and everyone's attitude is great. They are so glad to have us here, the members, workers and officials and that means so much to us. It's nice to be appreciated and treated well. I think these people are more into the tourney than we are."

Alcorn agreed. "We're lucky to have played a lot of great tournaments this year; Vanderbilt at the Legends Club, the Border Olympics and TPC-Myrtle Beach. But between the Hootie concert, this amazingly cool golf course and the mix of fun and challenge, this is my favorite," he said sincerely. "I hope Baylor comes back here every year. It's good for our game and it's great to meet so many people who care about the community and are passionate about golf."

Happily, the tournament raised significant money for charity. The sponsors and citizens of Charleston have been deeply generous," said course owner Joe Rice. "We raised $90,000 for the Hootie and the Blowfish Foundation."

Top-10 Team Standings after Day 2

UCF -10
WAKE FOREST -6
BAYLOR -6
FLORIDA STATE -6
COASTAL CAROLINA +7
LSU +8
AUGUSTA STATE +10
DUKE +11
UNC +12
SOUTH CAROLINA +15

Despite Bullfight, NC State and South Carolina Wear Red Again

"I love my school colors, but not with a bull running around," joked South Carolina's Matt Silvers, who played an impromptu toreador yesterday when course mascot Titleist the bull romped around the golf course unexpectedly. "Here I am in a red shirt again, I'm just a glutton for punishment."

N.C. State's Chase Duncan - who has a fitting name after getting . . . wait for it . . . chased . . . by Titleist, agreed with Silvers. "I'm taking this red jacket off on the 16th and 17th holes," he said acerbically.

Daly Plays Guitar & Sings with Hootie and the Blowfish

As if a hometown Charleston, S.C., concert with Hootie and the Blowfish wasn't amazing enough, John Daly made a surprise visit on stage. As the crowd thundered "DA-LY! DA-LY! DA-LY!" Big John grabbed a guitar and said, "I'm rootin' for my Hogs!" before playing Dylan's classic "Knockin' on Heaven's Door," which he dedicated to his mother.

The crowd, already in orbit from such classic's as "State Your Peace," "One Love," "Killing Sister Pretty" and other selections off the band's latest release, "Looking For Lucky," went ballistic.

The Daly chant still echoed as John left the stage. The only thing that made it die down was when lead singer Darius Rucker said, "Well I think this is the Gamecocks year!" Peter Holzappfl of R.E.M. fame also played an entire set, which included a spectacular rendition of R.E.M.'s classic "Losing My Religion."

The concert ended with a quadruple encore, including "Only Wanna Be with You" and "Mustang Sally."
Since launching his first golf writing website in 2004, http://www.jayflemma.thegolfspace.com, Jay Flemma's comparative analysis of golf designs and knowledge of golf course architecture and golf travel have garnered wide industry respect. In researching his book on America's great public golf courses (and whether they're worth the money), Jay, an associate editor of Cybergolf, has played over 220 nationally ranked public golf courses in 37 different states. Jay has played about 1,649,000 yards of golf - or roughly 938 miles. His pieces on travel and architecture appear in Golf Observer (www.golfobserver.com), Cybergolf and other print magazines. When not researching golf courses for design, value and excitement, Jay is an entertainment, copyright, Internet and trademark lawyer and an Entertainment and Internet Law professor in Manhattan. His clients have been nominated for Grammy and Emmy awards, won a Sundance Film Festival Best Director award, performed on stage and screen, and designed pop art for museums and collectors. Jay lives in Forest Hills, N.Y., and is fiercely loyal to his alma maters, Deerfield Academy in Massachusetts and Trinity College in Connecticut.