Hootie & the Blowfish, Bulls Bay Set to Rock College Golf
By: Jay Flemma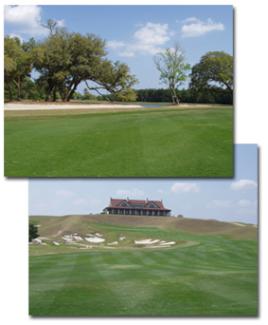 Golf and rock and roll frequently work well together. Granted, they are not meant to be fused at the hip or married at the altar. Quiet solitude and a relaxing commune with nature are the essential therapeutic attributes of the game.

Nevertheless, golf can be exciting, electrifying and euphoric like a great rock concert. The "roaring on the pines" during a dramatic Masters charge, the sheer joy and spontaneous bedlam of witnessing a hole-in-one, or the "let-our-hair-down" fun and one-of-a-kind charm of the private Pradera Golf Club in Parker, Colo., where they blare classic rock out of the loudspeakers on the veranda, are unique and welcome examples of where the game transcends its normally stoic grace and refined charm. We revere and embrace those moments, celebrating golf's diverse appeal.

If you need more proof that rock is good for the game, book a flight to Charleston, S.C., March 24-27 for the "Hootie at Bulls Bay Collegiate Invitational," hosted by rock legends Hootie & the Blowfish. An adventurous Mike Strantz-designed golf course, mid-major programs slugging it out with ACC and SEC powerhouses, and a smokin' rock concert by one of popular music's defining acts of the 1990s catapult the tournament to the highest echelon of NCAA golf events, even though the shootout is only three years old.

Darius Rucker, Mark Bryan, Dean Felber and Jim Sonefeld - the four members of Hootie & the Blowfish and all alumni of the University of South Carolina, have been members at Bulls Bay in Awendaw, S.C., since it opened in 2002. In 2005 they hosted the inaugural tournament, kicking it off with a concert that has been part of the opening ceremonies ever since. But that's not the only thing that rocks.
Even curmudgeonly golf architecture experts think the best perk to the tournament is the chance to play for four days on the only solo private design in the country by the late Mike Strantz. The course is a strategic tour de force, where wide and sweeping fairways swerve around wild, shaggy bunkers and towering hills, and end at fiendishly contoured greens. We'll review the course in depth the week of the tournament. But the mostly treeless site makes the fickle coastal winds swirl one minute, blow unchecked the next, disappear unexpectedly, and then do all three all over again in the space of just a few holes.
Where the course was once a flat tomato field with a foot of elevation change over its 200 acres, now towering but natural-looking dunes are speckled with rugged waste bunkers. An intriguing mix of serene Low Country charm and a heaving, tumultuous East Coast version of Whistling Straits (local legend says Pete Dye liked the bunkering so much he imported the idea to 2004 PGA Championship venue), the course is Strantz at the height of his powers.
The course was also Mike's home. His wife Heidi and their two daughters, Andrea and Dana, still live on the property in the house that Mike built. Strantz designed the course, the clubhouse, his home, even the cool Bulls Bay hats with the bull-skull logo on the front and the rear end jauntily swishing his tail with the word "Adios!" cheekily emblazoned on the back.
In fact, Mike's warm, vibrant and puckish personality shines brightly everywhere. When you're at Bulls Bay, you're at Mike's place. He touched so many people so deeply here, many of his friends and acquaintances have built small shrines to his memory in their homes. Even though they are mostly humble collections of pictures, mementos and keepsakes, they have an almost talismanic effect on their owners and to the membership collectively - that's how much Mike was loved.

A year after he tragically succumbed to tongue cancer at age 50, a vibrant watercolor portrait of Mike, his horse Degas (pronounced "DAY-gus," like Vegas) and his two golden retrievers, Sophie and Greta, was dedicated in the clubhouse, standing sentinel over the main staircase. When it was unveiled, everyone uttered, "Yeah . . . that's Mike."

What else rocks? How about tiny Augusta State almost beating Kentucky last year for the title? (They lost on the first playoff hole.) Division II in every sport except golf, the Jaguars routinely topple larger programs in competitions. Call them golf's rejoinder to March Madness where "directional schools" like "Southwest Tech" upset much more ballyhooed Goliath U.

Could it happen again? ASU head coach Josh Gregory thinks so. "We have two of our best players, Major Manning and Tarik Can, coming back in the Coastal Carolina event this weekend. We also have both individual medalists from the previous two Hooties, Scott Jamieson and Jamie Miller," he notes eagerly.

"We love the course" Gregory continues. "It's unique, we play nothing like it and maybe no one else does as well. It is wide open with no trees, but when the wind blows it's a strong defense. That will hopefully work in our favor. It's sort of like a links course and that's why we have success. We have a lot of International players - from Australia, Finland, Canada, Sweden and Scotland - who are used to the wind and don't get phased when it blows and swirls at Bulls Bay."

Gregory also praised the synergy between the band, the course and the Bulls Bay membership. "The support for the tournament from the staff and members and fans is amazing. We get few opportunities in college golf to play in front of a gallery, so that is pretty special. The course is an unbelievable piece of property and an unbelievable experience as a golf competition," he says admiringly.

Handicapping the Tournament

Here is the field. The team name is followed by their Coaches Poll ranking and their Golfweek Power Ranking; e.g. Wake Forest is ranked 23rd in the Coaches Poll and 19th by Golfweek. "U" means the listed school is not in the top 25 of the Coach's Poll.

ACC

Wake Forest (Defending Champion, 23/19)
North Carolina (13/14)
Duke (21/24)
Florida State (U/27)
North Carolina State (51)

SEC

Kentucky (2005 Champion, U/41)
South Carolina (U/53)
Vanderbilt (U/40)
Arkansas (U/80)
LSU (U/69)

Big 12

Baylor (U/38)

Party Crashers

Coastal Carolina (Big South Conf., 9/11)
Central Florida (Conf. USA, U/43)

Augusta State (Independent, U/67) College of Charleston (Southern Conf., U/134)

The Handicapping Skinny

Wake Forest should put up a furious title defense with junior sensation Webb Simpson returning to the place he fired a blistering 65 in the second round. Wake won last year's tournament by a staggering 16 shots. Although two outstanding players with high finishes last year graduated, there is enough depth to not surrender 16 shots back to the pack.

Although Coastal Carolina, No. 11 in the country, is the highest ranked competitor, I will not be convinced until I see them in person. Yes, they have two players ranked in the nation's top 30 (Dustin Johnson and Zack Byrd), but it's their first trip to Bulls Bay and this layout is no stick-the-pin, target-style "doctrine of framing" where everything gets spoon-fed to you. This is a complicated puzzle and players must quickly adapt to Strantz's intimidation and optical illusions to stay competitive.

The next five highest rankings are all ACC schools. UNC is 14th, but No. 19 Wake is a better pick since they can draw on their winning experience. 24th-ranked Duke rounds out the top 25 members and No. 27 Florida State is next highest. The North Carolina schools - which have played Strantz's Tobacco Road on occasion - will at least have familiarity with some of his challenging shot requirements; this is an advantage over schools not in the Carolinas or Virginia.

Baylor, the only Big 12 school, is an unknown commodity. Their third-place finish in the Louisiana Classic amidst a weak field sends a mixed message. Although powerhouse Lamar won the event (6th, 9th in the polls), they also finished behind unranked Southern Louisiana.

SEC powerhouse Kentucky, the 2005 champions, is itching to show last year's 12th-place finish was a statistical anomaly, but their season thus far has been mediocre. They opened with a 10th-place finish in the University of Florida's Gator Invitational.

For sleeper picks, Augusta State, which often trains at a certain gem in their home town, routinely topples larger programs. After losing the 2005 title in a playoff, the team is the likely top pick in the glass-slipper crowd. They fear no one, but the thought of losing to a small program may prove unnerving to the big dogs. That beagle is a Doberman in disguise as they return as the back-to-back winners of medalist honors. If Augusta State shocks the world by winning, they certainly won't shock themselves or people in the know.

The Picks

We can't know for sure until we watch the practice rounds. But with most players returning from the team that smoked the field by 16 shots, smart money is on Wake unless something unforeseen happens between now and Sunday the 25th.

Ignore Augusta State's 67th place ranking: they know Bulls Bay, they love Bulls Bay and their myriad international players will shine if the wind kicks up. After that, UNC and Duke are solid choices.
Since launching his first golf writing website in 2004, http://www.jayflemma.thegolfspace.com, Jay Flemma's comparative analysis of golf designs and knowledge of golf course architecture and golf travel have garnered wide industry respect. In researching his book on America's great public golf courses (and whether they're worth the money), Jay, an associate editor of Cybergolf, has played over 220 nationally ranked public golf courses in 37 different states. Jay has played about 1,649,000 yards of golf - or roughly 938 miles. His pieces on travel and architecture appear in Golf Observer (www.golfobserver.com), Cybergolf and other print magazines. When not researching golf courses for design, value and excitement, Jay is an entertainment, copyright, Internet and trademark lawyer and an Entertainment and Internet Law professor in Manhattan. His clients have been nominated for Grammy and Emmy awards, won a Sundance Film Festival Best Director award, performed on stage and screen, and designed pop art for museums and collectors. Jay lives in Forest Hills, N.Y., and is fiercely loyal to his alma maters, Deerfield Academy in Massachusetts and Trinity College in Connecticut.