Horn Rapids Golf Club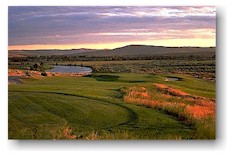 Located on tablelands outside of Richland, a burgeoning city three hours by car from both Seattle and Portland, Horn Rapids Golf Club is one of the Northwest's toughest courses. Winding over dry, sagebrush-dotted arroyos, the 6,945-yard, par-72 layout boasts a 73.6 rating and 130 slope. Much of the track's difficulty stems from multi-part fairways and fast, elusive greens.
Opened in 1994, Horn Rapids is a co-design of well-known architect Keith Foster and the course's builder, Bob Soushek. The course is appointed with a full-service clubhouse and a banquet room that seats 125 people. It also features a natural-turf putting course that's popular with local golfers and their families.
Horn Rapids lies in Central Washington's desert region, which only receives about 10 inches of rain a year. Golf, like it is in the nearby Tri-Cities, is often a year-round activity in this part of the Northwest. The course offers a variety of play rates, with its most expensive green fees just over $30. For more information, click on www.cybergolf.com/hornrapids. For a tee time, call 509/375-4714.