Horseshoe Bay a Fine Combination of Setting & Difficulty
By: Steve Habel
Nothing is quite as welcoming for a golf architect as a site filled with promise. This is the kind of land upon which Horseshoe Bay Golf Club - the best course and only private track in Wisconsin's Door County - was built.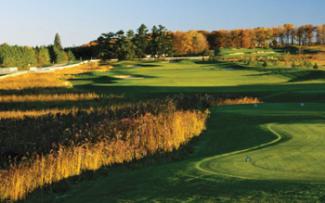 The 1st Hole at Horseshoe Bay Golf Club
The story of the club in Egg Harbor predates birdies and bogeys. And it's the combination of the site's history paired with the course's appeal, playability and challenge that make a Horseshoe Bay round so memorable.

Under these fairways is the Niagara Escarpment, a spine of dolomite limestone that runs from Niagara Falls through north-central Wisconsin. In the early 20th century, the Frank E. Murphy family acquired property in the Horseshoe Bay area and established Murphy Farms, which bred Holstein cows and, later, grew fruit.

Murphy envisioned an elite private club on the site as early as 1916; he even built a clubhouse and marketed Door County as "the California of the North," but it didn't immediately catch on. Eventually, the golf project was sidetracked by the Great Depression.
In time, the farm became the largest employer in Door County, growing cherries, plums and several varieties of apples and well as pasturing plenty of cows. The farming and fruit production continued until the 1990s when the Frank Murphy Cowles family, descendants of Frank E. Murphy, decided the land would be better suited for home sites and a golf club.

Architects Rick Robbins (a former associate at Jack Nicklaus Design) and Brian Lussier of Robbins & Associates International routed a splendid course over the rocky land, its caves and across lush, rolling plains. A handful of holes overlook Green Bay.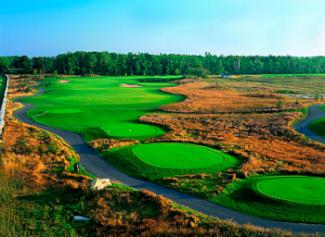 No. 2 at Horseshoe Bay GC
Between a Rock & Hard Place

Because of the dolomite limestone underpinning, Robbins and Lussier treated portions of the site as if it was in a desert. An estimated $12 million was spent to design and build the course; the extra investment and attention to detail shows.

The rock lurking just below the bentgrass tees, greens and fairways is quickly evident; many fairways appear shelf-like, dropping off on either side into - usually - wide swaths of primary rough. The putting surfaces are tiered, placing a premium on precise approaches; shots to the incorrect level will require a deft touch for a two-putt.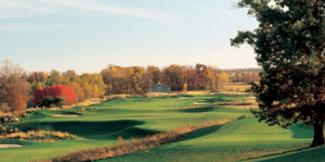 Horseshoe Bay GC's 3rd Hole
After evaluating numerous routing schemes and as construction was in full-gear, on August 22, 1998, a Class 3 tornado ripped through the property, toppling many of the pines that lined the fourth and fifth holes and completely changed the landscape planned on that part of the course. Those holes are now named Tornado Alley and Twister's Gulch as a tribute and a reminder of nature's savagery.

Opened for play in 2000, par-72 Horseshoe Bay Golf Club is carded at 7,101 yards from the tips, where it carries a rating of 74.5 and a 139 Slope. Despite its 7,000-plus yards, only two of its par-4s (the 449-yard 14th and 455-yard 16th) and two of the par-5s (the 584-yard 13th and 604-yard closer) are holes that tax the longest hitters.

While the opening hole - a downhill 402-yard par-4 - is a welcoming way to start a round at Horseshoe Bay, it - along with the 403-yard second - have back stories as well. Tecumseh's Cave, which at 3,100 feet is one of the longest caves in northeastern Wisconsin, runs underneath these holes. No. 2 is also noteworthy in that it requires a precise and gutsy second over a sparkling pond to find the green.

The 521-yard, par-5 fourth and the 207-yard, par-3 fifth are now known more than for the tornado that caused them to be re-created. They are both tough tests made even more so by the exposed rocky remnants in the turf and the low-lying but tall-grassed native areas.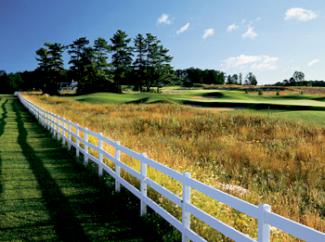 Horseshoe Bay GC's 16th
On the 535-yard par-5 eighth, limestone is readily apparent via a dotted line of outcroppings that run down the center of the fairway, splitting the landing area into two halves. There are many options here, and lots of decisions to be made.

The back nine at Horseshoe Bay GC is 251 yards longer than the front and provides a continuous series of tests. Among its best is the aforementioned 13th, whose fairway is uphill and divided by trees and rough about 280 yards off the tee. From the fairway split, the golfer is presented with a magnificent view of a snaky and winding path to the green, which is set on the edge of a ridge that drops precipitously off to the left. "The entire hole wobbles around, and we wanted to do the same thing with the green," Robbins said.

No. 18 is the offering most everyone remembers the most. The hole requires three solid shots to reach the green and, besides its 600-plus yards, is notable for its narrow fairway and the limestone outcrops seen when looking back toward the tee. A collection of birch trees frames the putting surface, where one can relish lovely views of Green Bay below.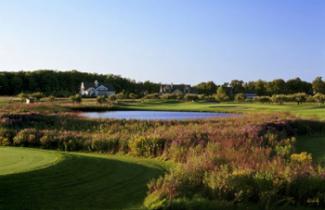 No. 17 at Horseshoe Bay Golf Club
"Yes, the 18th is picturesque, but it also gives players at all levels the opportunity to finish their round on a good note, as birdies can be prevalent," Robbins said. "The plan was always to have the green of the 18th hole finish on a shelf overlooking Green Bay, and there is no question as to why it's our signature hole."

Even Horseshoe Bay's practice green is memorable. Lined by a stand of decorative pines, it offers Green Bay vistas and contains enough slopes and tilts to keep any golfer from getting bored. "The putting green at Horseshoe Bay Golf Club is one of my proudest accomplishments," Robbins claims.

Hailed as one of the best new courses in America by Golf Digest when it debuted, Horseshoe Bay Golf Club has a reputation as one of the top courses in Wisconsin. Readers of Great Lakes Golf magazine have voted the venue their second-favorite course in the state behind only the Straits Course at Whistling Straits.

The 18th Green at Horseshoe Bay
New Owners Assure that Horseshoe Bay Will Continue Thriving

In January 2012, a group of members purchased Horseshoe Bay, using a unique model. Each owner has a "founding membership" that provides them with a free perpetual membership that can be handed down to their direct descendants into perpetuity.

The new proprietors sought the arrangement to ensure ownership stability within families and to provide long-term commitment to the club. All 28 of the new owners are local property holders, many with family histories that span three generations.

For more information, visit www.horseshoebaygolfclub.net.
Steve Habel is one of Cybergolf's world correspondents, contributing news stories, features, equipment and book reviews and personality profiles from his base in Central Texas. He is also works as a contributing editor for Horns Illustrated magazine, a publication focusing on University of Texas sports, covers the Longhorns for CBS Sports, is regional editor for Texas Golfer magazine and files stories for Golf Oklahoma magazine, Texas Links magazines and Golfers Guide. Habel's main blog (www.shotoverthegreen.blogspot.com) features news on golf and the Longhorns, and another (www.checkinginandplayingthrough.blogspot.com)chronicles his many travels, on which he has played more than 350 golf courses since 2009. Habel is a member of the Golf Writers Association of America and the Texas Golf Writers Association.