Horseshoe Bay Resort's trio of Courses Show Jones Sr. at his Best
By: Steve Habel
The central section of Texas is a region of the Lone Star State jam-packed with hills, panoramic vistas and quality golf experiences. No place is better for a set of challenges on the links than the venerable - but always fresh - Horseshoe Bay Resort, located just a medium-length conversation by car north and east from the state capital in Austin.
Established in 1971 on the south shores of Lake LBJ in the heart of the Texas Hill Country near the small town of Marble Falls, Horseshoe Bay Resort has grown and adapted through the decades, enough to lend credence to its claim as the premier lake and golf resort in Texas.

The years have been kind to Horseshoe Bay, and especially the resort's three championship Robert Trent Jones-designed golf courses. Horseshoe Bay Resort is home to the largest golf complex personally designed by Jones, the architect who has either designed or redesigned 26 of Golf Digest's "Top 100 Courses" and whose hand has influenced the shape of 10 former U.S. Open venues.

The 7,000-acre resort is the perfect place to play, relax, meet and entertain, as its accommodations include the 385-room Horseshoe Bay Resort Marriott hotel that boasts 117 suites, the adjacent and recently renovated Paseo villas, and 50 luxury lakefront condominiums available for rent at The Waters at Horseshoe Bay Resort.

Visitors can rejuvenate in the full-service spa offering a variety of body treatments, massage therapy, facials and nail and salon services, or make a splash in four swimming pools and play on Lake LBJ with personal watercraft and boat rentals at the marina.

The resort also offers seven dining facilities, 16 adult tennis courts, three USTA-sponsored Andy Roddick kids' tennis courts and two fitness facilities, plus a private airport and jet center with a 6,000-foot-long runway, private charter jet service via Air Horseshoe, and a unique, made-to-scale, 18-hole par-72 Bermuda grass putting course called Whitewater.

Members of the American Society of Golf Course Architects, the National Golf Foundation and the Golf Course Superintendents of America selected the Horseshoe Bay golf complex as one of the Best Built in the U.S. since 1962, placing all three courses "among the top 1 percent of golf courses in America."

Knowing you are going to be on such regal turf, one might be intimidated by the scope of playing perhaps the most challenging three-pack of golf courses anywhere in the country. After easing into the friendly clubhouse and warming up on the practice tees and putting greens, you are immediately encompassed by a "good golf" vibe, a state of mind that can drive your game to greater heights.

You'll need all your skills to master Horseshoe Bay's offerings, many of which look harder off the tee than they really are. Just stick to your game and you'll be okay; trying to extend shots and making swings that are iffy or low-percentage plays are what will get your blood up at Horseshoe Bay's trio of temptresses.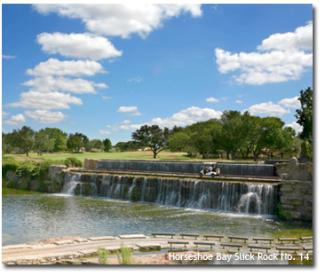 Slick Rock Sets the Table & the Bar

The Slick Rock Golf Course embodies Jones Sr.'s philosophy of "hard par, easy bogey." The course - playing to a par of 72 and 6,834 yards from the tips - carries a rating of 72.8 and a slope of 138. It contains 76 bunkers and water hazards on 12 holes. Slick Rock, which is south and east of the other two golf courses and was the first built, opened for play in 1972.

The track covers 154 acres, with the front nine routed through colorful outcroppings of granite and a magnificent mixture of native oak, cedar, persimmon and eldarica pine trees. The back side is open and gently rolling. All greens are Crenshaw bentgrass, and the tees are 419 Bermuda. Yardage markers are Hollywood junipers clustered with purple sage, and extensive planting of bamboo and pampas grass add color and texture to the course.

Your accuracy off the tee will be tested on holes six and seven, two of the best offerings on the front nine. No. 6 is a tight, slight dogleg-right par-4 playing just 385 yards, but the fairway is at its most narrow in the landing area. The seventh (the No. 1 handicap hole) stretches 421 yards and is guarded by bunkers on three sides.

The 12th is a 530-yard par-5 that involves a third shot which must avoid water that crosses the fairway and continues along the right side of the putting surface; there are two bunkers left of the green to mandate a good shot. Play it safe and lay up to about 125 yards.
Slick Rock's most famous test is the 14th, called "The Million Dollar Hole," which was built in 1990. The hole, a slightly uphill, dogleg-right 361-yard par-4, sports a winding cart path that takes golfers on a ride through a waterfall that spans more than 35 yards and dumps more than 8,000 gallons of water into Slick Rock creek each minute. Don't worry, you won't get wet as long as you stay in the cart.

The journey around Slick Rock ends with three real tests. The 419-yard, par-4 16th doglegs hard right before ending at a green surrounded on all four sides by sand. No. 17 is a 219-yard par-3 with a wide-but-shallow green placed atop a rock ledge. The finishing hole, a 420-yard par-4, winds upward and to the right around a strand of trees and bunkers.

Host to the Texas State Open, several USGA qualifying events and local professional tournaments, Slick Rock is considered the easiest and most forgiving of Horseshoe Bay's trio of courses and was chosen as one of the six best inland resort tracks in the book, "America's Greatest Golfing Resorts." But don't be fooled - Slick Rock can clean your clock, and it deserves full attention.
Ram Rock is Tough as Nails & Unforgettable

If Slick Rock is the "sheep" of the three courses at Horseshoe Bay, Ram Rock is the mountain lion. The course, unveiled in 1981, has earned respect for its toughness and as one of the stoutest tests of golf in the United States. It has been named the hardest 18-hole layout in the state of Texas and been singled out as one of the nation's outstanding tracks by various publications.

With narrow fairways, natural streams, plenty of water and sand hazards, rock gardens, granite outcroppings, blind tee shots and all types of trees, bushes and plants, Jones held nothing back at Ram Rock. This is a roller-coaster ride; you are constantly going up and down and side to side, and sometimes just survival of 18 holes is an accomplishment.

The par-71 layout plays 6,626 from its back set of four tees, where it sports a rating of 74.5 and a slope of 140. Over 60 bunkers along fairways and greens ringed by water enter play. The bentgrass putting surfaces offer fast and true tests, while the fairways are a high-quality of Bermuda.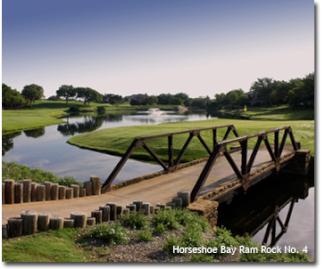 One of the most top holes - although every hole seems to possess its own type of challenge - is Ram Rock's treacherous island-green par-3 fourth, where you must accept the challenge of a 191-yard carry to the middle of a shallow putting surface impinged by water and sand.

Other great tests on the front include: the beat-you-up-early-in-the-round 488-yard par-4 second, which doglegs right and up a hill to a wicked and sand-protected green; the tight, dogleg-left 430-yard par-4 fifth, where you have must right off the tee to avoid a big number; the 368-yard par-4 sixth, whose right-leaning green is virtually ringed by deep sand; and the extremely tight 540-yard, dogleg-left, par-5 ninth, which you should never think of reaching in two even if the approach is downhill.

The inward nine at Ram Rock is highlighted by the short but deadly 344-yard, par-4 10th, which you have to play over a rock and water-filled canyon to an elevated, well-guarded green; the 438-yard, dogleg-left, par-4 13th, which demands a great approach to a three-tiered green; the 217-yard uphill par-3 17th, where the green seems to repel shots and send them into one of the five bunkers standing sentinel; and the ease-on-home 378-yard par-4 18th, a hole that - uncharacteristically for Ram Rock - gives you a reprieve with a wide fairway and an approachable green.

Ram Rock, which recently received more than $3 million in renovations and continues to earn respect for its testiness, is not for the faint of heart. It may be the beast in Horseshoe Bay's beauties. So just take your medicine and learn to live with it.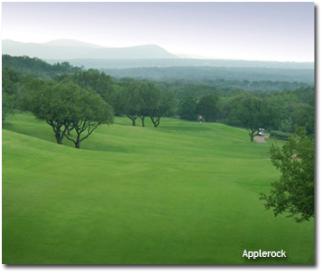 Take a Bite of Golf at Applerock

Named "Best New Resort Course in America" by Golf Digest when it opened in 1985, Applerock is wonderfully scenic and may be the best of the three courses at Horseshoe Bay because of its combination of playability and challenge.

The par-72, 6,999-yard track is situated in high, rocky terrain with magnificent views of Lake LBJ. Crossing some of Horseshoe Bay's most prominent property, Jones employed the natural ebb and flow of the landscape of the hills and edges of the lake, framing the holes with native oak, elm and persimmon and creating a fine sight for a golfer's sore eyes.

Its first two holes are harbingers of the challenges to come. No. 1, 431-yard par-4, starts atop a ridge and runs downhill with water and sand at the left of the green. The second hole is a wide 463-yard par-4 that descends and turns rightward to a green guarded by trees and sand.

The sixth at is considered Applerock's toughest offering, veering right-to-left with nothing but trouble along the left and creating sloped lies. The green slants right to left and has bunkers fore and aft.

The second nine at Applerock features back-to-back par-5s, with the tee at the 567-yard, downhill 10th marking one of the highest points in the area. No. 11 is the shorter of two three-shotters, playing just 507 yards. But be alert for water short and left of the green that catches wayward approaches and turns them into double-bogeys.
Applerock contains a relatively mere 56 bunkers. But water hazards endanger five holes, with the 179-yard par-3 No. 12 playing over a spit of Lake LBJ. It's a real knee-knocker of a tee shot, considering there's no escape and execution is a must. No. 13 - a 461-yard par-4 - is the toughest hole by handicap on the back and plays straightaway to an elevated green.

My vote for most challenging hole here is the 379-yard par-4 16th, which features a canyon in the optimum landing area, and is narrow and tree-lined. You have to hit a perfect drive to even think about going for the green in two (on a short par-4 no less!), and your approach is hit uphill to a narrow green with a huge bunker on the right.

The greens at Applerock are Tif-Eagle Bermuda and surrounded by hazards and wild native grasses. Tees and fairways are 419 Bermuda, and yardage is measured from boulders clustered with yucca pendula. Though not overly tight, the course demands well-placed drives and accurate club selection.

Applerock (with a rating of 74.0 and a slope of 139 from the tips) entices golfers into coming back again and again by highlighting the land's natural topography. I think you'll agree that taking the high road to Apple Rock is a pleasurable treat to the senses, if not the scorecard.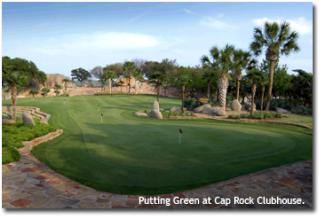 Whitewater Putting Course Unusual & Fun

Horseshoe Bay Resort's 18-hole, par-72 Whitewater Putting Course reflects the resort's fun philosophy. Billed as the most expensive putting course in the country and rated the most unique by some of golf's finest professionals and instructors, night-lit Whitewater is a competitive putting course that any level of player can enjoy.

Whitewater is designed like a regulation 18-hole layout, complete with fairways, bunkers, water hazards and excellent turf, just on a much smaller (1,712-yard) scale. Every shot is played with a putter, but unlike a practice green, Whitewater is a landscaped, competition course. Adding to the drama of the 17-acre complex are state-of-the-art fogging, theatrical lighting and outdoor music that create a dreamlike setting.

If you're looking for a challenge to your golf game, Horseshoe Bay cannot be beat. The only reason this resort area is not as famous as more popular venues in Northern California, Florida or North Carolina is that for years area residents greedily kept this plush and exciting spot a relative secret.

The "wow" factor at Horseshoe Bay is matched only by its luxury and the professionalism of the staff. There's something for everyone here. The Horseshoe Bay Resort is a real load of fun, no matter your tastes or the shape of your golf game.

For more information, visit www.horseshoebaytexas.com.  
Steve Habel is one of Cybergolf's national correspondents, contributing news stories, features, equipment and book reviews and personality profiles from his base in Central Texas. He is also the media coordinator for Bechtol Golf Design, the managing editor for Business District magazine in Austin and works as a contributing editor for Horns Illustrated magazine, a publication focusing on University of Texas sports. He also writes a blog (www.shotoverthegreen.blogspot.com),  which features news on golf and the Longhorns.