Hot Stix Continues to Thrive
By: Joel Zuckerman
Despite his many personal failings, there remains much to admire about Tiger Woods as a golfer. And beyond ability, professional record and work ethic, there is his willingness to tear apart - and then rebuild - his swing to get better. He did it after winning the Masters as a rookie in 1997, again when he began working with Hank Haney some years later and, yet again more recently, when switching to the theories of Sean Foley, his latest swing guru.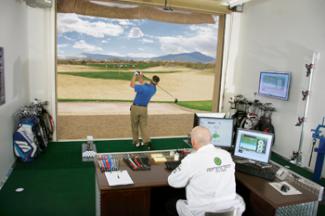 Hot Stix Swing & Equipment Analysis
But few recreational golfers have the time, inclination and discipline to reassemble what we already have, swing-wise. And that's why the company Hot Stix golf, based in Scottsdale, Ariz., continues to thrive.

"The reason our system works so well is because we independently test all the products," begins company spokesman Mike Helfrich. "We know what's going to work best for each individual. And because we are what we call 'brand agnostic,' in other words, not married to any one brand, we will mix and match clubs as needed to give our customer the best set for them, regardless of the manufacturer.

"We almost never recommend 14 clubs of the same brand," Helfrich added. "It's usually at least two, and sometimes three or more different manufacturers. Our research is very in-depth, not just in regards to the clubs themselves, but also shafts, balls and all the various equipment components."
It is this so-called agnosticism that separates Hot Stix from brand-specific fitting operations like the Taylor-Made Kingdom or Titleist Performance Center. Helfrich explains as much while providing a tour of their brand-new 7,500-square-foot facility off one of Scottsdale's main shopping drags. The headquarters includes the executive offices, several indoor hitting bays, the fulfillment center and the build shop, where the recommended clubs are assembled to the specifications of the club-fitters, who are situated in the "field" at "green-grass" locations (pro shops) to better observe clients' swing tendencies in a more organic atmosphere.

"Our fitters make suggestions, and if the customer wants to take them, we'll fulfill the orders at headquarters," continues Helfrich.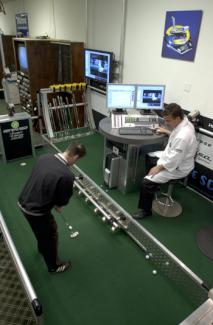 Hot Stix Putter Fitting
Precision is the watchword at Hot Stix, which is evidenced by their indoor putting studio at company headquarters. An artificial putting carpet the size of a large dining room rug is surrounded by enough surveillance, laser and photographic equipment to make the CIA proud. The putting area is only 9' by 19', but there are a total of seven cameras recording the action. One at ground level - to gauge the lie angle of the putter, one 18 inches higher - to measure the subject's eye level over the ball at the address position, and another ground-level device that records the roll of the ball as it comes off the putter head.

A couple of feet higher is a camera that records shaft lean at impact, and a ceiling camera to register the path of the putter and face angle at impact. "Basically, we have a lot of technology in a small space," explains Helfrich. "It's taken us about a decade to develop a system that works this well in this format."

While suitably impressed with the technology display of the putting studio, my main concern was focused more on the full swing than the putting stroke. So as we left company headquarters for the nearby Performance Center at Legend Trail Golf Club, I was ready for the best of both worlds -having my swing analyzed by computer, but also under the watchful eye of an experienced and knowledgeable club-fitting professional.

Former collegiate golfer and mini-tour player Josh Fink, still a "plus-2" handicap and with several years of tenure as a Hot Stix fitter, greeted me warmly when I arrived for my fitting session, ready to get to work. The fitting itself consists of significant outdoor range time, about a half-dozen shots each with seven or eight different clubs in one's current bag, then some bunker play, chipping and indoor putting. Then technology takes over, as the launch monitor and lie-board come into the equation to supplement the information the fitter is processing after extensive observation.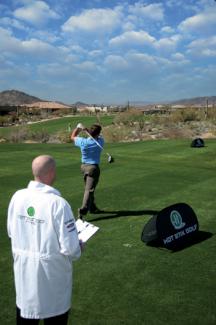 Hot Stix on the Driving Range
"Your set of clubs as currently configured fits you better than most customers' clubs I see," reassures Fink, who played his college golf close to home at the University of North Dakota. "Your Taylor-Made Burner irons are a great fit for your ball flight. Your Ping G-15 driver is new, and you hit it pretty well, and I really like your Exotics 3-wood. But your 5-wood and 7-wood are a bit dated, and your hybrid isn't the right loft to match with your irons and the shaft flex is too soft."

Fink's data revealed that I was imparting too much spin on my drives, with a sky-high 3,700 rpm's. This makes the golf ball stall in the air and fall out of the sky like a stone, while the ideal is a more penetrating ball flight. "That much backspin is often caused by a player who hits down on the ball instead of sweeping it off the tee. But this is not your case, because you do a good job of sweeping," explained Fink.

The fitter had me try a low-spinning Taylor-Made Super-Fast head fitted with a lower-spin Accra shaft. The result? The same swing produced far less spin, only about 2,500 rpm's, significantly more carry in the air and more roll-out, with a net gain of 20-plus yards.
The driver result notwithstanding, to this point I am still sipping, not gulping, the Hot Stix Kool-Aid. I am resistant to Fink's entreaties to re-shaft my entire iron set to something a bit stiffer and heavier, to mitigate a pronounced right-to-left ball flight. Despite my fitter's protestations that the 10-degree difference in loft between my A-Wedge and 60-degree wedge is unacceptable (he recommends no more than five or six degrees between clubs), I am opposing adding a fourth wedge to the bag.
However, I enthusiastically took Fink's recommendations on a few other "head-cover" clubs. We junked my other fairway woods and hybrid, and instead matched up my Exotics 3-wood with a matching Exotics 5-wood and two additional Exotics hybrids - a 21-degree to replace the 7-wood and a 24-degree to replace my current 25-degree hybrid. Just as importantly, like the recommended Taylor-Made driver, this trio of clubs would also be retrofitted with the aforementioned low-spinning Accra shafts.

The four new clubs were assembled and delivered within a few weeks time, and the early results are definitely encouraging. The initial two rounds with the new weaponry as the New Year dawned yielded scores in the 70s, far from an everyday occurrence.
Respectable scores can often be attributed to deft putting and wedge play, so a single anecdote regarding my increased firepower is appropriate. The No. 1 handicap hole on my home course is a lengthy par-4, which I only reached previously with a driver and 3-wood, maybe a 5-wood, if it could be reached at all. Thanks to the new arrows in the quiver, the Taylor-Made Super-Fast got me far enough down the fairway so I could zing the 21-degree Exotics hybrid (4-iron equivalent) within 25 feet of the flag.

Hot Stix will be branching out in 2011, producing a line of high-end wedges and putters built to order.

"By customizing wedges and putters we can make them fit perfectly for each individual by grinding them or putting them together ourselves. Our goal is always to make golf as fun and enjoyable as possible for our customers," concludes Helfrich, speaking specifically of their new line of custom clubs, but in a roundabout fashion, referring to the Hot Stix business philosophy as a whole.
Joel Zuckerman, called "One of the Southeast's most respected and sought-after golf writers" by Golfer's Guide Magazine, is an award-winning travel writer based in Savannah, Ga., and Park City, Utah. He has written five books, including the epic "Pete Dye Golf Courses" in 2008. Joel's course reviews, player profiles, essays and features have appeared in more that 100 publications internationally, including Sports Illustrated, Golf, Continental Magazine, Travel & Leisure Golf, Sky Magazine, Golf Connoisseur, Golfweek, Estates West, Millionaire and Golf International. For more of Joel, visit www.vagabondgolfer.com.