Houston Area's Timber Creek & Magnolia Creek Offer Great Value & Challenge
By: Steve Habel
One of the great surprises in golf is when you discover a 27-hole golf facility that has three varying and challenging nines that fit seamlessly rather than having one of the sides being an obvious afterthought.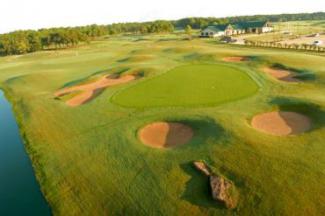 No. 9 on the Timber Trails Nine at
Timber Creek Golf Club
We found such two such rare 27-holes jewels in southeast Texas, between Houston and Galveston, at Timber Creek Golf Club in Friendswood and Magnolia Creek in League City. Both courses differ from the norm in this area because of their rolling terrain, aspects that were crafted by their respective architects - Jay Riviere (Timber Creek) and Thomas Clark (Magnolia Creek).

While the neighborhoods around the two courses are generally flat and treeless, this pair brings separate personalities into play, allowing golfers to experience routings that are unique to the region.

You'll Think of South Carolina at Timber Creek

Timber Creek, which opened in 2001, is just a 10-minute jaunt from the intersection of IH-45 and the Sam Houston Tollway southeast of Houston. The course, which rambles across 316 acres, reminds golfers of the rolling hills and woodlands of South Carolina.
Its three excellent nine-hole sides - Creekside, Timber Trails and Pines - were carved out of oak and pine forests. More than a million cubic yards of dirt were brought into the site. Several rock outcroppings visible during the round will make a golfer swear he is anywhere but southeast Texas.

Riviere's work offers a dash of various design elements, and the golfer can bite off as much as he or she can chew thanks to four tee boxes. A creek winds through the property, requiring 13 bridges to traverse the site and giving a clue to the aqueous hazards on tap.

The Creekside nine asks for focus and accuracy, playing just 3,135 from its back tees. Game management is the key as the player must deal with water on eight holes, some doglegs and 28 bunkers.

The Pines nine, carded at 3,418 yards from the tips, is more open and has fewer forced carries. Among its holes are the longest par-5s at Timber Creek GC - the 567-yard third and 550-yard ninth. The Pines has 35 bunkers, but is made friendly by mounding along the edges that bounce balls back into fairways.

Timber Creek Golf Club
Timber Trails is the longest (at 3,575 yards from the tips) and the testiest of Timber Creek's three sides, with demanding carries and narrow fairways lined by trees. It has the most brutal collection of par-4s on the property; all play at least 412 yards from the way-backs, beginning with the 482-yard first, which is likely the nastiest hole of the 27 here.

The toughest combination is Pines/Timber Trails, which has a 73.4 rating and a 135 Slope from the tips.

Riviere designed Timber Creek GC without tricks and to be visually transparent. At each tee the player can see both the optimal landing areas and the trouble. The course requires solid play and a little imagination, making the experience here fun and memorable.

Timber Creek's putting surfaces run true and fast and - in another Riviere trademark - are tough because of their subtle breaks rather than severe slopes and multiple sections.

Timber Creek also boasts a lighted driving range at its excellent practice facilities and a 6,500-square-foot clubhouse with a well-supplied pro shop and a cozy restaurant and bar to wind down and settle bets following a round. A 200-seat open-air pavilion is equipped with a grill and is perfect for tournaments and private parties, while providing pleasant views for post-round beverages.

The golf here is grand, as reflected by Timber Creek GC's standing as one of the top-10 facilities in the greater Houston area. It's a place that you can play again and again and always have a different experience.
For more information, visit www.timbercreekgolfclub.com.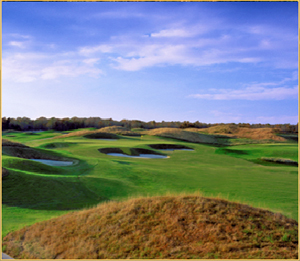 The Scotland Course at Canongate
at Magnolia Creek
A Taste of the Links at Magnolia Creek

Heading south toward Galveston County on the mainland in League City, Magnolia Creek duplicates a sense of what it's like to play in the British Isles. Offered here are 27 holes designed by Clark and strongly influenced by the courses at St. Andrews, North Berwick and Royal County Down.

Clark fashioned the course by moving 1.56-million cubic feet of earth for mounding and enabling the bump-and-run strategies dictated by the property's often-blustery winds.

The three nines, called England, Ireland and Scotland, are characterized by rolling hills, deeply entrenched bunkers and native grasses.

Each hole has its own name, such as Brave Heart, Oer the Burn and Dragon's Lair, as do each set of tees (from back to front) Vardon, Old Tom, Willie and Vare. It may well be the next best thing to playing golf on across the Pond. Even the flag poles are wooden like you might find in the UK.

Magnolia Creek Golf Links has exactly one tree on its 27 holes, and there are no plans for more. Opened in 2001, the design defends itself not with length or forced carries over hazards but with deep bunkers, tall fairway-side grass and coastal winds.

Magnolia Creek Golf Club
The Scotland nine is demanding but fair, and a blast to play. Each hole is a little different from the others, and the player must focus on the task at hand - and pay strict attention to the wind directions - to score well.

Long-hitters may want to take a poke at the green on the 324-yard par-4 second as the fairway is wide and forgiving. But the putting surface is surrounded by six bunkers. Speaking of accuracy, the 477-yard par-4 fourth is narrowed by mounds and a quartet of bunkers in the landing area; three more bunkers guard the light-bulb-shaped, two-tiered and sloping green at this monster.

The 529-yard par-5 fifth has a split fairway and some more dramatic mounding, while the 617-yard seventh is a true three-shot hole. It ends at a putting surface that is long and skinny and defended by four bunkers and mounding.

The England nine - kind of like its namesake - is a bit more refined. The 417-yard par-4 second doglegs right; the left side is longer but safer, while the right side is shorter, but you'll need to carry mounds and three bunkers at the elbow on the approach.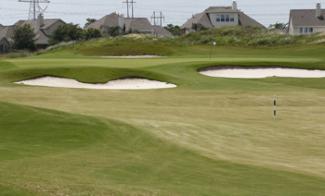 The Ireland Course at Magnolia Creek
Players will be tempted to grip it and rip it at the 331-yard third, but here - as on the Scotland nine's drivable par-4 - the approach must negotiate a half-dozen bunkers and then hold a narrow, horseshoe-shaped green. The 468-yard fifth is the longest two-shotter on the England nine and a minefield of tall mounds and bunkers, including one that splits the rolling fairway.

The most challenging, and deceiving, par-3 at England is the 192-yard eighth, which is fronted by three bunkers and backed by three more.

The Ireland nine (at 3,680 yards) is the longest of the three sides and has the top-rated handicap hole on the course - the 462-yard par-4 third - and the lengthiest par-5 at Magnolia Creek, the 629-yard ninth.

Its drivable par-4 is the 333-yard eighth but, with three bunkers in the landing area and its green surrounded by tall grasses on the port side and four more bunkers, even the best players are likely to play for position, rather than glory, here.

Of the three 18-hole configurations, the hardest is the Scotland-Ireland combo, which weighs in with a whopping rating of 75.7 and Slope of 136 from the Vardon tees. Next is the England-Ireland combo (74.7, 135), followed by the England-Scotland pairing (74.5 and 128).

Magnolia Creek is run by CanongateTexas, a company that owns and operates four other courses in the Houston area. Canongate members enjoy private golf club access to 108 holes of golf with one family membership.
For more details on Magnolia Creek, visit www.canongatetexas.com/Locations/Magnolia-Creek/Magnolia-Creek-Course-86.html.
Steve Habel is a freelance writer contributing Cybergolf news stories, features, equipment and book reviews and personality profiles from his base in Central Texas. He also works as a contributing editor for Horns Illustrated magazine, a publication focusing on University of Texas sports, and is a contributing writer for Golfers' Guide and Golf Oklahoma magazine, Texas Links magazines and Golfers Guide. Habel's main blog (www.shotoverthegreen.blogspot.com) features news on golf and the Longhorns, and another (www.checkinginandplayingthrough.blogspot.com) chronicles his many travels, including playing more than 600 golf courses since 2008. Habel is a member of the Golf Writers Association of America and the Texas Golf Writers Association.