Houston's Memorial Park a Tribute to Lone Star State's Seminal Architect
By: Steve Habel
John Breedmus was not born a Texan, but - thanks to his design efforts on many of the Lone Star State's benchmark courses - he is considered the state's first resident golf course architect.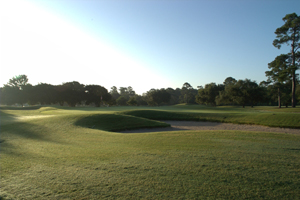 Memorial Park Golf Course
Breedmus's best work is likely Colonial Country Club in Fort Worth (where he shares design credits with Perry Maxwell), but his top public track is Memorial Park Golf Course in Houston. At least Breedmus (who was from Michigan and died in Texas in 1946) thought so as he called it his "greatest golf course ever."

One of Texas's true classics, Memorial Park GC was born as a nine-hole track with sand greens. The course was expanded to 18 holes in 1936 when Breedmus utilized work crews from the Civilian Conservation Corps to build what was then one of the nation's standout golf facilities.

Jimmy Demaret, Dave Marr, Cary Middlecoff and Tommy Bolt learned to play golf at Memorial Park, and it hosted the Houston Open various times during the 1950s and '60s, for the final time in 1963 (which Bob Charles won). Babe Didrikson Zaharias, Jack Nicklaus and Arnold Palmer have all played in tournaments at Memorial Park.
Amazingly, the course Houstonians refer to as "The Old Grand Dame" became neglected over the years, with storms and disease wiping out trees and a general lack of care and overplay taking a toll.

In the 1990s, the city of Houston partnered with several private companies to infuse $4.5 million into course renovations and expanding the facilities, which now include a Spanish Mission-style double-wing building, a lighted driving range and a golf museum created from the original clubhouse. The freshening was done by Baxter Spann with input from Houstonians Jay Riviere and Marr, who took great pains in preserving the historical quality as well as to ensuring proper irrigation and maintenance for the future of the course.

Memorial Park is in the middle of the city, set on 600 acres just inside Loop 610 that circles Houston's downtown confines. Yet it feels like you're playing in the middle of the woods that were here long before the skyscrapers surrounding the property. These days, Memorial Park is known as one of the best municipal courses in the nation and is played by more than 60,000 patrons every year.
Mature Trees Highlight Classic Routing

Breedmus probably hadn't even thought about how the site's trees would eventually frame the holes when he designed Memorial Park GC back during the depths of the Great Depression; he was, after all, known to draw up routings and then move on quickly to the next job. Memorial Park GC's fairways look wide open and inviting, but there's more trouble than you might expect.
The 9th Green at Memorial Park
At 7,305 yards from its back set of four tees, Memorial Park will not overwhelm modern golfers with sheer length. The track requires accurate tee shots, but the landing areas are fair and the rough is manageable. The course's gigantic pines and billowing oak trees with moss hanging heavy from their branches look like something from the Deep South.

On most of the courses in Houston, the trees are still growing in, but at Memorial Park the trees are mature and are at times daunting. On several holes these specimens reach out into the fairway and seem to snatch your ball in mid-flight. Also adding to the course's quandary are large greens that sport numerous and difficult hole locations.

Memorial Park's bunkers are soft, requiring a deft touch around the green. The track also features water on seven holes, including the spectacular 180-yard 15th, which requires a long-iron or hybrid over water to an island-shaped green.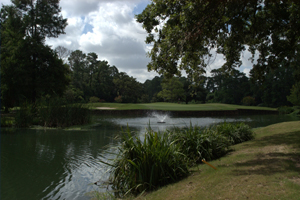 Memorial Park's 15th Green
It may be the course's most picturesque hole and its signature offering, but the 15th is in no way Memorial Park's toughest challenge. That honor could go to the 223-yard par-3 seventh, played over wetlands through a gaping bayou and across a creek to a protected and elevated putting surface. Or maybe it's the 422-yard par-4 ninth, which turns hard to the left after a straight tee shot and over water on the approach.

Then again it could be the 613-yard par-5 16th. The longest hole on the course bears a lake stretched along its right side; you think it's safe to blast away as long as you stay left. But a behemoth tree comes into play along the port side and must be negotiated to take a real shot at the green in regulation.

Trees also be addressed and avoided on the 393-yard par-4 18th, a great curving finishing hole with bunkers around a raised green.
There's something to be said for nostalgia and location, two factors that work in Memorial Park's favor. The course is a busy place, averaging as many as 300 rounds a week when the weather is nice, despite being closed on Tuesdays. And it often has more players during the week than on weekends, as all the regulars work the Houston Park and Recreation's finicky lottery system to their advantage to procure tee times.

The history and lore that goes with one of Houston's most tradition-filled layouts lets the average golfer know that, after all these years, Memorial Park still is a special place. After Marr passed away in 1997, he asked that some of his ashes be spread on his "favorite hole," the 430-yard par-4 14th.

In 2004 Golf Digest named Memorial Park Golf Course as one of the best courses to play, and it has been lauded by both Golfweek magazine (No. 8 Best Municipal Courses in America and No. 7 Best Course You Can Play in Texas) and the Dallas Morning News (as the state's top municipal course). For more information, visit http://www.memorialparkgolf.com.
Houston off the Course

If teeing it up in Space City's Memorial Park and so close to downtown, you might as well spend a few nights in that part of the city as well. You can never go wrong with the Four Seasons Hotel, and Houston's version (which just completed a three-year, $25-million renovation) from the luxury chain is one of the best.

And while downtown, head over to the Yao Restaurant and Bar, owned by Yao Ming, the Houston Rockets' 7-foot-6 center, which serves an excellent variety of tasty Chinese cuisine. The restaurant has been voted best for Chinese food in Houston.
Steve Habel is one of Cybergolf's national correspondents, contributing news stories, features, equipment and book reviews and personality profiles from his base in Central Texas. He is also the managing editor for Texas CEO Magazine and works as a contributing editor for Horns Illustrated magazine, a publication focusing on University of Texas sports. He also writes a blog (www.shotoverthegreen.blogspot.com), which features news on golf and the Longhorns, and another (www.checkinginandplayingthrough.blogspot.com) on his many travels, which took him across the nation and to 105 different golf course in 2009. Habel is a member of the Golf Writers Association of America and the Texas Golf Writers Association.