Houston's Tour 18 Has Not Lost its Novelty
By: Steve Habel
Born out of a lot of notoriety and pushed forward by lawsuits that actually created attention for its product of replica holes, Houston's Tour 18 - the original copycat course - could have slipped into oblivion after the dust cleared and the novelty had worn away.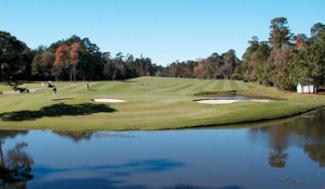 The Start of Tour 18's Version of 'Amen Corner'
But a recent round at Tour 18, which is actually set in the northern Houston suburb of Humble, just minutes from the George Bush Intercontinental Airport, showed that memories can still be made at the course and the thrill of playing simulations of "America's Greatest Eighteen Holes" remains a valid draw for players of all skills.

Tour 18 features dead-on copies of holes from Augusta National, Bay Hill, Pinehurst, Harbour Town, Inverness, Pebble Beach, Shinnecock Hills and Doral, among others. The course has its own version of "Amen Corner" - holes 11, 12 and 13 from the home of the Masters, a replica of Doral's Blue Monster and even the daunting island-green par-3 17th at TPC Sawgrass.

Golfers get the chance in one round to also play simulations of Oakmont's famed third hole (complete with church-pew bunkers), Bay Hill's sixth, which curves around a huge lake, and the par-3 sixth at the Disney Magnolia course - where a bunker shaped like the head of Mickey Mouse awaits shots short of the putting surface.
Tour 18's original investors used aerial photos of the famous holes and did a pretty good job recreating them on a pine-lined and virtually flat piece of land. Some of the original venues weren't happy and took legal action, which brought Tour 18 nationwide publicity. But the course and its concept have survived and actually thrived over the past 20 years.

A lot of dirt was moved to create many of these replicas, and the elevation changes of courses like Augusta National are not as extreme. The turf at Tour 18 is also Bermuda rather than the cool-season grasses on the original holes; this is, after all, Texas and not Georgia, New York, California or Pennsylvania.

Designed by David Edsall and opened for play in 1992, Tour 18 is carded at 6,782 yards and a par of 72. It carries a rating of 72.7 and a slope of 129 from its back set of three tees.

Tour 18's 6th Hole
Holes & Course More than a Gimmick

It's one thing to build a course with 18 copycat holes and hope that players welcome the gimmick, but it's completely different to pick holes that work well together and make for a challenging and fun round of golf. Tour 18 - while highlighting some the game's great holes - is relevant because the collection, thanks to the routing, adds up to more than the sum of its parts.

The simulations, for the most part, are true to the originals. Tour 18's version of Amen Corner is excellent, and Sawgrass's island green would be a tough shot on any course, somewhat replacing the knee-knocking angst created by Pete Dye's classic.

Other holes, like the opener (patterned after No. 18 at Harbour Town) and the closer (Doral's Blue Monster) are a little shorter than the originals, and No. 13 - a replica of Pebble Beach's No. 14, a 565-yarder - really has very little feel of that ocean-side gem on the Monterey Peninsula.
Some of the replicas might be more difficult than the originals. The simulation of Colonial Country Club's No. 3, the start of the "Horrible Horseshoe" at the famous Fort Worth layout, plays at 470 yards and over a bunker and doglegs to the left. On the actual hole, there is a fairway left of the tree line; at Tour 18 there is an overgrown wetland and the copy seems tighter.
Tour 18's highlights are its wonderful collection of par-4s. Three of the holes on the front nine - replicas of Pinehurst No. 2's third, Inverness's 18th and La Costa's fourth - play at 386 yards or less and can be attacked to score. On the back, you'll get a chance for birdie at copies of Shinnecock Hills' eighth and Merion's 11 - the "S-shaped" original was the site of Ben Hogan's famed 1-iron during the 1950 U.S. Open.

Also featured at Tour 18 are simulations of the par-5 10th at Las Vegas's Desert Inn course and the subtly daunting par-3 eighth at Oak Tree Golf Club in Edmond, Okla.

Each of the holes has a plaque on its tee box to provide history of the original hole. These touches provide great lessons to enhance the game's traditions and, alone, are worth the trip.

Tour 18 was founded on the idea that the average amateur can get a real flavor of some of golf's most famous and most storied tests. The course takes advantage of Southeast Texas pines, with towering trees lining every hole, and its consistently impressive conditioning continues to draw players and plenty of corporate and charity events.
For more information or a tee time, visit http://www.tour18golf.com/homepage/start_page.php.
Steve Habel is one of Cybergolf's national correspondents, contributing news stories, features, equipment and book reviews and personality profiles from his base in Central Texas. He is also the managing editor for Texas CEO Magazine and works as a contributing editor for Horns Illustrated magazine, a publication focusing on University of Texas sports. He also writes a blog (www.shotoverthegreen.blogspot.com), which features news on golf and the Longhorns, and another (www.checkinginandplayingthrough.blogspot.com) on his many travels, which took him across the nation and to 105 different golf course in 2009. Habel is a member of the Golf Writers Association of America and the Texas Golf Writers Association.