How Do You Say Funk in Spanish?
By: Elisa Gaudet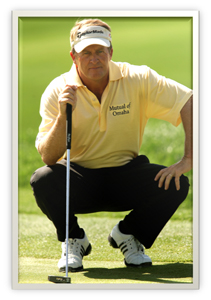 That would be funkeon (campeon - champion) or funkador (ganador - winner).

The above question is well worth asking as Fred Funk is the champion of the inaugural Mayakoba Golf Classic. This event - the first-ever official PGA Tour stop in Mexico - was held at the stunning Mayakoba Resort just south of Cancun, on the Rivera Maya. It will continue here for the next six years.
The best way to describe the property is that it's a "Venice of the Caribbean." Visionary developers OHL, along with golf course designer Greg Norman, created this golf wonderland. Breathtaking views of the ocean are enjoyed on Nos. 7 and 15, while at many other junctures the experience is like playing golf alongside Venetian canals filled with turquoise water.
Mayakoba is situated just south of Cancun on Mexico's prized Caribbean coast - the Riviera Maya. The golf course, El Camaleon, is managed by Fairmont Hotels & Resorts. The layout offers players an ever-changing environment that moves gracefully from mangroves to the sea. Created to harmonize with the unspoiled tropical forest, Mayakoba is connected with a series of lagoons and canals. Guests navigate these waterways using "lanchas" (covered boats), as well as a network of walking trails.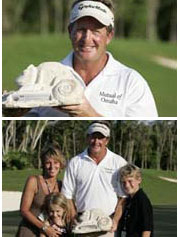 Because of the course's name, the champion's trophy is a chameleon. Funk had this to say about his win: "It just feels good to win the tournament. Just to be able to compete with the young guys on the regular Tour, it shows that the old guy has still got something. It's a very satisfying win for me." Funk became only the second player - the first was Craig Stadler - to be victorious on the PGA Tour after winning on the Champions Tour.
The 7,039-yard layout is unusual. It involves three distinct landscapes - mangrove jungles, limestone canals and oceanfront stretches of sand. On the first hole you find a cenote, a massive underground cavern, in the center of the fairway. This proved a challenge for even the world's best golfers.
When asked to rank the course and how it matches up with other Tour stops, Funk said: "Condition-wise, it's a 9 or a 10. It's really, really good. Golf design-wise, considering how much wind can blow down here, it's an 8 or a 9. It's really good. It's the kind of golf course that rewards good play. If you play well, you can score well on it. Anything under par today is a really good round, I thought, and that's the sign of a really tough golf course, a really good golf course. It rewards good shots and penalizes bad shots, and that's all you can ask."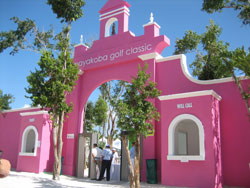 This must be what the funkador asked for - as he wins with that style and grace that are signatures of a true champion and a great man. Funk is one of those people where you can say this victory could not have happened to a nicer guy. A wonderful family man, committed to his community and giving back, and well one heck of a golfer.

The PGA Tour says, "Theses guys are good." But you know some of them are GREAT.
Elisa Gaudet brings a wealth of entertainment and golf experience to Cybergolf. Elisa has spent the past several years in the golf industry in the U.S., Latin America and Spain. She worked for the PGA Tour and the Tour de las Americas before founding Executive Golf International, a golf marketing company that works with clients to develop strategies using golf as the medium. Often referred to as the Maria Bartiromo (a business analyst for CNBC) of golf, Elisa says: "Golf, as a marketing tool, has been around for years. It's amazing how many new ways companies can align their brand with the golf market to reach their target audience. Our goal is to create alliances and establish cross-border relations." Elisa also worked in the entertainment industry for over 10 years, including five in Los Angeles as a model and actress. She can be seen at many celebrity golf events and often gets the inside scoop from PGA Tour players. For more information about Elisa, visit her websites at www.onthelip.com or Executive Golf International www.execgolfintl.com.