How to Read a Pete Dye Golf Course
By: Jay Flemma
[Editor's Note: Cybergolf's Jay Flemma and Marino Parascenzo are in South Carolina for this week's PGA Championship at Kiawah Island. Here's the first of their reports.]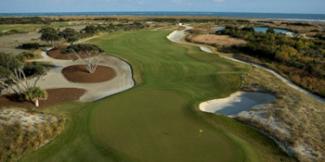 Ocean Course at Kiawah Island
(Photo Courtesy of Kiawah Island)
He's a mad scientist, he's the Boris Karloff of golf courses, he ruined your scorecard, hid my car keys, busted Roger Clemens's no-hit bid in the bottom of the ninth, kicked over the lantern in Mrs. O'Leary's barn, was the lone gunman behind the grassy knoll, conquered Asia on horseback with an army of barbarians, stole the 2000 election, and steered Tiger's car into a fire hydrant . . .

What? I'm just trying to come up with something new to say about Pete Dye and his golf courses. Lord knows everyone else has said everything imaginable about him, although much of it can't appear in print. Trying to find people who aren't scared of Pete Dye golf courses is like trying to find a virgin in a maternity ward.

"He's the most visually intimidating architect in history," said golf architecture expert Bruce Moulton. "Nobody blends fear and fun in golf design like Dye does."
"Fun" might not be the word people think of first when they come off the 18th green. After getting brutally beaten up by courses like the Ocean Course at Kiawah or Sawgrass, or PGA West Stadium Course, most golfers would like to see Dye get marinated in Mutha's Down-home Dinosaur Barbeque Slatherin' Sauce and then chained to a brace of hungry Rottweilers. That or dragged over carpet tacks and dipped in rubbing alcohol, either one.

But a round on a Dye course doesn't have to be full of cloak-and-dagger claustrophobia. There is a secret to scoring well on Pete's designs, even the ones that look impossible: don't be intimidated and think before you swing the club. Sure if you make a mistake in the wrong place, your card will look like you went 10 rounds with Godzilla, but much of tiptoeing around the beast without waking it is to not step on its tail or paws in the first place.

"Pete Dye shows you what to do in the design of his holes," observed Lee Westwood after the first round of the PGA Championship Thursday. "It's hard to see sometimes, and all the trouble can be distracting, but there are clues on how to play if you just think about the strategies he is using and then execute the shot required. It's actually not that hard to do, though I might not be the right guy to ask today, I shot 75."

Actually, Lee might be the right guy to ask because he's spot on: You can learn to read a Pete Dye golf course and shoot a lower score if you can formulate the right game plan in the first place. Since Pete tells you how to do that through the lay of the land, his courses aren't as hard as they appear from the tee.

"Take the third hole here at Kiawah for instance," Westwood explains. "There is a flat mound in the middle of the fairway, and that's where he wants you to place your drive for the best approach into the green. You get a clear view and a great angle from there. But try to hit it too far and not only is your angle poor but you're well below the level of the green with a partially obscured view."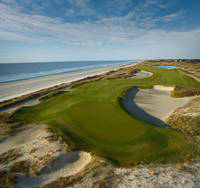 16th Hole at The Ocean Course
(Photo Courtesy of Kiawah Island)
"He's insanely clever, a master of illusion and of getting you to looking the wrong way, taking your eye away from where you actually want to hit the ball," added former Tour player and present-day Golf Channel broadcaster Frank Nobilo. "When he puts a bunker or hazard on a hole, he's trying to take your eye away from where you really want to hit the ball."

He also scares you half to death because the hazards tend to be frighteningly penal, like the 18-foot-deep San Andreas bunker at PGA West's 16th or the Devil's pot bunker at Whistling Straits's sixth or, of course, the 17th at Sawgrass. Other times he's more subtle, fiendishly clever in his intricacies.

"Dye can scare you to death, but he can also fool you into making a mistake if you're not thinking carefully. Two great examples here at Kiawah are five and nine," Nobilo continues. "On nine, the bunker is about 360 yards out and from the tee it appears to be in the fairway, so you think you can hit to the right of it and get a better angle into the green." Nobilo raises his eyes to accentuate the next point.

"But it's actually along the right edge of the fairway so you're aiming in the rough! And that's exactly what the players were doing in the practice rounds, hitting it in the rough!" he concluded enthusiastically.
"Then at five, the diagonally situated green appears tiny, but there is actually more room than you think. It's actually 60 paces deep."

Another trick Dye uses on par-3s is to hide the room on a green towards the back. Take 12 at Bulle Rock in Maryland. With water right and a deep bunker left (which if you get in it has you playing back toward the water), it appears there is no bail-out. But there is plenty of room deep, and the bail-out area is actually long, not right or left.

Dye also keeps players off-balance by alternating the shots required to play the hole so that the player can't get into a repeating swing and the comfort zone that comes from getting into a groove. Nos. 14 and 15 at Sawgrass are a great example.

"14 and 15 are the backbone of the inward nine," said Dye. "14 is a fade off the tee, then a draw into the green, then 15 is draw off the tee, fade into the green." Not only does the player have to be able to work the ball both ways, he needs to recognize the shot called for to optimize his chances on the next stroke. Number 2 at Kiawah is similar.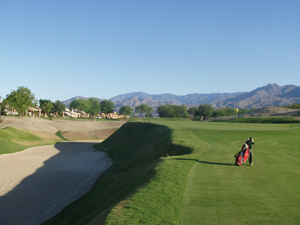 The 16th Hole at PGA West Stadium Course
"Two is a typical Pete Dye par-5," said Aaron Baddeley, who fired a 4-under 68 to open the PGA Championship. "The fairway zigzags around the bunkers in an 'S'-shape, so you have to work the ball both ways."

"If you can make the hole feel like the one shot goes left to right, and the next shot right to left, it's more trouble for good players to adjust," added Dye.

Dye is also a "big fan" of the architectural strategies of the Bloodline - C.B. Macdonald, Seth Raynor and Charles "Steamshovel" Banks. He often builds Redan holes with the green running away from the player, or Cape holes where the player can play as safely or as aggressively as he likes, or plateaued greens where you can play safely to the middle or to the smaller tiers for a birdie opportunity.

"They built interesting course everywhere they went, no matter what terrain they were given. Seth Raynor would always build a great course out of a nothing site and build an unbelievable one on a great site," Dye noted.
Sometimes it's tough to read what Pete is trying to do, because he's deliberately trying to confuse you on the tee box.

"Dye uses the doctrine of deception as well as any architect in history," added architecture expert Jon Kulok, and he's right. The doctrine of deception is where the architect lets the player choose his line according to his talent, but also tempts the player into trying to hit a shot outside his skill level. A great example is 18 at Sawgrass. From the tee, the player sees a clean backdrop with no specific discernible target - no bunkers to aim at, no big tree use as a frame of reference, and a rounded edge to the water hazard, so you have no hint at how much of the hazard to bite off. Left is water, but right is shaggy hurly-burly mounds, so there is a premium on careful planning as well as execution.

"It's tough to choose your line on a lot of his holes, but if you know that going in, you can plan more carefully and save yourself a penalty shot," explained Adam Scott.

"It takes a couple plays to understand what he's doing, but once you go around a few times, his courses get easier," asserted Ricky Fowler. "But you still have to execute."

"You have to know the strategic tricks he uses to score
"You can't let the visual tricks get to you," confided three-time major champion Padraig Harrington. "I love it when people complain about how difficult the course is. They talk themselves out of the tournament and it gives me that much better a chance."

Just like solving a good Sunday Times crossword puzzle, patience and observance can help a player outsmart his opponents on a Pete Dye golf course, even those who are longer hitters or more talented. Sorry all you bomb-and-gougers, but Due makes you think on the golf course and that makes golf much more interesting and exciting.

Or you can just do a John Daly at Crooked Stick and try to hit it over all of Pete's trouble, but good luck with that. Let me know how it turns out.
Since launching his first golf writing website in 2004, http://jayflemma.thegolfspace.com, Jay Flemma 's comparative analysis of golf designs and knowledge of golf course architecture and golf travel have garnered wide industry respect. In researching his book on America's great public golf courses (and whether they're worth the money), Jay, an associate editor of Cybergolf, has played over 420 nationally ranked public golf courses in 40 different states, and covered seven U.S. Opens and six PGA Championships, along with one trip to the Masters. A four-time award-winning sportswriter, Jay was called the best sports poet alive by both Sports Illustrated and NBC Sports writers and broadcasters. Jay has played about 3 million yards of golf - or close to 2,000 miles. His pieces on travel and architecture appear in Golf Observer (www.golfobserver.com), Cybergolf, PGA.com, Golf Magazine and other print magazines. When not researching golf courses for design, value and excitement, Jay is an entertainment, copyright, Internet and trademark lawyer and an Entertainment and Internet Law professor in Manhattan. His clients have been nominated for Grammy and Emmy awards, won a Sundance Film Festival Best Director award, performed on stage and screen, and designed pop art for museums and collectors. Jay lives in Forest Hills, N.Y., and is fiercely loyal to his alma maters, Deerfield Academy in Massachusetts and Trinity College in Connecticut.