How to Survive Playing Nine Courses in a Day
By: Blaine Newnham
So when is enough enough? I'll never forget the ultra marathoner - folks who run as far as 100 miles in one race - talking about his addiction to his sport. "We're all just an injury away from being on drugs, serious drugs," he said, creating the image of a pulled hamstring giving way to heroin.
As I tell my wife, in dealing with addiction as most of us do, it is better to play golf than gamble on it. I make a few golf trips each year, visiting areas that are trying to promote themselves.
It is easy for the Reno and Lake Tahoe areas to make their cases to golfers, you know, a diversity that spreads from the desert east of Reno to the towering pines of Lake Tahoe to the mid-century and modern feel that is Plumas County, and my favorite course in the area, White Hawk Ranch.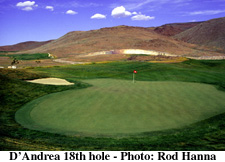 On a recent media tour to that area we were given an option: Play a civilized round at one of the nice courses near Reno - Arrow Creek, D'Andrea, Red Hawk, LakeRidge, there are many of them - or meet in a casino parking lot in Carson City at 6:30 in the morning for real golf.
Shoot, there was no choice for me. Even though I'm 65 years old, I'll always go on that trip to Ireland that has eight rounds of golf in five days rather than the more casual five rounds in eight days. I'm a 36-holes-a-day guy at Bandon Dunes. But this was a different challenge.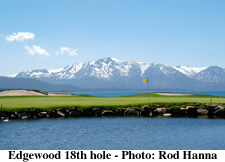 We would embrace the so-called Divine9, a group of nine courses south of Reno near Carson City that can get lost in the glamour that belongs to Lake Tahoe-area venues like Edgewood, Squaw Creek, Old Greenwood and Coyote Moon.
In the dead of one winter, the publicity folks came up with the crazy notion of playing all nine courses in one day. Well, not all the holes. But two holes on each course. "We realized, once we gotten together as a group," said Jim Keppler, the pro at Eagle Valley, "that as resort courses go we were as inexpensive as any place in the country. The question was? How do we promote our properties."
Even though for vacation purposes the courses are close together - within 20 minutes or so of each other - the nine courses in one day was quite a logistical undertaking. We needed Eisenhower to organize our invasion; instead, we got Phil Weidinger, the zany Stateline, Nev., publicist who hatched the plot in the first place.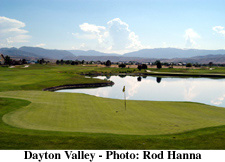 We were in northern Nevada in early June. The goal was to be finished by dark or dinner or both. In the end, it would take us more than 11-and-a-half hours. We would cover more than 80 miles.

A dozen of us - about half the tour group - piled into the little van that morning and were immediately medicated with doughnuts and coffee. We took our own clubs, if not our sensibilities. As the van rumbled toward Empire Ranch, our first stop, I wondered if this was really "country for old men," as the movie asks. It was barely 40 degrees as we were greeted by club personnel and directed to golf carts.

It was a brisk five-minute ride to somewhere that I was sure was deep into the back nine, but turned out to be the fifth hole. Half of us teed off on a par-3, the other half on the adjacent par-5, and then traded holes.

Every course wanted to show off its most daunting hole. The par-3 was a 170-yard carry over water. A nice, challenging hole for someone in full swing, but a nightmare for those of us who hadn't made a swing at all. There was no time or humor for warm-up on a driving range. With five colleagues looking on, I scraped a 5-iron on the green and two putts later was even par.

Even though there was no concerted effort to have it happen, the par for the 18 holes worked out to be 71, and the aggregate distance was 6,325 yards. The regulars at every course would duck for cover as our group broke the morning serenity. They'd been told to beware of these golf paparazzi.

From Empire Ranch, a low-key but scenic 27 holes nestled along the river, we headed to Dayton Valley, an Arnold Palmer design that could humble you if the wind came up. Or even if it didn't. Our first hole there was 165-yard shot to what looked like an island green. I found water, and was lucky to get a double bogey. The next hole was one of the toughest par-4s on the planet. I hit it in the water again, and got double again.

The folks at Dayton Valley were, as usual, warm and accommodating. It was just their course that proved inhospitable for someone of my limited abilities.

I was beginning to wonder if I would break 100, let alone survive as we pulled into Eagle Valley, where all the help stood at attention and where our first two holes on the older and easier East course were clearly made for my game. Then we headed into the desert foothills for the new West course. It might have produced my favorite two holes on the tour, a par-3 framed by the desert and an uphill par-5.

We finally hit the high-end layouts at Genoa - the Lakes and Resort courses - which were as pretty as advertised. Those courses near $100 green fees in the highest of seasons, but for the most part these were splendid every-man venues that could all be played for $295 with a special card called "Tickets to Paradise."

I liked most of them. Carson Valley Country Club is old-world golf between historic cottonwood trees and along the Carson River, a course that made up in charm what it lacked in challenge. The place felt right to me. Carson Valley is so serious about attracting young golfers that it has built tees 100 yards or more in front of the regular ones. Silver Oak has a beautiful setting up against the mountains, and Sunridge, designed by its owner, is as spectacular as slippery with its sidehill location.

The Genoa Lakes courses are the work of John Harbottle, the Tacoma designer who seems just as comfortable working without trees as with them. The Lakes course is a links creation, while the Resort - has a lofty desert feel. Both are top-notch.

There is no doubting the appeal of the Carson Valley courses. Unlike the courses near Tahoe which would be lucky to enjoy a six-month season, the lower and more arid Carson courses are open nearly 10 months a year. They are close to gambling, of course, and don't require winning a jackpot to afford them.

"You can play all of our courses for what they charge for one day of golf at some of the courses in Las Vegas,'' said Keppler, who also said late fall is the very best time tackle the Divine9. "The weather is beautiful and most of the locals are out killing animals. They like to do that."

Along the way, the cultural differences in the courses - from the kind of beer served in the grill to the speed of the greens - were fun to observe. A few of the courses treated us as celebrities, others as a nuisance. I guess we were some of both. At Eagle Valley all 12 of us played two of the holes at the same time, like a giant horse race. The regulars just stood back and laughed.

Finally finding my swing, I made par on five of the last six holes, at Carson Valley, Sunridge and Silver Oak, to shoot 84, third best in the group. By the end, as the sun set over the Sierra, I actually wanted more. Maybe we could have played three holes on each course. Honestly.

There has been recent talk of a public nine-courses-in-a-day event, where golfers would pay for the privilege of riding the bus and playing without preparation. You know there are enough crazies out there to do it.
Blaine Newnham has covered golf for 50 years. He still cherishes the memory of following Ben Hogan for 18 holes during the first round of the 1966 U.S. Open at the Olympic Club in San Francisco. He worked then for the Oakland Tribune, where he covered the Oakland Raiders during the first three seasons of head coach John Madden. Blaine moved on to Eugene, Ore., in 1971 as sports editor and columnist, covering the 1972 Olympic Games in Munich. He was to cover five Olympics all together - Mexico City, Munich, Los Angeles, Seoul, and Athens - before retiring in early 2005 from the Seattle Times. He covered his first Masters in 1987 when Larry Mize chipped in to beat Greg Norman, and his last in 2005 when Tiger Woods chip teetered on the lip at No. 16 and rolled in. He saw Woods four straight major wins in 2000 and 2001, and Payne Stewart's birdie putt to win the U.S. Open at Pinehurst. Blaine plays golf at Wing Point Golf and Country Club on Bainbridge Island, Wash., where his current index is 12.6. In 2005, Blaine received the Northwest Golf Media Association's Distinguished Service Award. He and his wife, Joanna, live in Indianola, Wash., where the Dungeness crabs out-number the people.