Human Touch® Launches Preview Version of its AcuTouch™ 9500 Massage Chair and Wellness App HT-Connect™ for iPhone or iPod Touch
May 7, 2010 - Human Touch®, the U.S. market leader of innovative massage chairs, Perfect Chair® Recliners, and other wellness solutions, has launched a preview version of its revolutionary AcuTouch™ 9500 massage chair and wellness app, HT-Connect™, now available for free download at the Apple App Store.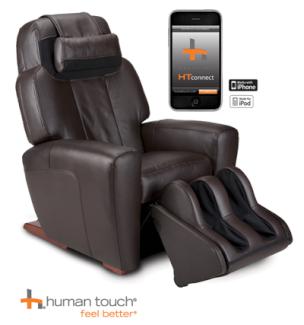 Human Touch Chair
The AcuTouch™ 9500 massage chair with HT-Connect™ will be the first robotic massage chair solution in history to offer users a fully customized massage and wellness experience at their fingertips via their iPhone or iPod touch. HT-Connect™ is the first health & wellness app allowing users to personalize the robotic massage chair to their individual wellness needs. HT-Connect™ and the AcuTouch™ 9500 are slated for availability this summer. HT-Connect™ will be available as a free download at the Apple App Store and the AcuTouch™ 9500 massage chair will be sold at www.humantouch.com and by leading U.S. retailers for MSRP: $5,999. With this preview version of the AcuTouch™ 9500 massage chair, users will have the opportunity to learn about some of the exciting massage programs and wellness features and capabilities that they will see this summer including:
Key features include AcuPoint® detection (scans the entire length of the back mapping key pressure points to target during your customized massage); Massage Comfort Control (customizes the massage intensity and can also be used in non-massage mode to create a more comfortable and relaxing seating experience); Air-Pulse seat system; Dual-Lumbar heat (two lumbar heat modules gently warm the lower back muscles, gradually reducing tightness and pain); retractable foot & calf massager (massages the calves in an upward, rolling or wave-like fashion, forcing blood away from the feet and toward the core of the body to allow fresh nutrient-rich blood to re-enter the calves and feet for greater healing and soothing comfort); and Premium Leather upholstery.
Health and wellness expertise and recommended, daily massage programs from Human Touch® Wellness Council members: The AcuTouch 9500™ Preview App offers users access to valuable massage and wellness tips, blogs, and resources from Human Touch® Wellness Council experts. These health and wellness experts have incorporated into HT-Connect™ their own prescribed massage therapy programs and wellness tips, providing users with the perfect massage and relaxation experience, morning, noon, or night. Human Touch Wellness Council experts include professional athletes, Doctors of Chiropractic and Naturopathy, massage therapy professionals, and more.
The preview app is now available for free download at the Apple App Store. For more information on Human Touch, the AcuTouch™ 9500, and HT-Connect™, visit www.ht-connect.com.
About Human Touch®

In pushing the boundaries of its traditional massage chairs and wellness products through advanced proprietary technology and innovation, Human Touch® is focused on infusing health and wellness into everyday lives through high-quality, design-oriented and award-winning massage chairs, Zero-Gravity Perfect Chair® Recliners and other wellness products and solutions. Human Touch® has been making people feel better™ for more than 30 years by developing state-of-the-art massage and wellness products, as well as by providing valuable consumer education about the substantial health and wellness benefits of regular massage therapy, relaxation and proper posture. Stress relief, increased range of motion, pain relief, improved circulation, and increased immunity are just some of the valuable health benefits associated with regular massage therapy. Human Touch® products are available at back care specialty stores, fine furniture stores across the country, through international retailers and distributors in more than 40 countries, as well as online at www.humantouch.com.