Humbled By Hickory - A Turn-of-the-Century Round Worth a Try
By: Dave Droschak
Driving past Hickory, N.C., on Interstate 40 en route to the North Carolina mountains for my inaugural foray into the wooden-shaft world had to be a good omen, correct?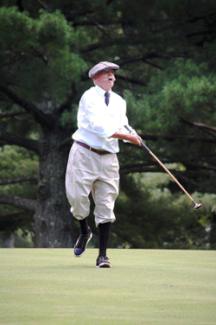 Mike Henderson Finishes Drive
at 2013 Hickory Sticks Competition
During 100th Anniversary of
Omni Grove Park Inn
I hesitated more than once when first invited to play in the Hickory Sticks Competition to help celebrate the 100th anniversary of the Omni Grove Park Inn in Asheville in mid-July 2013. Those who have witnessed my golf game know I'm more about power and pride, not hickory and humility.

But the lure of the Grove Park Inn - the resort of choice for numerous presidents and one of the more glorious mountain getaways in the United States - was just too much to pass up. And to me there was no better way to test some hickory-stick clubs than on a historic Donald Ross course.

A few days prior to my mountains trek I was on a business trip in Myrtle Beach and entertained the thought of playing the part, of heading to one of the many golf superstores on the Grand Strand to purchase an ivy cap and plus-fours, or maybe some knickerbockers - the once commonplace components of a golf uniform.

Instead, I kept within my budget and returned to my home empty-handed. I remember feeling a bit "funny" the next day packing my 25-year-old Nicklaus DX irons and golf bag into the truck for my trip to the Grove Park Inn. I guess it was more of a security blanket than anything else, considering that I wasn't going to be using my modern clubs, but instead 90-year-old hickory shafts and a sweet spot the size of a dime - maybe.
I made an early visit to the pro shop to double-check on the shotgun time, to check out the course conditions (we've had a ton of rain), and of course to snoop around a bit and pick up any pointers. Sure enough, even though it was three hours before the tournament was scheduled, I ran into an elderly gentleman who was decked out in 1920s garb, putting on the practice green.

I introduced myself to the Rev. Richard W. Payne, who happens to be the team chaplain for the ultra-successful Richard Childress NASCAR team. Payne stopped his routine to chat some as I told him I was a hickory-stick novice, asking for a few tips to help ease my impending pain.

"You'll do fine," Payne said. "Just remember to take it back slowly and swing easy. There's really nothing to it."

Swinging easy and golf don't correlate when it comes to my game. I've built my 9-handicap over the years on hitting it hard, and the next shot even harder.

I asked to feel his putter and thought to myself: "This thing weighs about 10 pounds."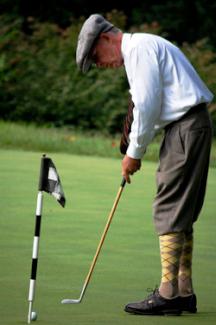 The Rev. Richard W. Payne Practices
his Putting in Throw-back Attire
As I left the practice green I also hoped the reverend was offering up a prayer for me and my game.

The scorecard for the Golf Course at the Omni Grove Park Inn has a black-and-white photo of players using hickory sticks, and the course regularly hosted the likes of Walter Hagen, Ben Hogan, Bobby Jones and Sam Snead on summer barnstorming tours that helped the greats earn additional income wagering with the locals. So, I was pumped and ready to roll.

How many balls would I need? I scooped more than a dozen out of my bag just in case, hoping I wouldn't need to make an awkward stop at the car after the turn.

I made my way toward the clubhouse and my cart, where a ragged old bag and nine clubs awaited my approval. Strips of heavy metal were attached to the eight irons, with lofts and corresponding numbers to our modern clubs handwritten in black.

They looked like something I would find in the corner of a garage at an estate sale, and for the first time I began to worry.

One of my playing partners, 62-year-old Mike Henderson, equipped with a white handlebar mustache and dressed for the times, greeted me with a smile and asked if I was "the ringer" of the group. Hardly, I said, swallowing hard. "This is my first time - have any pointers?" I sheepishly asked.
"Just remember to swing easy," Henderson said. Seems as if I heard that one before.

As we made our way toward the course, Henderson turned around in his cart and shouted back to me that the key to the round was "having fun." Low expectations, he added.

I certainly was on board there, since this was also only my fourth round of the year.

Riding alongside me in the cart was Lisa, my better half. I was wishful she would offer encouragement in difficult times. By the second hole she was scolding me about my attitude and behavior. Well, I wasn't about to get any help on that front.

It was either sink or swim with these pieces of old trees. My goal starting the round was to break 100 (you know, for the 100th anniversary of the resort), but after three double-bogeys and a triple in my first four holes that aspiration was in serious jeopardy.

At this point, I could have been playing better with tooth picks than hickory sticks.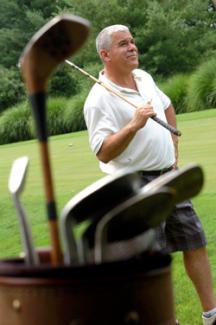 The Author Ponders His Next Shot
Using Hickory Clubs for First Time
Henderson jumped in. "I don't want to be too much of a pain, but just slow your swing down some, you can't overpower these clubs."

As I stepped on the 12th tee box (our fifth hole) I took his advice and kept my 3-iron in neutral and laced a nice drive on the 488-yard par-5. Henderson later told me that playing 5,761 yards was a bit too long for these events - and it was wet, too.

Geez . . . just my luck.

I pulled the 3-iron again for my second shot, not even walking to a sprinkler head to acquire a distance to the green. I was just hoping to keep it in the fairway and maybe, just maybe, chip on and make par or bogey and get my game in order.

The next shot was bliss. The ball felt like a feather leaving the club head and it rocketed down the fairway. Nice shot, I muttered under my breath, not wanting any bit of cockiness to enter into the equation . . . and that I may be getting the hang of this turn-of-the-century stuff after all.

As I walked over the crest of the hill, I spotted a ball 3 feet from the hole. That couldn't be mine, could it? It was, and I sank the putt for my first eagle of 2013.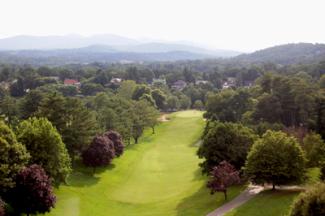 The 18th Hole of the Donald Ross-Designed
Omni Grove Park Inn Course (All Photos by David Droschak)
As I chatted more with Henderson, I felt the passion of the game that now took on new meaning for me.

"If you dress right, you have the right clubs and you play a good replica ball, and you get on a golf course like the Grove Park Inn it's like a trip back in time. When everybody is doing it it's really neat," Henderson mused.

He proceeded to tell me that the Carolina Hickory Golf Association has more than 340 names on its website and more than 100 paying members, and that North Carolina has one of the more active hickory-stick participation rates in the nation. That makes sense, since Ross made a major part of his living designing layouts in the Tar Heel State, including Pinehurst No. 2, the site of the 2014 men's and women's U.S. Opens.

After starting 9-over through four holes, I finished with an 89, and didn't humiliate myself too badly - or break any wooden shafts for that matter. And I finished with more balls than I started with, which I can't often brag about.

"It was fun, wasn't it?" Henderson said to me after the round. "Hickory golf involves skill."
Henderson and I exchanged cell-phone numbers and email addresses and he invited me down to Pinehurst to try more hickory-stick golf, a game in which he plays exclusively five times a week.

On the way home, Lisa and I stopped by the Hickory Furniture Mart and I secretly strolled off to rub my fingers along some hickory wood tables.

Am I now hooked on preserving the traditions of the ancient game of golf? I'll certainly try it again and recommend to any golfer who hasn't played with hickory sticks to seek out a local tournament and sign up for some hickory humility.
David Droschak has covered golf in the Carolinas for three decades, mostly with The Associated Press, where he worked for 20 years as AP sports editor in North Carolina prior to launching Droschak Communications, a full-service marketing and PR firm based in Apex, N.C. Dave, 51, has covered numerous major golf tournaments, including the 1999 and 2005 U.S. Opens at Pinehurst Resort, and is a longtime member of the Golf Writers Association of America.

Dave was honored with the Sports Writer of the Year award in North Carolina in 2005, and is currently editor of Triangle Golf Today (www.trianglegolf.com), a print and online publication regarded as the "No. 1 Source for Golf News in North Carolina." He is golf editor for Pinehurst Magazine, an award-winning glossy publication, and was instrumental in helping launch Triangle Golf Deals powered by Twongo (www.trianglegolfdeals.com) in the fall of 2011.

Dave also is the co-founder of www.HurricanesBeat.com, a website devoted to coverage of the Carolina Hurricanes, an NHL franchise he has covered since the team moved to North Carolina from Hartford in 1998.

Dave grew up in Penn Hills, Pa., about five minutes from the famed Oakmont Country Club and was introduced to the game of golf as a caddie at Green Oaks Country Club in nearby Verona, Pa.

Dave was the co-captain of the 1978 Penn Hills state championship baseball team, was a pitcher for the 1982 Atlantic Coast Conference champion University of North Carolina Tar Heels, and pitched professionally for two years in the St. Louis Cardinals organization. He is a member of the Penn Hills High School Sports Hall of Fame, which also includes NBA coach George Karl and former four-time Pro Bowl offensive lineman Bill Fralic.