Huntsman Springs: The Dream Materializes for its Namesake
By: Jeff Shelley
Jon Huntsman is an impressive, fascinating man with a real vision for what he wants and the means to get it. He has a big heart and a genuine nature, putting his hand on the shoulders of new acquaintances in a warm, welcoming manner that makes you feel immediately comfortable.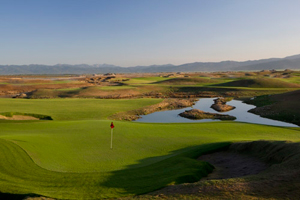 Huntsman Springs
He's also a billionaire philanthropist, someone with the financial muscle to move mountains. Though he didn't carve out parts of the nearby Teton Range in constructing his namesake Huntsman Springs in Driggs, Idaho, the CEO of Salt Lake City-based Huntsman Corporation, a chemical conglomerate with operations in 50 countries and 30,000 employees, did a great deal of earthmoving.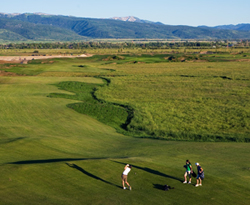 Huntsman Springs 4th hole
Developer's Philosophy

His goal for Huntsman Springs was straightforward: "I wanted to come back to Idaho with a golf course and homes the quality of those in Vail, Colorado."

Huntsman also wanted a place where his family - as well as the private club's members' - could play golf, fly-fish, ride bikes and horses, and spend time together. "I wanted my children and grandchildren to have a quality place to live and play," the 73-year-old told me in June. "When the families return to their homes, I want them to say, 'You know, we've had a fun and different experience.' You just don't find these kinds of places."

As for his Teton Valley project, Huntsman commented, "I'm honored to do this. We will be plowing through the recession. You have to have deep pockets to do this type of project."

The 1,350-acre development in the Teton Valley, elevation 6,100 feet, now features a David McLay Kidd-designed private course that can be extended over 7,800 yards from the tips (where it received a 76.2 rating and 153 slope).
The Designer

Huntsman's mandate for Kidd was to "build the most imaginative golf course you can build."

When first evaluating the job at this faraway place 35 miles northwest of Jackson Hole, Wyo., Kidd looked at the property - covered by 6 feet of snow - and wondered what he could do. "I was distinctly unimpressed with the potential for the site," said the Scottish designer, who now lives in Bend, Ore.

"I thought to myself, 'What the hell am I doing here?' Then they told me about the wetlands, which piqued my interest, and then I heard about the sand-and-gravel soil, and I went 'Aha!'

"I climbed on top of 10-foot-high piles of snow and saw the potential of digging into the sand and gravel for the golf course and move the real estate up on top, we could have something."

Huntsman Springs No. 15
So it was that Kidd dove into a project that allowed him "to use my creativity to the max, bringing the rivers, wetlands and mountains into the mix."

A Fazio-esque 4 million cubic yards of dirt was dug and shifted from the original planar terrain into a layout that now boasts remarkable topographic variety, especially considering its origins. To enhance vistas of the towering Grand Tetons and Big Hole mountains to the east and west, the 210-acre track was actually lowered -- over 50 feet in many places.

"I tried hard to create something that was rustic and natural, using the same sand in the bunkers throughout that fundamentally makes it a links course. The abundance of sand and copious amounts of water coming off the mountains gave us potential for a great golf course," said Kidd, who has crafted such luminous tracks as the original Bandon Dunes and Tetherow, both in Oregon, along with No. 7 at St. Andrews in his home country.

Vying for poor shots are sinuous channels - a la Carnoustie and the Old Course, though more evident than the nefariously hidden burns found on those classics - filled with mountain runoff and "thousands" of underground springs, ponds, 80 acres of wetlands and 153 rugged-edged, fescue-ringed bunkers.

The channels were created by Huntsman's development partner Mike Stears and his local company, MD Nursery, which made its mark landscaping high-end residential projects in Jackson Hole. Kidd opted to make the narrow water features integral part of the design after Stearns did a "demo" on the seventh hole during construction.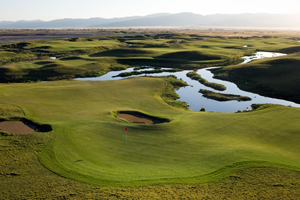 Huntsman Springs No. 17
Seeded in 2008, the course has bluegrass tees and fairways, bent greens and fescue peripheries. The traps are filled with local gray-brown sand. After determining that the entire course would need to be plated with 9 inches of sand, the Huntsman family bought a nearby farm with one-half million yards of the ideal grit ready to use. When I was there in early June of 2010, off in the distance was a towering pile of sand in case more was needed.

Cart paths are well hidden, with several junctures requiring passage over boardwalks through wetlands. Just west of the course, and open only to members and guests, is a 2-mile-long boardwalk built by a Florida-based contractor for wildlife explorations. Native creatures include an occasional bear, bald eagles, trumpeter swans, foxes, marmots and up-to-10-pound rainbow trout in stocked ponds. (Just outside the temporary clubhouse is a small herd of common brown and rare white buffaloes. The "family" patriarch, "Lucky Pierre" - so named because he's the only guy in the pasture - and four females have spawned 14 offspring, including nine of the white variety.)
The Course

The golf course is fantastic in playability and serenity. Over two days I circuited the track three times and enjoyed it more each successive trip, to me the mark of a great course. It boasts myriad strategies off the tee (with directional advice from the mandatory forecaddie in each group), the invading water channels (highly unusual on this scale in the Pacific Northwest), dry playing conditions (it rained well over an inch one morning and the turf didn't show it that same afternoon), and the natural wonders of the Teton Valley.

Kidd's relationship with the Huntsmans was "beyond good," finding Jon Sr. and his son David (who leads the development with assistance from operations manager, Tony Snoey) "ultimate gentlemen." Kidd added, "They created an environment where they wanted everyone to do their best. That the golf course revenues will provide funds for the cancer institute is even better. The sons are just like their father - I was humbled to work for them.

"Without their leadership, the ideas we had for the golf course would not have happened. By empowering us the way they did, we had no reason not to succeed. We shared their ideals - we wanted to showcase the features of the Teton Valley.

"What we delivered on the space and what we've done creatively at Huntsman Springs could be the best work we've ever done. We used all our creativity on a flat, muddy field in Idaho. It makes me proud of myself and my team."
Life at Huntsman Springs

Single-family lots start at $295,000; Park Homes begin at $895,000; with Mountain View Lodges bordering the golf course varying in sizes and price. The Park Homes offer living spaces that emphasize family togetherness with "great" rooms and open floor plans, and feature mountain views and close proximity to community parks with children's play areas, tennis courts, sand volleyball, basketball courts, picnic areas and plenty of open spaces to explore.

Though Driggs is fairly remote, there's a private 7,200-foot-long private airport only minutes away, with club personnel provide shuttle service to and from either facility.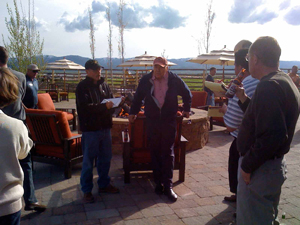 The Author Interviewing Jon Huntsman
(photo by Tom Cade)
More about the Founder

Huntsman was born in the small town of Thomas, Idaho, near Blackfoot in Bingham County. His father Blaine was one of four teachers in the local schoolhouse before uprooting his family to Palo Alto, Calif., where he returned for more education at Stanford.

From such humble beginnings evolved a self-made billionaire, one who left Dow Chemical in 1970 to form one of the biggest chemical conglomerates in the world, Huntsman Corporation. The Salt Lake City-based firm, which got its big commercial break when it invented the plastic "clamshell" container for McDonald's Big Macs, makes 12,000 different products in 50 countries around the world, employing 14,000 full-time and 18,000 contract workers.

Huntsman's public service is almost as impressive as his business acumen. After being a member of the Nixon administration - and leaving without the stigma of Watergate after learning that Nixon had given nothing to charity one year while president, Huntsman has been a board member of several Fortune 500 companies. He donated $2.5 million to the University of Utah, coached then by his good friend Rick Majerus, for its basketball arena, later doubling that amount after learning his name would be affixed to it so as "to not feel like a cheapskate."

The 73-year-old Huntsman, who has endured four bouts of cancer, is certainly not a cheapskate. He's No. 2 behind Bill Gates over the last 10 years in charitable giving, with his mission to donate all profits from Huntsman Springs to various charities.

His pet project is the Huntsman Cancer Institute in Salt Lake City, which he and his wife Karen have funded with $50 million - and with no government or state aid - since its inception in 1995. The HCI building holds this appropriate quote: "Selfless giving unto others represents one's true wealth." Huntsman has also said he wants "to die broke," intending to donate his fortune to cancer research in an effort to eradicate the disease from the face of the earth.

Locally, Huntsman has provided $1.7 million for a new Driggs courthouse, built nine parks and has plans for more municipal facilities.

Jon and Karen, whom he met in Palo Alto, are both Mormons. They have nine children and 56 grandchildren. At dinner, Huntsman tearfully revealed that one of his daughters passed away a few months prior. He and his wife now care of his daughter's seven kids, ages 7-19. "I really enjoy car-pooling the kids to school," he said at the time.

Huntsman also penned, literally in longhand, the self-help book, "Winners Never Cheat," with a foreword by CNN's Larry King. At dinner that June during my visit, he gave me a copy of his book. In the front he carefully wrote: "Dear Jeff, Know of my high respect and admiration. It was so nice to host you in Idaho. Thanks for your great contributions to golf.

Sincerely, Jon Huntsman."

Thanks to you Jon, for your contributions - not only in golf but many, many other places as well.

For more information, visit http://www.huntsmansprings.com or call 877/354-9660.
Jeff Shelley is the editor of Cybergolf.com and www.golfconstructionnews.com.