Tee it Forward on the I-70 Rocky Mountain Golf Trail from Vail to Moab
By: Nancy Berkley
This is a first! A golf trail-vacation named after a U.S. Interstate highway with a special focus on women golfers and forward tees. But for those planning a trip to the Rockies this summer, the directions are easy: fly to Denver and head west on Interstate I-70. Drive for almost two hours through Summit County and over the Vail Pass into Eagle County. When you get to Vail - stop! That's where my I-70 Rocky Mountain Golf Trail begins.
The beauty of the Vail Valley and the areas on the western slopes of the Rockies approaching Grand Junction bring me back year after year, not only for the sheer beauty but for the golf as well. But last summer I had a special goal. I wanted to play the area's public courses from the forward tees and provide a play-ability and enjoy-ability guide for women golfers visiting the area. (The forward tees are sometimes called "ladies tees" or "red tees," but I am going to use "forward tees" throughout this article because more and more courses are selecting tee names that denote distance rather than gender.)

My mission was also prompted by my conviction that the forward tees on most golf courses are just too long and hard for female recreational golfers. Basically, many forward tees discourage women from playing more golf.

One major problem is that it is hard to tell whether a course will be easy or hard before you play it. Not all forward tees of the same length are of equal difficulty. A course with a forward tee of 5,000 yards with wide fairways, no hills and no water will provide a much more enjoyable experience for most women golfers than a course of the same length with hills, narrow fairways, deep rough and forced carries over streams and lakes.

Of some help is the USGA Slope and Rating system which provides an evaluation of the difficulty of the course. See http://www.usga.org/Handicapping.aspx?id=7792 for more information. The "Slope" of a set of tees describes how difficult (or easy) the course will play for a male or female BOGEY golfer and is almost always printed on the scorecard and available on the course website. The Slope is expressed numerically according to a USGA formula. But the Slope is not related to the score that a golfer would have on those tees. It's confusing. As a guide, Slopes from the forward tees generally range from 115 to 130; the lower the number, the easier the course.

According to the work of Arthur D. Little and his wife, Jann Leeming, the average female golfer hits her drive 140 yards. See their website www.golfwithwomen.com. Arthur and Jann, propose that a playable set of forward tees for the average female golfer should be 4,200 yards. I didn't find a single set of forward tees of that length in my I-70 Golf Trail. In fact, as you will read, the shortest set of forward tees on any course was about 4,800 yards. (As a side note, Alice Dye, a golf course architect and the wife of Pete Dye, suggested to me years ago that all courses should have a 4,800-yard forward tee if they wanted to provide a playable course for most women golfers. It's taken a while for the industry to catch on, but the PGA and USGA are getting ready to launch a new initiative called "Tee It Forward" which means that golf courses will be taking a good look at whether their forward tees are "forward" enough.)

For the men: I don't mean to ignore you. In fact, my husband played all of the courses in this article with me. All of them have several sets of tee choices for men. So, join us!
Beaver Creek - Ski Slopes in Backround
Let's Get Started

My I-70 golf trail begins in Vail, but it could have begun miles earlier. There are fine courses in Keystone and Breckenridge not far off I-70 in Summit County. If you have the time, think of taking a detour there. But for me, my journey to the Rockies begins after I go through Vail Pass and start to head down into Vail Valley and into Eagle County.

So with that background, here is my review and opinion about the public courses that I played - beginning in Vail and ending in Moab, Utah. I've included mention of a few semiprivate courses along the way and I offer a few side trips suggestions.

My Forward-Tee Grading System Assumptions

I developed a personal grading system. I am a solid bogey golfer. On a good day, I score in the low 90s from most forward tees of today's average length. On an easy course, I score in the high 80s.

But, for this article, I decided to evaluate the courses from the perspective of an average female player. According to USGA statistics of women's handicaps, the median Handicap Index for women golfers with official USGA handicaps on the GHIN system is 27. For a list of handicaps indexes by percentages of women golfers, see http://www.usga.org/handicapping/articles_resources/Women-s-USGA-Handicap-Indexes/.

Since many women don't keep handicaps, the "average" women's handicap is higher - probably about 30. In my opinion, a woman with a 30-handicap playing "average" forward tees (usually between 5,000 and 5,300 yards) can sometimes break 100 but can seldom par a hole or struggles for a bogey.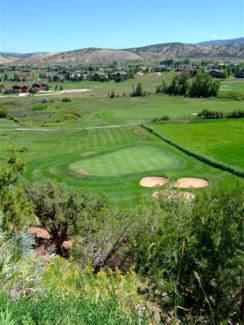 Dramatic Par-3 at Gypsum
"In My Opinion" Review

I am reviewing the play from forward tees in three simple buckets: 1) Easy, 2) Average (defined as how most current forward tees play) and 3) Difficult. In addition, I am modifying those ratings with additional notations such as: Fun, Can't wait to try it again, Challenging, Course beats me up - no fun. And of course, I mention the scenery - after all this is the Rockies! And, where appropriate, the condition of the course and the pro shop staff welcome.

In each course description, I have listed the length of the forward tees along with the Slope of that set of tees for women golfers. Reading between the lines, you will notice how the Slope of the course (the lower the easier) relates to its difficulty and doesn't always correlate to the length of the forward tees. Remember: Not all forward tees are equal! And women who hit a very long tee shot (over 170 yards) will find that a course with high Slope will not be as difficult for them as it is for women who do not hit as far.

First Stop: Vail Golf Course

Forward Tees: 5,200 yards (Slope 114). This course is very busy so don't even think about just dropping in. Call ahead for a tee time. And, because afternoon rain showers are such a regular feature of the Valley - the clouds appear usually between 2 and 4 p.m. - it's best to play early and wise to have some rain gear with you. There are five sets of tees including a 3,562-yard set for beginners or juniors. This is a great course for family golf. The front nine is mostly flat (you will hear the traffic along Route 70) and very manageable. The back nine winds uphill and becomes more challenging. This is one of the few (maybe only) courses with both a female director of golf and female head instructor. Vail Golf Club consistently wins awards for being a top female-friendly golf facility. In my Opinion: From the forward tees, the course is easy and fun and deserves all the awards it receives.

www.vailgolfclub.net - 970/479-2260

Eagle-Vail Golf Club, Avon, Colo.

Forward Tees: 4,819 yards (Slope 120). This is a municipal course and the town leaders approved renovations to be completed this spring and next fall. The changes will make the course play faster, and with the relocation of key bunkers a little easier. The course is unique as it winds up and down a mountain with some steep cart paths and gorgeous views as well as some house-lined fairways and greens on some holes. (The scorecard notes that golfers are liable for property damage!) The course was co-designed by the late golf architect, Robert von Hagge. The forward tees are much harder than the length suggests (in spite of a 120 Slope) and the course requires careful course management. A lay-up is sometimes a very smart shot. The staff is very friendly and helpful. The driving range is a long way from the first tee, so come early if you want to warm up. The green fees are reasonable and package prices are available. In my Opinion: From the forward tees, the course is average and challenging. It beats you up, but brings you back and, with the renovations, I expect it will be a little easier.

www.eaglevailgolfclub.com - 800/341-8051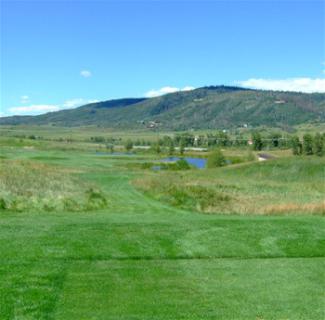 Haymaker Hole from Forward Fee
Mount Massive Golf Course, Leadville, Colo.

Forward Tees: 4,958 yards (Slope 110). Take a side trip to this course because if you would like to play at North America's highest golf course - elevation over 9,680 feet-then you might want to consider a turn south at Minturn off Route I-70 onto Route 24 towards Leadville, a historic silver-mining town. It's about an hour's drive along some beautiful mountain scenery, including a stop at Camp Hale where U.S. soldiers from the 10th Mountain Division in World War II trained during the winter to fight in the European Alps. Mt. Massive has nine holes with two sets of tees so that you can play an 18-hole round. It's one of the few courses whose rules state that "shirts and shoes required." (I have visited this course, but not played it.) In my Opinion: Based on the Slope of 110, this course would be easy and fun and beautiful for most golfers, while allowing time to admire the highest mountain ranges in the West. This is a good walking course. And they say that the higher the altitude, the farther the ball goes. I am going to play it this summer for sure.

www.mtmassvegolf.com - 719/486-2176

Beaver Creek Golf Club, Avon, Colo.

Forward Tees: 5,088 yards (Slope 128). This semiprivate course is owned and managed by Vail Resorts. Guests of Beaver Creek and Vail Resort properties have priority tee times, so tee times to the general public are limited. Call ahead. (See note below about Vail Management Company and access to other semiprivate courses along I-70). The Beaver Creek pro shop has an excellent selection of women's golf apparel and the staff is extremely helpful. I love this course! It was originally designed by Robert Trent Jones Sr. - one of his last projects. The first three holes - a par-5, par-3 and another par-5 - are among the most memorable holes I have ever played. The course starts at its highest altitude and then works down the valley. The back nine is not quite as interesting until the last few holes, where the challenge picks up and streams criss-cross fairways. Last season the course was in super condition. From several holes, the Beaver Creek ski trails offer a magnificent view. I played from the 5,088-yard forward tees which have a 128 Slope indicating that is on the difficult side. In my Opinion: From the forward tees this course is of average difficulty and both fun and challenging. I never tire of playing it and am certain that one day I will par the third hole!

http://www.beavercreek.com/golf/beaver-creek-golf-club.aspx - 970/754-5775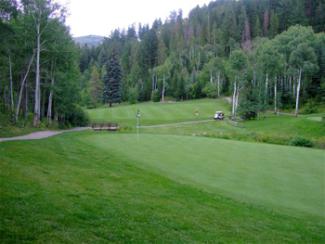 Eagle-Vail
About Vail Resort Properties

There are several courses along I-70 that are semiprivate and offer tee times only if you're staying at a Vail Resort facility. Vail Resort Properties is a public company that owns and manages some of the top ski (and golf) resorts in the country, including Rock Resorts. There are almost 50 Vail Resort venues to stay at in the Vail Valley, with a wide range of prices. See www.vailmanagement.com and search for other websites of brokers. If you stay at one of their properties, you'll be able to play the following private courses:

Sonnenalp Golf Club, Edwards, Colo. - Set among the Singletree residential community is an 18-hole course designed by Bob Cupp and Jay Moorish. The forward tees are 5,174 yards. I have not played this course but based on the Slope of 131, it would probably be of average difficulty with significant challenges. www.sonnenalpgolfclub.com - 970-477-5372.

The Club at Cordillera, Edwards, Colo. - The Cordillera gated residential community is about 20 minutes west from Beaver Creek along I-70. There are four courses, but two courses (Summit and Mountain) are closed this summer due to developer and homeowner disputes. The Dave Pelz nine-hole short course is a great par-3 layout that is fun to play and a good choice for family golf. There is the beautiful Lodge at Cordillera which I consider one of the best après-golf setting in the Rockies. The town of Edwards is growing rapidly and has lots of good restaurants and trendy shops along with a multiplex movie theater. www.cordillera-vail.com - 970/926-5950

Red Sky Ranch, Wolcott, Colo. - Red Sky Ranch is an upscale private residential development with two fabulous courses at a single destination. Red Sky is a few miles beyond Edwards in the town of Wolcott. Turn south (up the mountain) at the sign for Red Sky Ranch. One course is by Tom Fazio and the other is Greg Norman. The courses are open to Vail Resort guests on alternating days (bring rain gear if playing in the afternoon). I have played both courses several times. The forward tees are excellent and fair. Fazio Forward Tees: 5,265 yards (Slope 125); Norman Forward Tees: 5,269 yards (Slope 124). Norman's course is especially well-bunkered. Even with Norman's challenging design, the approach shots for bogey golfers are manageable because there is usually a clear opening to the green that allows for a bump-and-run as well as a pitch-shot approaches. In my Opinion: Both courses played from the forward tees are average to difficult and also challenging. But they don't beat you up, they bring you back.

www.redskygolfclub.com - 970/754-8400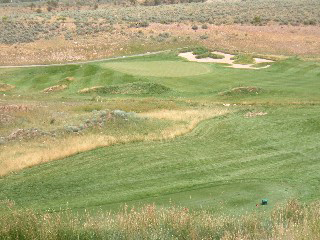 Eagle Natural Trouble
Haymaker Golf Course, Steamboat Springs, Colo.

Forward Tees: 5,059 yards (Slope 127). Haymaker is an optional side trip. About 30 minutes on I-70 beyond Beaver Creek at the junction of Wolcott, turn north on Route 131 towards Steamboat Springs. The drive from Wolcott to Haymaker is an hour and one half and takes you through gently rolling Yampa Valley ranch country. Though the forward tees at Haymaker are 5,059 yards, I think they play harder, which is confirmed by the Slope rating. The course is set in a valley with few grand mountain views. The course is an Audubon International certified course with lots of natural ball-catching fescue and "Do Not Enter" signs on posted "Environmentally Sensitive Areas." Stray off the fairways and odds are you will lose your ball. In my Opinion: This course from the forward tees is of average difficulty and challenging. It made GolfWeek's "Best Courses You Can Play" list, but for me that day was not a favorite.

www.haymakergolf.com  - 970/870-1846

Eagle Ranch Golf Club - Eagle, Colo.

Tees: 5,497 yards (Slope 137). Continuing along I-70 (you are now about 45 minutes from Vail) you will come to the town of Eagle. We are really "down-valley" now and the golf season begins earlier and lasts well into fall. Eagle Ranch is an Arnold Palmer Signature Design Course (co-designed with Ed Seay). The course begins in a valley and then winds up into the hills providing some beautiful vistas. But, this is really a hard course - from all tees. The forward blocks are 5,497 yards, but this is the hardest set of forward tees women will encounter on my I-70 trail. The catch is that standing on the tees, it doesn't look that hard. But, there are tight landing areas edged with fescue and many bunkers along with lateral water hazards that will require lay-ups for many women. Forget about bump-and-run-shots and make sure your pitching wedges are working. This course definitely needs a set of shorter forward tees. In my Opinion: This course is very difficult from the forward tees. But because the design is good and the holes memorable, I play it at least once each summer.

www.eagleranchgolf.com  - 866/328-3232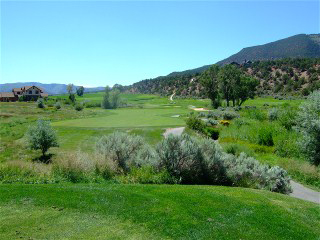 A Gypsum Par 5 from Forward Tee
Gypsum Creek Golf Course, Gypsum, Colo.

Forward Tees: 5,197 yards (Slope 117). This course is a Pete Dye design and was originally built as a semiprivate course for the Cotton Ranch residential development about 20 years ago. The development didn't fare well and the course is now owned by the town of Gypsum. The good news is that there are not as many houses along the fairway as there might have been. The bad news is that the maintenance of the course has slipped in recent years. The sophistication of the Dye design is still there, albeit a bit hidden because of the lack of definition created by modest course maintenance. Nevertheless, a few holes still display the Dye drama and to score well, good course management is required. Because of its down-valley location, it's open earlier in the spring and later in the fall than courses closer to Vail. In my Opinion: from the forward tees this is a relatively easy course but it's not particularly interesting or memorable.

www.gypsumcreekgolf.com - 970/524-6200

Lakota Canyon Golf Club, New Castle, Colo.

Forward Tees: 4,744 yards (Slope 123). Just beyond Glenwood Springs is the town of New Castle, which has one of my favorite public courses. The facility is designed by the well-known architect, Jim Engh, who along with other accolades, installs the best forward tees for women. In a strategy unusual for today's golf architects, Engh designs each hole from the forward tees and then back to the tips. Lakota Canyon was the centerpiece of a residential development that has stalled out. The clubhouse has never been built and the pro shop operates out of a temporary trailer-like facility. But forget those amenities. The course is a hidden gem: it's well-maintained and the scenery is terrific. Characteristic of Engh courses the greens are bowl-shaped. Many a time I have hit onto the green sure my ball would roll off, but there it was… rolling back to the pin. How good is that!! In my Opinion: This course from the forward tees is of easy to average difficulty and fun to play, and it has made many "Best Public Course" lists.

www.lakotacanyonranch.com - 970/984-9700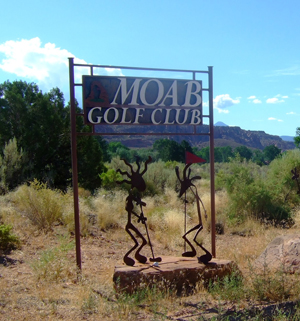 The Entry Sign to Moab Golf Club
The Golf Club at Redlands Mesa, Grand Junction, Colo.

Forward tees 4,890 yards (Slope 115). As Route I-70 heads west, the landscape changes dramatically. The snow-covered peaks are behind us as the drive to Grand Junction goes down through the western gentler slopes of the range. Redlands Mesa is another Engh design. It also is part of a residential development that seems to be doing well; every year I play it, more houses seem to appear along the fairways. Grand Junction has a good year-round climate that makes it a popular place to settle and has a funky, fun downtown. Redlands Mesa is a dramatic course. The elevation changes are awesome and the desert-like scenery is quite beautiful. Like other Engh courses, the forward tees provide a great golf experience and are not what I call "dumbed-down" for women golfers. Sometimes I play from the Men's Canyon tees with my husband, except on the really hard holes. This is a course where it's easy to mix-and-match tees. In my Opinion: From the forward tees this course is easy (most of the time) and fun to play. It's definitely worth the trip.

www.redlandsmesa.com - 970/263-9270

Moab Golf Club, Moab, Utah

Forward Tees 4785 yards (Slope 107). I didn't travel to Moab to play golf. I came to visit the Canyonlands and Arches National Parks. But, I noticed in a local brochure that there was a course on the western part of town. I took the morning off and went for a visit. What a treasure! The pro gave me a set of clubs to use and sent me off. The course was built by a town engineer (hopefully a golfer as well). The forward tees are the easiest on the I-70 Trail. Every hole is reachable in regulation which is quite a different golf experience and the type that Arthur Little talks about in www.golfwithwomen.com. The front nine is more scenic as it plays up into the famous canyons of the area. I met up with a group of women who play here regularly; they love it also. For a little more challenge they sometimes play the second longer tee of 5,459 yards, which has a slope of 114 - still an easy course. In my Opinion: This is a very easy and very fun course. It plays quickly so you will still have time to visit the parks.

http://www.moabcountryclub.com/golf/proto/moabcountryclub/ - 435/250-6488

In Conclusion

You have some choices now. You could just keep driving west - maybe to Pebble Beach in California or Bandon Dunes in Oregon. Or you could make your way back to Denver or Eagle Airport. And there is nothing that says you have to play the I-70 courses in the same order as laid out in this article.

Ending my golf trail with Moab and those fun forward tees brings me back to the goal of my golf voyage. Are most forward tees too hard for women golfers? Are they discouraging more women from playing more golf? My answer is a simple "yes."

I have all my scorecards, notes and photos from the more than a dozen courses reviewed in this article - many of which I have played several times. How many birdies or pars did I get? Not many. Yet, my Handicap Index of 16.2 places me in about the 17th percentile of women golfers who maintain handicaps on the GHIN system. That means that more than 80 percent of women golfers are probably not enjoying an optimal "winning" or "successful" experience on the I-70 Golf Trail. Playing golf for many women golfers may be more work than fun.

Of course, if you are playing with friends or your spouse or partner and are on vacation and the weather is glorious, you are probably having a good time. But vacation golfers will not grow the game. The industry needs millions of women to take up the game or reconnect with it.

It's not hard to make a shorter and easier set of forward tees. Many times, it's just adding another tee box here and there, which is usually not a major expense. Special attention should be directed to the par 3-holes. There should always be a tee from which most women golfers can reach the green AND if they miss it, are not in an unplayable situation.

In my I-70 golf trail, there are many par-3s that are guarded by long fescue grass, water, severe bunkers, ravines or rocky terrain. I can usually reach the green, but a less experienced golfer will have trouble. Give an average woman golfer a chance to par a hole. Make her feel good. Give her a chance to cheer. Let's make the I-70 Golf Trail more fun for women golfers.
Nancy Berkley, President of Berkley Golf Consulting, is an expert on women's golf and junior-girls golf. She is a frequent contributor to www.cybergolf.com/womensgolf. Her book, "Women Welcome Here! A Guide to Growing Women's Golf," published by the National Golf Foundation, is an industry reference on marketing golf to women and spotting trends within the industry. She offers information and advice about the golf industry on www.berkleygolfconsulting.com and is often quoted in national publications. She was a contributing editor of "Golf for Women" magazine and a founding advisor of "Golfer Girl Magazine." Her interviews with women in the golf industry now appear on www.golfergirlcareers.com. Nancy lives in Palm Beach Gardens, Fla., and is a graduate of the University of Minnesota, Harvard University and Rutgers Law School. After a business and legal career, she decided to write about the game she learned and loved as a teenager. She describes herself as a good bogey golfer with permanent potential.