A Southern Hills Love Affair
By: Steve Habel
If there was ever a case of love at first sight of a golf course, that passion struck me like a thunderbolt once I stepped out of my car and peered over the green hills and tree-lined fairways of Southern Hills Country Club in Tulsa.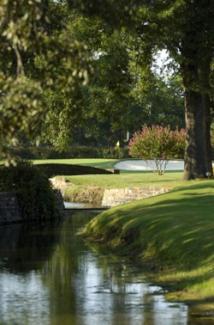 The 6th Hole at Southern Hills
Okay, it could be that the eastern Oklahoma heat wave of July 2010 had finally gotten to me. Or maybe it was the 105-degree index, bolstered by withering humidity. Or perhaps it was the fact that my round at Southern Hills was the second of the day and the seventh I had played on seven different courses in a span of three and a half steaming days.

Somebody get me an ice towel, please, and a bottle of water.

Those in the know claim there are three stages of love: the initial rush of lust, the feeling-out process as ideas are exchanged during courtship, and the continuing growth of feelings as a relationship is cultivated and experiences are shared. My time at Southern Hills was more like a one-afternoon stand that still lingers, even when I tee it up on some of the nation's finest tracks.

For me, every course - and I have trod plenty of great ones - gets compared to Southern Hills. It wasn't my first golf love, but it has burned a hole in my memory that I can't, and don't want to, shake.
I am not one to resort to hyperbole and (God forbid) sentiment. But as I sat down to write this feature, I have spent time replaying my trip around Perry Maxwell's Depression-era jewel. It's been a real pleasure to recall.

For those of you who only recognize Southern Hills from its appearances on television, here's a little background on the place:

The original course at Southern Hills Country Club was designed in 1935 on 300 acres of land donated by multimillionaire oilman Waite Phillips. The construction costs were raised by the founding members and the club opened for play in 1936.

Shortly after the course was completed, the 1946 USGA's Women's Amateur was awarded the club. Including that first championship, the club has hosted 15 big events, including three U.S. Opens, four PGA Championships, the inaugural U.S. Women's Mid-Amateur and - most recently - the 2009 U.S. Amateur.

Southern Hills has hosted more major championships than any American course except Augusta National, Oakmont and Oakland Hills, and aspires to host even more. It's on the short list for a future U.S Open, perhaps in 2020.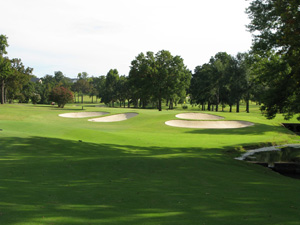 Southern Hills' 17th Green
Character Galore

Maxwell's central design philosophy was to enhance nature, not disturb it. At Southern Hills, he began with a beautiful piece of land and drew from its rolling hills a golf course of truly remarkable caliber. In the club's early years the layout was rather barren, but in the 1950s a tree-planting program was implemented. Today the tree-lined fairways are some of the most evident threats to par.

Many of Maxwell's greens' designs at places like Crystal Downs and Prairie Dunes are considered a bit extreme, with knobs and knolls and multiple levels. At Southern Hills his work is much more subtle, with slants and slopes and nuanced breaks.

Southern Hills has a great routing, thanks to a little bit of everything, from long par-3s to short par-4s and intricate par-5s.

The terrain features scores of lofty trees which, combined with elevation changes between tees and the fairways and Maxwell's marvelous greens complexes, place a premium on accuracy and course management.
You can see the Tulsa skyline from Southern Hills Country Club, but it isn't the view that's the attraction. This is a golfer's course, a par-71, 7,150-yard superior test of skill.

Although there are plenty of drops and rises, Southern Hills does not feature huge elevation changes. It's the constant changing of angles into the greens that makes it different, along with doglegs turning in various directions, a slightly elevated green or the roll of the fairway, or the positioning of bunkers and water. The player must swing with confidence as there's a price to be paid for tentativeness.

The first hole - a 464-yard par-4 - drops some 40 feet from tee to fairway and sends the player into the valley through which the course is routed. Also on the front nine is the tough, 486-yard par-4 second (with a 225-yard carry over the bunkers and a winding creek that turns and parallels the fairway); the 655-yard par-5 fifth with a landing area squeezed by bunkers and a well-protected elevated green; and the 245-yard par-3 eighth, which is bordered on the back by an embankment and a creek.
The inward nine at Southern Hills crosses decidedly wavier terrain. Perhaps the best hole here is the famed 458-yard, par- 4 12th, which has been called by Arnold Palmer and Ben Hogan as one of the top two-shotters in the country. The fairway doglegs left, with a bunker along the left requiring a carry of at least 260 yards. With water and bunkers encircling the green, this is usually among the toughest holes on the course.

Southern Hills' closing stretch offers exhilaration and exasperation. No. 16 - a 567-yard par-5 - bears a gentle slope 245 yards off the tee that must be carried to provide a good view of the green. A long- to middle-iron is then necessary to reach the smallish putting surface.

On the 358-yard par-4 17th, a creek borders the entire port side. An accurate short-iron second is needed to reach the shallow, two-level, elevated green that offers some perilous pin locations.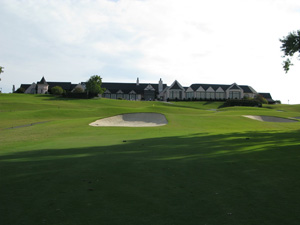 The Approach to Southern Hills' Final Hole
Southern Hills' closer is considered by many as one of the great finishing holes in golf. The dogleg-right requires a drive to a plateau to reach the left side of the fairway 200 yards from an elevated putting surface. A long-iron or fairway wood must carry to the green, which sits in the shadows of the clubhouse and slopes severely back to front. The 18th is the most difficult par on the course, but also the most exciting.

The track's most charming characteristic is its constant variety. Besides the original course, which was renovated by Keith Foster in 1999 and carries a rating of 75.2 and a slope of 137 from the tips, the club includes the nine-hole West Course, designed by Ben Crenshaw in 1992.

A shotmaker's course set in our nation's heartland, Southern Hills is considered one of Maxwell's supreme designs and is consistently ranked as one of the top courses in the United States and the world by Golf Magazine. The course is ranked No. 15 on Golf Digest's list of "America's 100 Greatest Golf Courses."

In my opinion, it's No. 1 with a bullet.
Steve Habel is one of Cybergolf's national correspondents, contributing news stories, features, equipment and book reviews and personality profiles from his base in Central Texas. He is also the managing editor for Texas CEO Magazine and works as a contributing editor for Horns Illustrated magazine, a publication focusing on University of Texas sports. He also writes a blog (www.shotoverthegreen.blogspot.com), which features news on golf and the Longhorns, and another (www.checkinginandplayingthrough.blogspot.com) on his many travels, which took him across the nation and to 105 different golf course in 2009. Habel is a member of the Golf Writers Association of America and the Texas Golf Writers Association.