I Want to Fall in Love with Tiger . . . Again
By: Elisa Gaudet
We all want to be in love. Falling in love with someone or something is not easy. Well, at least sustaining that loving feeling over a period of time is not easy. Be it marriage, a career, friends, family or a hobby.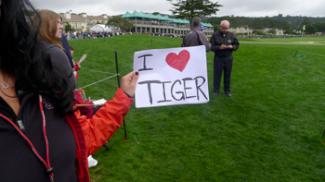 Impromptu 'I Love Tiger' Sign at 2012 Pebble Beach Pro-Am
A motivational guru once said, "You have to fall in love with the process not just the end results." That's how I now feel about Tiger Woods. Most of us want instant results from him and are frustrated that he's not dominating professional golf the way he used to.

He, too, it seems, is working towards falling in love with the process of golf again and finds himself at a different stage of life. He's working on his swing, getting healthy both physically and mentally, and while withdrawing from his self-imposed shell of the past two years and becoming more accessible.

Change is good, change is our friend. So we cannot be looking for the old Tiger to reappear. Fans need to let him breathe and grow into a new Tiger once he adapts to the changes in his career, family and personal life. Perhaps Carl Jung summed it up best: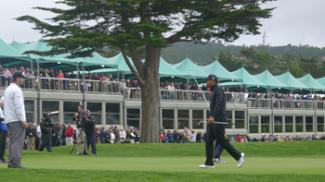 Tiger & His AT&T Pro-Am Partner Tony Romo
"Thoroughly unprepared, we take the step into the afternoon of life; worse still, we take this step with the false assumption that our truths and ideals will serve us as hitherto. But we cannot live the afternoon of life according to the program of life's morning; for what was great in the morning will be little at evening, and what in the morning was true will at evening have become a lie."

Where you have been does not matter. What's important is: Where are you going now? Where the new Tiger will go is full of possibilities.

Tiger is good for the game of golf. The things I miss are his fist pumps, the frightened looks of other players as he tracked them down on Sundays, and the fact that his renown among non-golfers helped make the game a more widely sport. But it's time to let go of the past and fall in back love with Tiger as if he's a new player on the scene.

A member of the media asked Tiger at the 2012 AT&T Pebble Beach National Pro-Am, "When someone screams 'I love you Tiger' and it is a dude, is that a good thing or a bad thing?" Tiger's joking response was, "As long as you don't say it."
When asked how his father knew how to correct any of his putting problems in an instant, Tiger said that Earl Woods instilled in him a love of the game. When in doubt, Tiger still reverts to his father's teachings. When asked about golf's constancy over his entire life, Tiger responded, "I love learning, love competing and love winning. Winning is the ultimate goal and that is why we are out here each week."

They say in order to fall in love you have to be open to letting yourself go . . . that's why they call it "falling" in love. We need to take a chance, so let's go and fall for Tiger all over again.

Just as the "Big Apple" started the "I LOVE NY" campaign in the mid-1970s to increase its popularity and encourage tourism, perhaps we need to start the "I LOVE Tiger" campaign. I encourage you all to send Tiger a Valentine's Day card . . . especially the media. After all, we all love winners and want to be in love.
Elisa Gaudet brings a wealth of entertainment and golf experience to Cybergolf. Elisa has spent the past several years in the golf industry in the U.S., Latin America and Spain. She worked for the PGA Tour and the Tour de las Americas before founding Executive Golf International, a golf marketing company that works with clients to develop strategies using golf as the medium. Often referred to as the Maria Bartiromo (a business analyst for CNBC) of golf, Elisa says: "Golf, as a marketing tool, has been around for years. It's amazing how many new ways companies can align their brand with the golf market to reach their target audience. Our goal is to create alliances and establish cross-border relations." Elisa also worked in the entertainment industry for over 10 years, including five in Los Angeles as a model and actress. She can be seen at many celebrity golf events and often gets the inside scoop from PGA Tour players. In 2011, Elisa published her first book, "Two Good Rounds" (Skyhorse Publishing). Her story for Cybergolf, "Golf a Romantic Affair at Cabin Bluff," won the top prize in ING's 2012 Travel Writing category. For more information about Elisa, visit her websites at www.onthelip.com or Executive Golf International www.execgolfintl.com.