Icelandic Golf Makes Country-wide OnCourse™ Pledge
Sustainable golf leadership was demonstrated on an unprecedented scale today as every one of Iceland's 62 golf clubs pledged to achieve the GEO Certified™ award.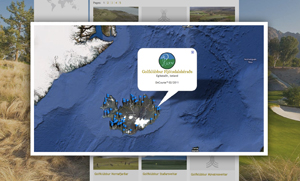 Iceland OnCourse Logo
The move has been driven by the Icelandic Golf Union - the country's administrator of the amateur game, member of the European Golf Association and affiliate to the R&A. Full endorsement has also been pledged by the Icelandic Greenkeeper Association.

At receptions in Reykjavik, attended by both Icelandic President, Ólafur Ragnar Grímsson, and Minister for Environment, Svandís Svavarsdóttir, the efforts of Icelandic Golf and GEO were recognized. President Grímssonsaid: "The Icelandic people are close to, and proud of, the quality of their environment. As a healthy outdoor sport, played by men, women and children from all walks of life, and with such an intimate relationship with our diverse landscapes, we are delighted that golf is using its unique position to reinforce deep-rooted Icelandic values - locally and across the global golf community."
Ms. Svavarsdóttir added: "I must congratulate the people and organizations behind this move - locally in the clubs, nationally amongst the golfing and scientific community, and internationally amongst the partners that have helped to put the excellent GEO programs together. This is an example of one important sector of business, sport and tourism expressing its willingness to take action for the benefit of society as a whole. We will continue to engage with this initiative and support Icelandic golf in maximizing its all-round value to our country, and in particular to our beautiful, clean and inspiring landscapes."

The 62 Icelandic OnCourse™ Profiles at www.golfenvironment.org showcase the country's environmental commitment, as well as their diverse and dramatic golfing landscapes. For the full list, visit http://www.golfenvironment.org/certification/participating-facilities/IS.
Hörđur Ţorsteinsson, the General Secretary of the Icelandic Golf Union, said: "This is a significant week for golf in Iceland. It demonstrates that we not only recognize the value that Iceland's outstanding environment offers to golf, but we also understand the responsibility that golf has, like others in society, to minimize our consumption of resources, to reduce waste and to protect landscapes and ecosystems. We are proud to be champions of sustainability, in Iceland and also in world golf, and are committed to supporting all our member clubs as they do as much as they can for local people and the environment."

The Icelandic Golf Union was joined by Environment Minister, Svandís Svavarsdóttir, and GEO's EMEA Industry Forum as they made a federation-wide OnCourse™ Pledge.

Peter Dawson, Chief Executive of the R&A, expressed his support: "The R&A congratulates the Icelandic Golf Union. This is exactly the kind of environmental leadership we have been encouraging and is a great boost for sustainable golf."
Jonathan Smith, GEO Chief Executive, was in Iceland for a five-day program of sustainable golf activities - including a meeting of GEO's EMEA Industry Forum, and the International Greenkeeping Summit hosted by the Federation of European Golf Greenkeepers Associations (FEGGA). Speaking at the reception, Jonathans said: "Today's announcement epitomizes all that GEO stands for and all that has been designed into our programs. We have sought to connect sustainability action locally to globally; join up the collaborative efforts of a unique and diverse sector; create inspiring and easily accessible programs that are fully transparent, and recognize golf businesses that are delivering credible progress. We commend the IGU and the clubs, and look forward to the promotion of independently verified GEO Certified™ golf the length and breadth of Iceland over the coming weeks, months and years."

Edwin Roald, member of the EIGCA's Environment Committee, was appointed by the IGU to work alongside the national greenkeeper association in supporting clubs during their On Course™ registrations: "I'm delighted at having taken part in this important initiative. This movement will support Icelandic golf clubs to demonstrate sustainability through their environmental approach, social contribution and the affordability that has positioned golf as a realistic leisure choice for the all members of the public."
About the Golf Environment Organization & GEO Certified™

The Golf Environment Organization is an international non-profit dedicated to helping the global golf industry establish leadership in environmental enhancement and corporate responsibility. Bringing clear insight, cutting edge guidance and golf's most constructive, credible and comprehensive certifications, www.golfenvironment.org is a one-stop-shop for sustainable golf solutions.

GEO partners with governments, international environmental NGOs, scientists and corporate and individual sponsors including The European Tour, The R&A, The European Golf Association, UNEP, WWF, and the Club Managers Associations of Europe, America and China.

GEO Certified™ is the most accessible, credible and comprehensive sustainability certification in golf, with a productive and streamlined core content that enables golf clubs to plan, implement, record and gain recognition for continual business improvement.