Idaho Golf - As Good as it Gets
By: David Wood
Scientists, using carbon dating on North American Indian artifacts such as arrowheads, have speculated that humans may have been in the Idaho area 14,500 years ago. Too bad for those early folks that the game of golf would not come along for another 14,000 years, as Idaho is blessed with some of the most intriguing locales for the game anywhere.

High skies, dramatic mountains, rushing rivers, tranquil lakes, wildlife in teeming numbers, world-class accommodations, and now some of the best golf in the U.S., it's all here. If the Idaho Golf Trail has not appeared on your golf-vacation radar, well, just like those troglodytes from 14,500 years ago, you are missing out! Here are a few of the Trail courses on the must-play list.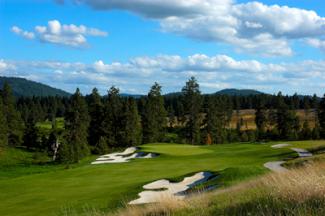 Circling Raven's 12th Hole
Circling Raven

Before visiting Circling Raven Golf Club in Worley up in the panhandle of a state best known for growing potatoes, I heard so many tributes about this Gene Bates' 2004 design that I was chomping at the bit to get a look at the course. Would it hold up to the raves and lofty rankings that have flooded its way since inception? Well, it's immediately plain to see what all the fuss is about - Circling Raven is flat-out wonderful.

Truly great courses usually have great land with which to occupy. After all, Augusta National was a thriving nursery before its reconfiguration for golf by Bobby Jones and company. Mother Nature provided Bates with a prime piece of property, too. Circling Raven sits on 620 acres carved out of meadows, wetlands and groves of Ponderosa pines.

Like the seemingly limitless sky above it, there is an unencumbered feel to the place. It's as if all you need to do is take a big gulp of pristine air and then golf your ball all the way to the horizon. You're that far from the cacophony of rush-rush civilization. The only sounds are swooshes of the breezes through the trees and an avian symphony of meadowlarks, ravens and a hodgepodge of waterfowl chirping to their hearts' content. Audubon International rewarded Circling Raven with inclusion in its Cooperative Sanctuary System - the whole enterprise is one giant Club Med for birds.

The first five holes have a wide-open feel and are all solid, requiring a well-conceived game plan for any modicum of success. Yet these are mere appetizers for the repast to come. After the excellent par-4, 387-yard sixth - which meanders up a gradual slope to a tricky heart-shaped green - it's one great-looking hole after another. I could barely wait to finish one hole and then sprint to the next tee to see what was next.

My favorites (and I'll only pick a couple of holes as this could quickly turn into a filibuster as there are so many to choose) include the par-3 seventh. This 212-yarder plays point-to-point over an unforgiving ravine with wildflowers disguising the bounty of golf balls that decided not to make the full journey across due to the ineptitude of their former owners. Par here feels like an eagle.

The eighth is equally stout. While only 386 yards has to be negotiated to get your par of four, the hole plays longer as your drive plays out of a forested chute to a right-sloping fairway; accuracy is paramount here. Menacing bunkers lurk down the entire right side of the fairway all the way the green, which tilts diabolically. This hole is a beauty.

The back nine is even better. The 11th is a boomerang-shaped par-4 of 446-yards surrounded by rolling farmland so picturesque you almost want to stake a claim, yoke a team of oxen, and grow your own food. With trees, bunkers, and wild fescue making any attempts to cut the severe dogleg-left futile, you are forced to play farther right than you'd like and 446 yards turns to 500 plus.
My favorite at Circling Raven is the par-4, 426-yard 15th, which is so pretty it should be wearing a sash and tiara. The hole is the farthest away from the comfy wood-beamed clubhouse and requires a left-to-right tee shot for the best angle to its elusive green. The tall pines stand sentinel both left and right to provide definition to Bates' handiwork. This is a hole you want to play again and again.

It's not all about golf at Circling Raven, as the Western-themed Coeur d'Alene Casino Resort Hotel abuts the course and is a perfect place to stay for a vacation. There are tons of activities here: gaming, concerts with big-name stars, fly-fishing, kayaking, mountain biking, horseback riding, or simply chilling out in a serene locale where casual rules. Check out the stay-and-play packages for great values, as Circling Raven is tough to beat. For more information, visit www.circlingraven.com or call 800/523-2462.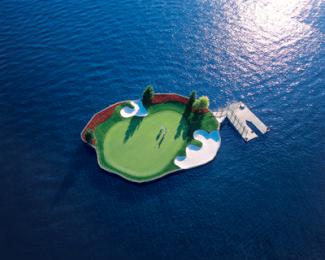 Coeur d'Alene's Famed Floating Green
Coeur d'Alene Resort and Spa

Just up the road from Worley is the ultra-luxurious Coeur d'Alene Resort and Spa on the banks of its lovely namesake lake. The famed destination hotel is an indulgence in high living with fine dining, wonderfully appointed rooms with jaw-dropping views of the lake and shadowy mountains, private butlers, and suites that have housed everyone from Johnny Depp to Colin Powell. There's even a private jet airstrip and helipad if that's how you roll (or fly).

A visit to the brand-new $10 million spa in the hotel is a requisite. I spent two-plus hours there going through a series of hydrotherapy and Space Age showers (including the $100,000 SilverTAG Shower with more nozzles that a 747). My spa treatment was capped by a deep-tissue massage that left me as loose as Gumby after a couple of martinis. If there's a better spa in the world, I hope to visit it!

Golf at the resort is not as demanding as Circling Raven, but that's not to say it isn't first-rate. Few courses are as elegantly manicured as this one; the bentgrass fairways and silky smooth greens are nicer than the carpet in my home. The turf is so immaculate I almost felt bad about taking a divot - which was replaced by forecaddies who are superb at customer service and reading the putting surfaces. Coeur d'Alene has taken the art of greens-keeping to a whole new level. The layout is as flawless as the Hope Diamond.

The 6,803-yard, par-71 Scott Miller design winds around the expansive lakefront, a verdant ridge with massive boulders that also shield some greens, serene woodlands and Fernan Creek, which is chockablock with jumping trout. The rolling layout places the old Scottish game and Mother Nature in full harmony. This is resort golf to the nth degree. Miller did a masterful job of creating a route for golfers of all abilities - not easy to pull off.

The course is famous for its 14th hole, which features the world's only movable par-3 floating green. The 15,000-square-foot target sits floating 150 or so yards from the shore and tee box to mock your skills and nerves. The tee shot is a huge thrill as you so badly want to reach the "Promised Land" in one swat and wipe that grin off the green's lovely flowered facade. To get there, unless you can walk on water, you board the teak Putter Boat that ferries you out and back. The 14th is one the great curios of the game and I loved it, although my first shot is now nestled at the bottom of the lake. The green didn't lose its grin on my account, but I'm looking forward to another opportunity to settle the score. Coeur D'Alene is a "don't-miss" destination.

For more information, visit www.cdaresort.com or call 800/688-5253.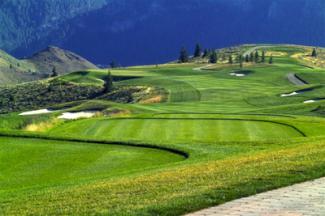 White Clouds Course in Sun Valley
Sun Valley Resort

Sun Valley has given pleasure seekers visiting this mountain playground nothing but fun and more fun ever since it opened in 1936. With 2,054 skiable acres, Sun Valley soon gained a reputation as a Mecca for those who find Bald Mountain the ultimate locale to slap boards onto your feet and race to the bottom of a hill. Now travelers are finding that summertime is an equal blast here, as the golf is as first-rate as the slopes.

Redesigned in 1980 by the master hand of Robert Trent Jones, Jr., Sun Valley's Trail Creek course is a golfing pleasure. Sitting at the base of Bald Mountain, you get the initial feeling that Trail Creek is going to be nothing but a nice walk in a scenic locale. Yet the course is as sneaky as a cat burglar. Mature trees flank the constantly doglegging fairways and swat shots off-center. Trail Creek meanders throughout to gobble up wayward shots and wash your ball to the tune of a penalty stroke. So enthralled by all the wonderful vistas you don't realize your score is approaching nosebleed heights.

Trail Creek's most dramatic hole, the 244-yard par-3 15th, requires you to unbutton your collar and swing from the heels to clear an unforgiving gorge - it's as panic attack-inducing (and fun) as a par-3 can be. Trail Creek offers really, really good golf.

Even more dramatic is the brand-spanking-new White Clouds Course across the street from Trail Creek. Nine holes of the Ken Knott design are open for play. This is golf on the outrageous side, but that seems perfect for a chunk of land this dramatic. The opener is a relatively level par-4 that allows you to test your swing a bit. After that, all bets are off as the holes make their way up a black-diamond ski run and then down again. Greens are perched on mountainsides and seem impossible to reach in regulation. But the spare molecules at this altitude allow shots to soar farther than you're used to, and the holes are much more playable than you initially thought.

I loved the uniqueness of the routing while scaling the peak, hitting shots uphill and then finding a series of intriguing holes encircling the summit before the freefall descent. My favorite is the par-3 seventh on the highest ground. The vistas here envelop the entire valley, a scene so enthralling it seems you can see all the way to Wyoming. The seventh plays at 220 yards from the back and, if you aren't on the green you're reloading due to the surrounding fescue that doesn't seem to have any trouble growing long and gnarly above the tree line. White Clouds is brutal, but exciting to play.

Après golf, is there any place with more activities on Earth than Sun Valley? I'm hard pressed to think of a more suitable candidate and if you can't have fun at Sun Valley, you've got some severe problems. Of course, there is the world-class skiing when the snow arrives. The resort is also the home of a famous outdoor ice-skating rink just behind the main hotel. The Saturday night shows - year-round - feature a "Who's Who" of the biggest names on the ice circuit. Then there's the wonderful music pavilion that brings in music of all genres and musicians at the top of their trade.

Sun Valley and environs are like having Lincoln Center or Carnegie Hall in the middle of the Rockies. Just like your golf shots, the notes seem to carry longer through the sweet mountain air. Let's not forget the runners and cyclists and hikers and walkers around Sun Valley are athletes in training and visitors alike, finding the area a perfect climate to get out and about. I've never seen so many fit (or wannabe-fit) people in all my travels. Plus, after all the exertions, the resort is as restful and accommodating as there is in the world. It's little wonder Sun Valley has been so popular for so long. This is indeed the "American Shangri-la."

For more information, visit www.sunvalley.com or call 800/786-8259.
I'm telling you, for golf, or whatever does it for you when traveling, Idaho is as good as it gets.
David Wood - writer, in-demand corporate speaker, and humorist - is the author of the book, "Around the World in 80 Rounds." For information on David, visit his website: www.DavidWoodSpeaking.com or email him at David@DavidWoodSpeaking.com.