If Bandon Can Draw Golfers from Around the World, Why Not Tacoma?
By: Jeff Shelley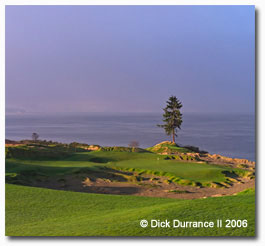 I may have just walked what may become one of the best and most-heralded courses on the West Coast. That may be a brash statement, considering us "Left-Coasters" boast such acclaimed tracks as Torrey Pines, Cypress Point, Pebble Beach and the triumvirate of soon-to-be-quartet of courses at Bandon Dunes Golf Resort in southwest Oregon.

Yet Chambers Bay, in of all places the often image-impaired Tacoma, Wash., may join the above pantheon right out of the box when it opens in June of 2007. It's that good.

Designed by Robert Trent Jones Jr. and two associates, Bruce Charlton and Jay Blasi, Chambers Bay has been under construction by Houston-based Heritage Links (builder of the much-heralded Liberty National Golf Club in Jersey City, N.J.) since fall 2005, with design taking place for the past two-and-a-half years. The course is owned by Pierce County, which is spending upwards of $25 million on the golf and adjoining public recreational facilities.

Chambers Bay's site is fabulously rare. There are few if any equivalent links properties left in the contiguous U.S. Situated on the southeast end of Puget Sound near Hale Passage and Carr Inlet, the course has eye-popping westerly views of the water as well as the snow-capped Olympic Mountains; Anderson, Fox and McNeil islands; and, to the north, the suspended Narrows Bridge (which gained notoriety in 1940 as "Galloping Gertie").

The 260-acre site, coupled with a spectacular design, is what separates Chambers Bay from other new high-end "municipal-type" layouts in the West, such as the $40 million Callippe Preserve in Pleasanton, Calif. (opened in spring of 2006), and the $57 million invested in the new Crossings at Carlsbad (Calif.), slated to debut next summer.

Inspiring Design
Chambers Bay's design is a true collaboration involving three principals in Jones' office. They include the firm's namesake; chief design officer Charlton; and project architect Blasi. The team has been in Tacoma since mid-2004. Blasi estimates he's made over 50 visits to "The City of Destiny," with plane trips up the Coast taken by the entire design team numbering over 100.

RTJ is on a roll, earning the top spot in Golf Digest's 2006 listing of America's "Best New Public $75 and Over" courses with its Osprey Meadows in Donnelly, Idaho. The firm also received props on the same list for No. 6-rated Sunday River GC in Newry, Me.

As with most designs, tweaking has been continuous during construction of Chambers Bay. According to Blasi, some of that was due to the removal of scrub trees; only when they were removed were view corridors unveiled on a hole. Also, the design of a green was done in the field when one-third of a hole was complete. "Every hole was modified during construction," the 28-year-old Madison, Wis., native said. "The site for the sixth green wasn't found (at all) until the clearing operations.

"We (Blasi, Jones and Charlton) had a real dynamic interaction during the design process." Such synergy is readily apparent, as the former gravel pit (whose porous, sandy soil was often used by area courses to enhance drainage) has been carved and converted into a spectacular golf links. "We treated the whole site as one bunker and grassed in the golf course," Blasi said with a smile.

Over 1.4 million yards of soil were shifted during construction, with towering dunes now separating holes; the mostly broad fairways banked by rebounding mounds; and greens, averaging 7,000 square feet in size, sheared in front for bump-and-run approaches, a tactic mostly unheard of north of Bandon.
Further sublimities:
The 12th hole can be played as either a par-4 or a par-3. It will be 330 yards from the tips as a par-4 and stretch 240 from the way-backs as a one-shotter.
No. 5 is a downhill par-4, with two greens one straight out and the other slightly to the left. No. 6 has two separate tee boxes that will make it play significantly longer or shorter, depending on the whims of the greens crew.
The par-3 17th features an upper and lower tee that gives incredibly different looks to the hole, which is bordered by the railroad tracks and Puget Sound. Though the higher tee might offer wider panoramas, the lower tee is particularly arresting, as it's on the same level as the green complex, well over 200 yards out, and really incorporates the former gravel-mining operation in the background.
Though more of an operational consideration, tees may be changed mid-day, offering golfers who play 36 holes much different looks during their morning and afternoon rounds.
The shortest par-4 has the largest green, which is tucked into dunes at one of the highest points on the property. Front and back pin positions about 70 yards apart on the 12,000-square-foot-plus putting surface are probably a two-club difference.
The vast and rugged-looking waste bunkers throughout the course will need to be staked for proper designation. Many choices will be made here by the folks who set up the course, either during regular business hours or tournaments.
The use of native sand hundreds of feet deep and grayish in color like those found in the U.K. lends the traps uniformity and meshes naturally with their rough edges and the fescue bunker surrounds.
Fingers of adjoining fairways are observable off some neighboring tees, inviting alternative routes or at least recoverability on several holes.
Huge tee complexes allow Chambers Bay to be played at 7,500, 6,800, 6,400, 5,800 and 4,800 yards. Know your ability and pick your poison.
This is decidedly not target golf any time of the year. Thoughtful shaping of the land into grassy banks, dunes and hollows mandates creativity and an open mind from players. A caddie may well help. (The county and KemperSports plan to recruit caddies locally, while actively supporting the Evans Scholarship Program - automatically putting the facility high on my list.)
Deceit isn't a factor here either: what you see is pretty much what you get. But you must play solidly and, if the winds off the Olympics or down through the Sound are in high dudgeon, have the ability to keep the ball low.
Major Tournaments on Tap?
The design, besides optimizing an incredible location and commensurate physical attributes, also focused on the course hosting major tournaments. The brainchild of Pierce County Executive John Ladenberg, an enthusiastic golfer who believed the property had a great future and should be an asset to county residents "for 100 years," Chambers Bay was crafted for big-time events. (Personal note: Local pundits have called Chambers Bay "Ladenberg's Folly" for its high price tag, which is being financed from county sewer funds. After walking the course, I believe Mr. County Executive will be getting the last laugh.)
The design team not only spent considerable hours researching the great links in Scotland, but it visited Ryder Cup and U.S. Open venues and discussed with tournament officials and superintendents the strategic and "circulation" elements needed to handle large galleries.
Working as a Team
According to Blasi, throughout the process the architects, Heritage Links and the county have been "on the same page." Over 50 golf architecture firms bid on the project; Blasi believes RTJ was selected because of its proven track record, a "name" architect that draws attention, and, most importantly, "struck a chord. The county wanted to know if we were qualified, and then asked: 'Do we want to spend a day a week for the next two years with this firm?' "
Many will believe, and rightly so it turns out, that the success of Bandon Dunes influenced the type of course Chambers Bay is becoming and how it will serve as a destination. Chicago-based KemperSports also runs the Bandon facility and, in conjunction with the wishes of Ladenberg and other officials, wants Chambers Bay to be a walking-only track with a strong caddie program that will merit consideration as a worthy championship venue. "Bandon Dunes was a great source of inspiration," Blasi said bluntly. "We don't have to have typical golf course stuff [i.e., power carts and a fancy clubhouse]. If we had to do Chambers Bay 15 years ago, it would've been a tougher sell."
Green fees are projected to be in the $80 to $150 range, with the latter price for prime-time summer weekends. Pierce County residents will enjoy a significant discount off these rates. "Even though it's technically a municipal golf course, Pierce County has other courses that are more traditional with lower fees, trees, and the like," Blasi said. "This is a showcase course, like Bethpage Black and Bandon Dunes. Chambers Bay will really be able to serve a certain segment of society."
Tawny Turf
This fall, the layout was seeded with a 5 percent mix of bentgrass, with the rest fescue, an unusual choice for rainy Western Washington. Superintendent David Weinecke, a native Oregonian and former regional agronomist with the USGA, is confident he and his 18-person staff will be able to thwart invasions of poa annua, the invasive "weed" so prevalent on Northwest golf courses.
"We will control poa by minimizing irrigation and fertilization," said Weinecke. "A brownish-green will be the ideal look for the course, especially in summer when watering is more easily controlled." At optimum speed, the fescue greens will measure around 9 on the Stimpmeter. Weinecke says his crew "will roll and topdress the greens to keep up the speed."
Weinecke also indicated that he and the county are well on their way to Audubon Silver Signature Status, a move that will address all environmental concerns, specifically, salmon runs in the nearby Sound.
And There's More
Other Chambers Bay assets include its position next to the major north-south West Coast railroad route between the course and Puget Sound; supply and passenger trains pass by about every 20 minutes, giving the place a forlorn ambiance whenever the horn sounds. At the south end of the property are sorting bins (already dubbed the "Stonehenge of Tacoma") from the former gravel-pit operations. Brief discussions were held about removing the huge concrete edifices. Wisely, they were retained, giving, especially the dramatic par-5 closing hole that borders the former mine operation, a sense of place often ignored on other new golf courses.
I couldn't find a clunker of a hole anywhere on the course. And I looked hard for one. Despite the hundreds of thousands of yards of dirt moved during the shaping process, the layout feels as if it's been around for years. The site is patently special, but how that land was manipulated makes Chambers Bay most remarkable. The extra time taken during the design process, the tweaking that ensued, and the teamwork of all parties to build a golf course that will endure the test of time and, hopefully, the mettle of the world's best players, is readily apparent.
Perhaps Mark Luthman, the KemperSports' Regional Director of Operations who has made as many visits here in recent months as anyone, said it best in describing Chambers Bay: "I could work in the golf industry for 40 more years and not find a project like this."
More than likely, I won't be around in another 40 years. So it's nice to know the "discovery" of Chambers Bay came along in my lifetime.