If Superbowl = Disney & Golf Major = Bermuda . . . I'll take Bermuda
By: Elisa Gaudet
Most Americans will agree they are thrilled the NFL is back on track and by the end of the season one talented and successful team will win the Superbowl and be able to say "I'm going to Disneyland." The real question is who will be left standing this Sunday saying, "I'm going to Bermuda"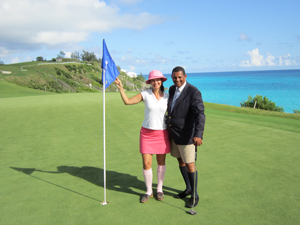 Elisa & Kim Swan
The final spot in the foursome for the PGA Grand Slam of Golf, October 17-19, at the Port Royal Golf Course in Bermuda, will go to the winner of the 93rd PGA Championship. Three guys, Darren Clarke, Rory McIlroy and Charl Schwartzel, have already packed their long knee socks, shorts and blazers. The question remains, who will be the fourth?

My bet will be on another one of agent Chubby Chandler's guys (Ernie Els, Louis Oosthuizer or Lee Westwood), since he seems to have the Midas touch these days. An additional incentive for Els would be since he won last year's Grand Slam, he could reuse his long socks and Bermuda shorts should he win the PGA Championship.

The PGA Grand Slam has a $1.35 million purse with the winner receiving $600,000, second place $300,000, third $250,000 and the fourth $200,000. With only four players in the field, I like the odds. It reminds me of youth sports today - everyone walks away a winner. While this event has been around since 1979 in various formats, it has grown to a 36-hole annual showdown that matches golf's best against each other and the breathtaking Port Royal Golf Course.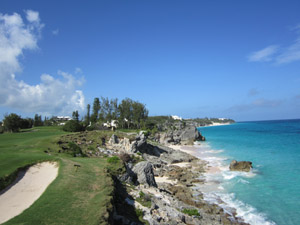 An Oceanside Hole at Mid Ocean
I decided to do a little due diligence for the guys, a pre-tournament walk-through so to speak. Well-known for its pink beaches and pink shorts, Bermuda is much more than what is exported. A very easy flight from the East Coast, this island paradise seduces you with varying shades of blue ocean water, pink-sand beaches, amazing golf and extremely friendly locals.

This extraordinary island is 22 miles long and 3 miles wide and boasts nine golf courses, the highest concentration per square mile in the world. Two stellar courses I had the opportunity to play were Mid Ocean, where the PGA Grand Slam was held in 2007, and Port Royal.

Mid Ocean Golf Club was designed by Charles Blair MacDonald to fit into the natural terrain. It was originally a par-71 layout crossing over 600 acres of rolling countryside, and 6,519 yards from the back tees. MacDonald won the first U.S. Amateur in 1895 and later designed the National Golf Links of America, among many others.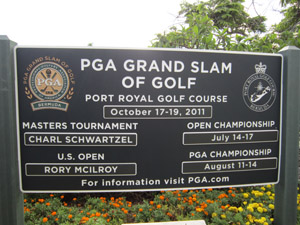 Sign Announcing the PGA Grand Slam
In recent years Mid Ocean Golf Club was ranked 45th by Golf Digest for courses outside the U.S. It was revised in 1953 by Robert Trent Jones. American Presidents Dwight Eisenhower, John F. Kennedy, Richard Nixon, George H. W. Bush and Jimmy Carter have played here, as well as British Prime Ministers Sir Winston Churchill, Harold MacMillan and Edward Heath and the Duke of Windsor in 1940. Golf professionals Bobby Jones, Sam Sneed and many other celebrities also have played there, including Babe Ruth, who was not quite as good with a golf club as he was with a bat. When playing the 433-yard fifth hole, "The Babe" knocked 11 straight balls into Mangrove Lake before finally driving one over the hazard.

Port Royal opened in 1970 as a Robert Trent Jones-designed, 6,561-yard par-71 public course. The course re-opened in January 2009 after a $15.9 million renovation that increased its yardage by 281 yards to 6,842. More rounds are played here than on any other Bermuda course.

The signature hole is the 176-yard, par-3 16th hole, whose small green is perched on the edge of the coastal cliffs. Drive too far left and the ball ends up in the ocean. It was here I received a full dose of Bermudian hospitality with a lesson as to the best way to play the 16th by Kim Swan, a former European Tour pro and now an elected Member of Parliament. When we arrived at the 16th, I asked Kim if he was going to doff his blazer jacket. His response was one of the most interesting tips I have ever heard. Kim learned to play golf from his uncle, who used to have Kim practice in a blazer as it prevented him from over-swinging and helped with his alignment.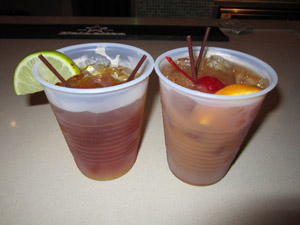 The Dark and Stormy & Rum Swizzle
Swan was a wonderful guide and is now a friend who shared a wealth of information about the history of the island, golf and cricket, the latter a Bermudian passion.

Never one to miss an opportunity to savor the local flavor, the well-known cocktails on the island that are a must include the "Rum Swizzle" and the "Dark and Stormy." The Rum Swizzle consists of 8 ounces of Gosling's Black Seal rum, six dashes of Angostura bitters, juice from two lemons, crushed ice, a five-ounce pineapple juice, five-ounce orange juice and two ounces of grenadine syrup. The Dark and Stormy consists of Gosling's dark rum and ginger beer over ice.

While Disneyland is fabulous and it would be great to have a Super Bowl ring I'd still prefer a green jacket and a trip to Bermuda. So here are my tips to the PGA Grand Slam of Golf contestants: Schwartzel, pack the green jacket as you will need a blazer, and Darren, No. 16 breaks right to left.
Elisa Gaudet brings a wealth of entertainment and golf experience to Cybergolf. Elisa has spent the past several years in the golf industry in the U.S., Latin America and Spain. She worked for the PGA Tour and the Tour de las Americas before founding Executive Golf International, a golf marketing company that works with clients to develop strategies using golf as the medium. Often referred to as the Maria Bartiromo (a business analyst for CNBC) of golf, Elisa says: "Golf, as a marketing tool, has been around for years. It's amazing how many new ways companies can align their brand with the golf market to reach their target audience. Our goal is to create alliances and establish cross-border relations." Elisa also worked in the entertainment industry for over 10 years, including five in Los Angeles as a model and actress. She can be seen at many celebrity golf events and often gets the inside scoop from PGA Tour players. For more information about Elisa, visit her websites at www.onthelip.com or Executive Golf International www.execgolfintl.com.